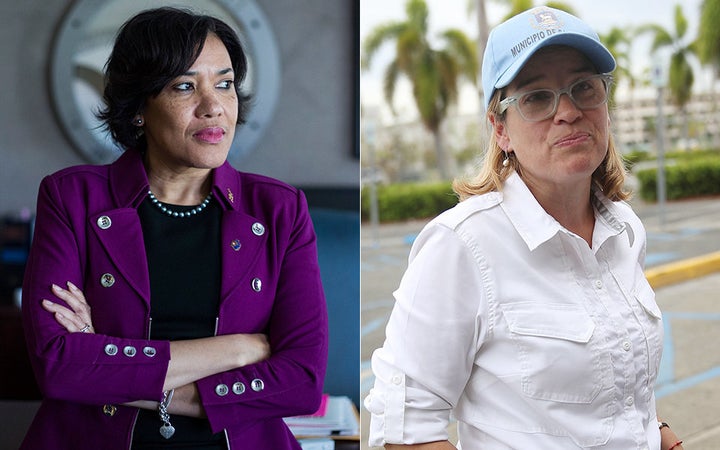 The mayor of Flint, Michigan, sent a supportive letter to the mayor of San Juan, Puerto Rico, encouraging her to keep fighting for the safety of her citizens following President Donald Trump's visit to survey hurricane damage.
"President Trump's phrase, 'They want everything to be done for them,' broke my heart, and the hearts of many Americans," Flint Mayor Karen Weaver said in the letter Wednesday to Carmen Yulín Cruz, referring to a comment Trump made about Puerto Rican officials last week. He made the comment after Cruz, whose city is Puerto Rico's largest, complained about the federal response to the damage wrought to the island by Hurricane Marie.
"Unfortunately, his visit to Puerto Rico, this week, did not assure me of healing and I was hoping for healing and instead his comparisons and complaints gauged deeper wounds," Weaver said.
Trump, while in Puerto Rico on Tuesday, said Maria was not "a real catastrophe" like Hurricane Katrina, given that many more people died in the 2005 storm that hammered Louisiana and Mississippi. He also complained that helping Puerto Rico recover from Maria would affect the federal budget, and he casually threw paper towels at suffering survivors.
Prior to his visit, Trump had attacked Cruz for "poor leadership."
"The people need a voice, and as elected officials, we are the voice of the people that we took an oath to serve," Weaver said in her letter. "I commend you for shouting, screaming, yelling if necessary to get the response the people of San Juan deserve. It is our duty to our citizens. It is our families, our friends, and our neighbors, we are serving."
Weaver knows all-too-well what it's like to confront a civic catastrophe and what it takes to protect the public ― she has had to deal with Flint's water crisis since she won election in November 2015. Beginning in 2014, city's water source was contaminated with lead ― a problem caused by an effort to save money and exacerbated by city and state officials who downplayed the crisis.
In her letter, Weaver noted that Flint's still drink bottled or filtered water while they wait for the more than 18,000 lead-tainted service lines to be replaced, a task that remains years from completion.
"This is why I feel a special sisterhood, and connection to your concern for your community, and your desperate plea for action," Weaver said to Cruz. "We cannot sit idly back and allow more people to become infected with disease and illnesses. We cannot allow the slow walking of aid, and the tying of victims' hands with bureaucracy. It is fair for us to demand clear answers."
Popular in the Community