WASHINGTON -- While Democratic presidential candidates Hillary Clinton and Bernie Sanders were duking it out on the debate stage in Flint, Michigan, over how to best solve the water infrastructure problem plaguing the city, Lon Johnson sat in the audience wondering if his home could be the next Flint.
If the 63-year-old Line 5 pipeline that runs under the Mackinac Straits ruptures, it could seep into Lake Michigan and Lake Huron, contaminating the water supply for thousands in Michigan's Upper Peninsula -- if not the entire state. In his campaign to replace the vacant seat left by retiring Rep. Dan Benishek (R) in Michigan's first congressional district, Johnson has made that concern a key messaging point. "Don't Flint our Great Lakes," reads one of his Facebook posts.
"The same people who told us Flint water was safe are telling us that this pipeline is safe," said Johnson, former chair of the Michigan Democratic Party. "The same company that was responsible for the largest pipeline disaster in U.S. history are telling us this pipeline is safe. Should we trust them? Absolutely not."
Line 5 pipeline is property of Enbridge, an energy delivery developer, which also owned the pipeline responsible for the 2010 Kalamazoo oil spill that sent over 800,000 gallons of diluted bitumen (or crude oil sands) into the river, costing the company more than $1 billion to clean up. Tension surrounding the Line 5 pipeline isn't new -- it's been building up for years-- but Flint is bringing renewed scrutiny as it's shaken the entire country.
Johnson isn't the only Democratic House candidate making Flint a major conversation on the campaign trail. Two other candidates -- Gretchen Driskell and Melissa Gilbert -- are challenging incumbent Republicans in districts that have been designated as "red to blue" races by the Democratic Congressional Campaign Committee. That means they are in districts Democrats hope to flip and are getting extra guidance from the party.
The situation in Flint has brought heightened attention to water infrastructure across the country. Senators in Washington are currently pushing to bring to the floor legislation that would help cities like Flint replace their lead pipes through cheap loans. The House will soon hear testimony from Michigan Gov. Rick Snyder (R).
Flint's water has been tainted by lead since 2014, primarily due to the state government's decision not to treat the water to prevent corrosion of the city's lead pipes. Lead can have damaging health effects. It's known, even in small doses, to cause irreparable harm to the brain in small children.
And the fact that a water crisis -- which has left thousands without clean drinking water -- happened in Michigan, the Great Lakes State, added an extra sting for Johnson. Flint's problems started when an emergency manager changed its drinking water source from Lake Huron to the Flint River, which wasn't treated.
Flint lies 70 miles from the shores of the biggest bodies of fresh water on the planet. (The Great Lakes hold about 21 percent of the world's fresh water.) Those lakes, Johnson said, are Michigan's past, present and future.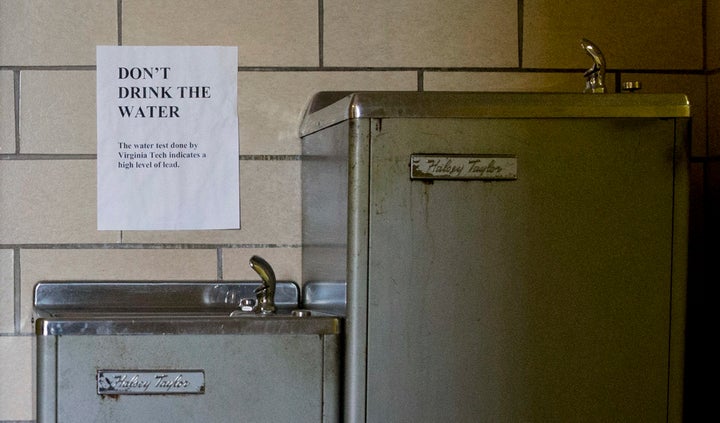 "When that is threatened -- our economy, our health, our entire way of life is threatened," Johnson said. "What we saw here in Flint, that's a major hit for what we're known for; that cuts to who we are."
To have the Line 5 pipeline cut right through two of the Great Lakes is an accident waiting to happen, Johnson says. He swears he isn't anti-pipeline or anti-oil -- he just doesn't want a 63-year-old pipeline running through that fresh water when only 10 percent of the oil flowing through it stays in Michigan.
Johnson isn't sure who he will be running against just yet. Three Republicans are running in the GOP primary. Two of them argue the Enbridge pipeline is not as volatile as Johnson and others have claimed. State Sen. Tom Casperson (R) contends that a number of tests on the pipeline have verified its safety. And while former state Sen. Jason Allen (R) has said he wants continued assurances the pipeline is safe, he doesn't agree with Johnson's calls to shut it off.
According to Enbridge, Line 5 has never leaked in the "underwater pipelines in the Straits of Mackinac and the pipelines remains in excellent condition." A report released in February, however, said the Line 5 oil pipelines under the straits showed signs of corrosion.
For residents of the Upper Peninsula, Johnson said, Flint's problems are a top issue, because they understand the need to protect fresh water. It's an issue Michigan's first district can't escape. "We have the most fresh water of any district in America," he said.
Johnson hopes that if enough pressure mounts, Enbridge will shut off the pipeline and allow it to be independently inspected. He'd prefer to build another pipeline to carry the oil and propane (85 percent of which stays in Michigan) Line 5 transports, but not through the lakes. He's also pushed for the Upper Peninsula to build a freshwater institute to "show the world how to better use and protect fresh water."
While Johnson's focus has been the Line 5 pipeline, Driskell's efforts have centered on demanding accountability from people in power. Specifically, Driskell, who is running for Michigan's seventh House district, is dedicating her energy to cornering incumbent Rep. Tim Walberg (R) to use his position on the Government Oversight and Reform Committee to pressure leadership over Flint.
"We are the third coast," Driskell said. "It is a core value of Michiganders: the importance of clean water in our state."
Like the majority of Democrats in Congress, Driskell took issue with how long it took Republicans to call on Snyder to testify before the House Oversight Committee. The governor, who took responsibility for letting the water problem in Flint get out of hand, nonetheless placed blame on all levels of government.
After Walberg asserted it wasn't his place to invite Snyder, Driskell -- a former cab driver -- offered to drive the governor to Washington herself.
In a recent interview with Michigan's Big Show radio, Walberg was asked to respond to a survey that found over half of Republicans in the state think the local and county government is to blame for Flint, not the federal government. (Over 400 people were questioned). 
"There's plenty of blame to go around. The governor stepped up and said the buck stops here," Walberg said. "Frankly, this shows that government can't protect us against everything. It comes down to people watching out for themselves."
Walberg's office did not respond to a request for comment.
Gilbert, the third Democratic candidate, is challenging freshman congressman Mike Bishop (R) in Michigan's eighth district. As a former actress who starred in "Little House on the Prairie" in her childhood, Gilbert has used her following to draw attention to the crisis in Flint while campaigning across the district.
"Everywhere I go, it doesn't matter what group I'm speaking to or where I'm at, somebody has a question about Flint," said Gilbert, who volunteered with her son to help the Red Cross in Flint.
"There is a general sense that everyone is little bit less safe that before this happened, that if it happened there it can happen anywhere," she continued. "It's not so much about the infrastructure and pipes as it is about the leadership, and the miscommunication, and the bickering, and the finger-pointing, and the dysfunction of the leadership in Lansing that allowed this to happen."
Bishop's campaign spokesman, Stu Sandler, countered that Gilbert is using the Flint situation to her advantage politically.
"All she's trying to do is raise money off of it," Sandler said, adding that Bishop has worked with members on both sides of the aisle to pass Flint-related legislation and given floor speeches to bring attention to the issue.
Pressed on criticism that candidates like her are using the Flint crisis to further their campaign and politicize a tragedy, Gilbert said they are "deflecting."
"[They are] taking away from fact that there is real work that has to be done here," Gilbert said.
Driskell called the GOP criticism "offensive." 
When asked why it seemed necessary to tie Flint to a pipeline that sits at the intersection of Lake Michigan and Lake Heron, for Johnson at least, the answer was simple: "Water is who we are here."
Calling all HuffPost superfans!
Sign up for membership to become a founding member and help shape HuffPost's next chapter
BEFORE YOU GO
PHOTO GALLERY
Oil Spills Since The Gulf Disaster