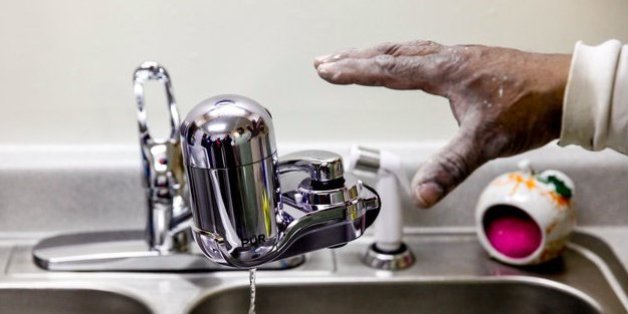 Imagine finding out you had been drinking toxic water with sky-high levels of lead from a friend who messaged you on Facebook.
That's what happened to Ruth Elwart in Flint, Michigan, who is now packing up her things and preparing to move in with her daughter outside the city limits.
"I am furious. My kids are panicking," said Elwart. "They are super worried about me, and basically I don't want my grandkids over here."
It's just one example of the extraordinary treatment of local residents we have discovered as we make a feature documentary on the Flint water crisis. Up to 100,000 people have been exposed to unsafe levels of lead in their drinking water, after state emergency managers who had taken over the city made a disastrous money-saving decision to switch water sources to the highly corrosive Flint River.
We were astonished to discover this week that the Michigan government is openly releasing thousands of new lead test results online without first bothering to directly inform residents most badly affected.
As lead fears mounted last year, Flint officials filed false reports regarding which homes were used for collecting water samples, essentially hiding the extent of the lead problem, so there is an understandable push for greater transparency in releasing information. But once again, the needs of Flint residents most affected seem not to be taken into account.
The reading from Ewart's home is currently among the 15 worst in the city, and her address is there for anyone with a computer to access.
A spokesman for Michigan Gov. Rick Snyder (R) defended the practice, noting that names are never posted alongside addresses.
"Posting the results online is the quickest, most effective way to get people information that they desperately want about the water in their homes," Snyder spokesman Dave Murray said in an email. "The alternative is for them to wait until they receive information in the mail."
The federal Environmental Protection Agency, however, takes a different view, assuring Flint residents that the results of its drinking water testing -- being undertaken separately from the state's efforts -- are strictly confidential. According to the agency, "the EPA will remove all personally identifiable information from sampling data before it is posted publicly."
That the Michigan government is taking no such steps to protect the privacy of families hardest hit by the water crisis enraged Elwart, who has now packed up most of her belongings.
"I am furious," Elwart said. "They should have let me know before they published it for the world to see. I should have been informed what was going on."
Elwart said no one from the Michigan Departments of Health or Environmental Quality has been in touch since the state posted, almost two weeks ago, her lead-in-water reading of more than 1000 parts per billion, or more than 100 times the acceptable level established by the World Health Organization. The EPA requires public water systems to take action if 10 percent of homes have water lead levels above 15 parts per billion. Lower lead levels are not necessarily safe.
The neighbors of Joe Ragnone, a retired English teacher, also found out he had been drinking poisonous water before he did. When he went online to check the results, he had to scroll through hundreds of readings before he found his address.
"I found it very confusing," he said. "And once I got there I didn't understand any of it. Except one column was in red."
He has subsequently discovered he has some of the highest lead-in-water levels ever recorded in Flint, at over 5400 parts per billion. According to Virginia Tech's Professor Marc Edwards, who was instrumental in uncovering the Flint catastrophe, a reading of 5000 "exceeds criteria that classifies water as a hazardous waste."
Ragnone said nobody from the government has contacted him to explain what his readings mean, and what precautions he should take. The filters the state is distributing to Ragnone and other residents, for example, are are not rated to cope with such disastrously high levels of lead.
Thousands of Flint residents have dutifully delivered a water sample from their taps to one of the state's emergency water distribution centers in Flint, from where it is sent to a state laboratory. This follows a public appeal by Gov. Snyder that families should get their water tested.
Although residents who return water samples are given a form to sign, the document does not indicate that the results, with their potentially deeply distressing health implications, will be revealed online with addresses attached.
Irreversible brain damage is just one of the potential risks for children affected by high levels of lead poisoning. Adults can suffer high blood pressure and a range of other symptoms. And Michigan has strict laws governing the release of health information.
Currently, the addresses of 591 homes with lead-in-water levels above the EPA "action level" of 15 parts per billion, are highlighted in red on the Michigan government's website.
Publishing addresses online, without consent, can have other consequences too. Ruth Elwart says that before our visit, the only people who had arrived at her door to ask about her water were three individuals who claimed to be EPA employees needing to carry out tests. When they couldn't produce identification she refused them entry, and she said they tried to break into her home. The police have since issued an alert about the fraudsters.
"I won't be able to sell the house now," Elwart says. "I couldn't sell it to people with children because I couldn't stand the guilt. But no one wants a house here. I just have to get out of the city."
Anthony Baxter is an award winning director whose previous films includeYou've Been Trumped and A Dangerous Game. Richard Phinney produced and wrote both films.
Calling all HuffPost superfans!
Sign up for membership to become a founding member and help shape HuffPost's next chapter