An official at an agency that manages foreclosed homes in Flint, Michigan, has resigned after a recording surfaced Sunday in which he blames the city's water crisis on "n****rs who don't pay their bills."
Phil Stair resigned as sales manager of the Genesee County Land Bank, the bank's executive director, Michele Wildman, told MLive on Monday.
Note: A version of the audio file posted online by Truth Against The Machine and a transcript appear in full and uncensored form below.
Local environmental activist Chelsea Lyons recorded Stair explaining in May why he thought Flint, a city mired in debt, switched from buying Detroit's pretreated Lake Huron water to using Flint River water, which sparked the crisis that has left the city without safe drinking water for several years.
After the 2014 switch, the city's water plant failed to properly treat the more toxic water under orders from state officials, causing lead from old pipes to leach into city water.
But in his racist remarks, Stair traces the crisis to residents not paying their water bills:
Detroit was charging all its customers for the cost; they weren't collecting from their residents. They weren't shutting the water off, they were letting bills go forever, but they were charging everybody else, they covered them. Well, Flint has the same problems as Detroit, fucking niggers don't pay their bills, believe me, I deal with them. I don't want to call them niggers, shit, I have, shit, I just went to Myrtle Beach, 24 guys, and I was the only white guy. I got friends, I mean, there's trash and there's people that do this. … They just don't pay their bills. Well, Detroit didn't collect on their bills, so they charged everybody else, but Flint, Flint had to pay their bill to Detroit.
Lyons met Stair when a friend tipped her off that he was at a bar alone, she told HuffPost. She made two separate recordings of Stair on May 26 and May 30 without his knowledge and without first informing him that she was a journalist, a prohibited practice at most news outlets.
In a resignation letter obtained by MLive, Stair said he was "deeply sorry" for what he said in Lyons' recording, which he described as his "private opinion on the Flint water crisis" and "insensitive language."
"I do not know how I can face my friends and co-workers," he wrote.
His allegation that unpaid bills caused the Flint water crisis drastically differs from most accounts. Politicians, activists and others have heaped blame on officials at every level of government for ignoring the crisis in its early stages as residents repeatedly raised concerns that their tap water had a funny smell, color and taste ― and was making them sick.
Michigan Gov. Rick Snyder (R) did not acknowledge the crisis until late in 2015, after experts found that there was a sharp increase in the number of children with elevated lead levels in their blood. There's no safe exposure level for lead, a harmful neurotoxin that can affect brain development.
Stair also blamed Snyder for not stepping in earlier when Flint was negotiating its water service contract with "brokeass Detroit."
Experts have called the crisis an example of environmental racism, saying it would have been handled differently if Flint weren't a majority-black city where 40 percent of residents live below the poverty line. The disaster represented "a complete failure of government" rooted in "systemic racism," Snyder's Civil Rights Commission concluded in a damning report released in February.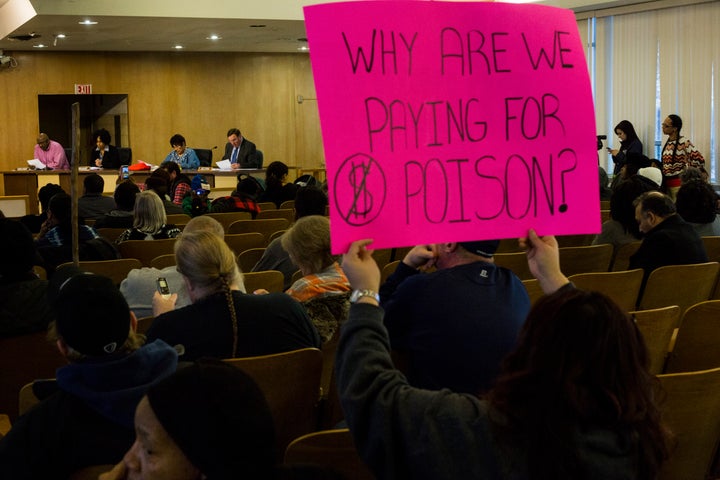 Flint warned 8,000 homeowners last month that they could be hit with tax liens ― legal claims against their property ― if they've fallen more than six months behind on their water bills. Genesee County could then foreclose on homes with liens and transfer their ownership to the Genesee County Land Bank. Flint City Council voted to place a one-year moratorium on the tax liens a couple weeks after the city started sending out notices.
The Land Bank plays a critical role in a city struggling with blight and abandonment, overseeing a major program to demolish vacant homes. In Lyon's recordings, Stair denigrates the Flint residents he was supposed to serve, complaining about "fucking deadbeats" he claims are "destroying" neighborhoods.
"The people are still the people," Stair said. "They fuck the houses up, and they leave and then we tear 'em down; they just go somewhere else and just fuck those houses up."
U.S. Rep. Dan Kildee, a Flint Democrat who has advocated for his constituents throughout the crisis, condemned Stair's comments on Twitter Sunday. Kildee founded the Land Bank in 2004, when he was Genesee County's treasurer, and Stair says that Kildee hired him.
Lyons said she was shocked to hear Stair's remarks, but she also had criticism for the Land Bank, which owns thousands of empty homes in the city.
"They're just sitting on them. They're laying in wait for the gentrification of Flint," she said. "They've been actively pushing out poor people and people of color from the city."
Lyons was pleased with Stair's quick ouster, but called for an internal review of his past work and an independent investigation of the entire agency.
"If he's the person deciding who can have property and where, then how many times has he displaced poor people or people of color, knowing that these are his true feelings?" she asked.
"We are outraged by the offensive statements and committed to taking all steps necessary to rebuild public trust," she said.
This story has been updated with comment from Chelsea Lyons and Phil Stair's resignation letter.
Popular in the Community