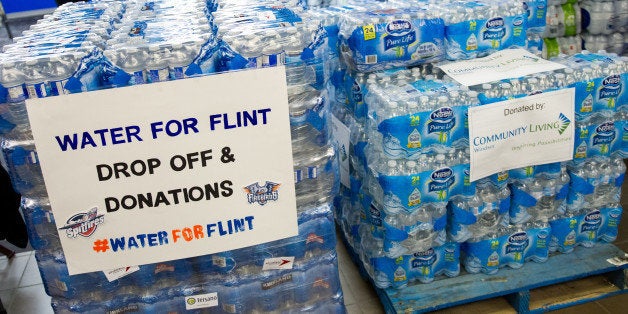 As a mom of a young daughter, I obsess about everything she eats and drinks. Is this healthy enough? Does that have too much sugar? Every little thing becomes a major deal.
I think most moms are this way, so I can only imagine the horror that parents in Flint, Mich., have been going through as they have learned their water has extremely high levels of lead in it--lead that can cause long-term health and learning defects.
While the health effects are paramount, there is another part of the story. This involves the wealth effects of the crisis.
Home equity is the primary vehicle through which many working families build wealth and save for retirement. Who would want to move to Flint today based on what's being reported in the news? We know property devaluations are likely to have a negative effect on homeowners' ability to maximize their economic security for the rest of their lives. So what's to be done? Who is ultimately accountable?
The Closing the Racial Wealth Gap Initiative sent a letter to Michigan Gov. Rick Snyder, calling on him to establish a Flint Health and Compensation Fund to improve protection and services to individuals directly affected by the water crisis. The members of the initiative are more than 200 experts focused on building wealth for communities of color.
In addition to financing claims of those affected by the crisis, the fund would cover the cost of health evaluation screenings for eligible residents; monitoring and treatment for related health conditions (without deductibles, co-payments or other cost-sharing); research regarding health and socioeconomic conditions related to the crisis education; and outreach to potentially eligible individuals.
"Government has a history of creating policies that compensate Americans unduly harmed by circumstances where government was culpable," said Dr. Maya Rockeymoore, president of the Center for Global Policy Solutions and an organizer of the letter. "Residents of Flint should receive the same consideration that others have been afforded."
Other recommendations by the group include:
• Homeowner relief in the form of writing off existing debt and tax liability of all properties affected by the water contamination.
• Suspending tax cuts and breaks to other groups or industries in Michigan until the infrastructure needs are met.
• Implementing a state program to modernize aging infrastructure in a way that would create jobs for those living in depressed areas like Flint.

"The impact on homeowners is far reaching," said Aracely Panameno, Latino affairs director at the Center for Responsible Lending. "In the absence of comprehensive infrastructure improvements, they face significant losses in property value without any prospect of recovery."
"Given the harm that Flint children and residents have had to endure for nearly two years, it is time for a forward-thinking response that not only ensures clean water but also helps residents recover wealth losses and gives Flint children the supports necessary to be successful in school and adulthood," said Trina Shanks, associate professor at the University of Michigan, who co-signed the letter.
"The Flint water crisis is a regrettable display of a penny-wise, pound-foolish approach to infrastructure maintenance. If Flint residents looked differently, voted differently and had a different heft to their wallets, they would not have been neglected like this. It is time to address the health and wealth effects of this man-made disaster and to prevent this from happening elsewhere," said Rene Bryce-Laporte, an independent consultant on asset building and another co-signer of the letter.
Calling all HuffPost superfans!
Sign up for membership to become a founding member and help shape HuffPost's next chapter