It is increasingly clear that many American cities are facing immense struggles to provide residents with safe, reliable drinking water at an affordable cost.
This is particularly true of cities with high levels of poverty, unemployment and population decline, a perfect storm of factors that leaves water utilities with fewer resources to maintain and update aging infrastructure systems.
A new report from the U.S. Government Accountability Office released to the public this week paints a dire picture of the reality facing many U.S. water utilities today. Many of the cities studied face the same demographic and economic challenges that contributed to the ongoing and devastating water crisis in Flint, Michigan.
The GAO report reviewed the water infrastructure needs of utilities in 10 cities: five large, including Detroit, New Orleans and Pittsburgh, and five mid-size, including Youngstown, Ohio, and Macon, Georgia.
All of the cities — many of them in the Rust Belt, like Flint — have experienced dramatic population losses over the past 30 years. They were evaluated through interviews with water experts, city officials and utility managers and an analysis of existing data and records.
"These cities are facing economic challenges that makes it more difficult for them to deal with addressing their water and wastewater infrastructure needs," J. Alfredo Gómez, a GAO spokesman, told The Huffington Post.
Water pipeline repair and replacement is an urgent need at the majority of utilities, the report found. One utility, which the GAO did not individually identify, said that nearly all of the 740 miles of its pipelines need to be replaced, a project that would cost more than $390 million. (For comparison, the total 2016 budget of Youngstown was $185 million.)
Many of these utilities are also facing the prospect of costly lead replacement initiatives, but don't appear to be all that concerned that they may be poisoning their customers. This is despite the fact that lead can enter the water supply through lead service lines if they corrode over time. Lead exposure is a public health hazard, especially for children.
Six of the 10 drinking water utilities also noted that they were aware that some portions of the service lines that connect customer homes to main water systems definitely or possibly contained lead. Most of them, however, "did not express concern about the risk of lead in their water," the report read.
(This finding is in line with interviews HuffPost conducted with water officials in many of America's largest cities earlier this month.)
Representatives from more than two-thirds of the utilities the GAO interviewed also said that their utilities were struggling with high leakage rates ranging from about 18 to 60 percent. Those rates are as much as four times higher than the 10 to 15 percent maximum water loss rate that the Environmental Protection Agency has identified as acceptable. 
Affordability of their services is also an issue facing many of the water utilities.
In order to keep up with growing infrastructure needs amid a declining customer base, all but two of the utilities the GAO considered had raised their rates for customers over the past two years. But more than half of the utilities the GAO spoke with expressed concerns about whether future rate hikes would be affordable to their customers.
That's because many of these utilities' low-income customers are already struggling to keep up with their water bill. In all but one of the cities in the GAO report — Macon — water rates already exceed amounts that are considered affordable by the EPA.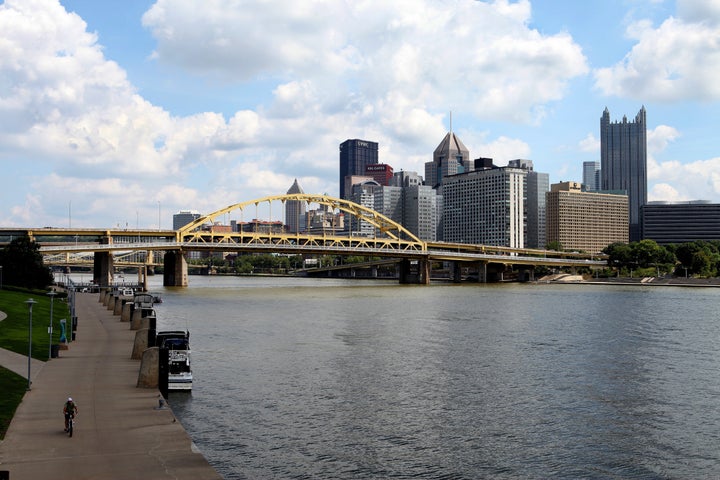 The report was alarming to Erik Olson, a senior advisor at the Natural Resources Defense Council's Action Fund. 
"We really have not been investing [in water infrastructure]. We've not been keeping up with this," Olson told HuffPost.
While the GAO report focused on a small number of cities, the national need for water infrastructure investments appears similarly massive. According to the American Water Works Association, a water safety advocacy group, the overall need to restore the nation's existing water systems will cost at least $1 trillion over the next 25 years. The EPA has estimated current water infrastructure needs at a more conservative but still massive $600 billion.
Delaying these sorts of investments will likely result in increased water service disruptions and degraded water service, plus an increasing share of utilities' limited resources going toward emergency repairs rather than needed upgrades and expansions, the AWWA has reported.
Such is the reality for the residents of Flint in recent years, following the cost-saving decision to switch the city's water source from the Detroit water system to the polluted, highly corrosive Flint River in 2014.
The water in Flint remains unsafe to drink more than two years after the city's water troubles began and a year after they became public. And many Flint residents are struggling to pay their water bills, which were flagged by an advocacy group as among the highest in the nation.
On a more encouraging note, Olson described the needed investments as a potential "win-win" for communities like Flint that have struggled with high poverty and joblessness.
"If we invest in our future, we not only have safer water for us and our kids, but we also create a lot of jobs, good jobs, good American jobs," Olson said. "It will be good for labor and jobs, but also really good for the environment and public health. This would be a really smart thing to do."
Joseph Erbentraut covers promising innovations and challenges in the areas of food and water. In addition, Erbentraut explores the evolving ways Americans are identifying and defining themselves. Follow Erbentraut on Twitter at @robojojo. Tips? Email joseph.erbentraut@huffingtonpost.com.
Calling all HuffPost superfans!
Sign up for membership to become a founding member and help shape HuffPost's next chapter
BEFORE YOU GO
PHOTO GALLERY
Here Are All The People Coming Together To Support Flint