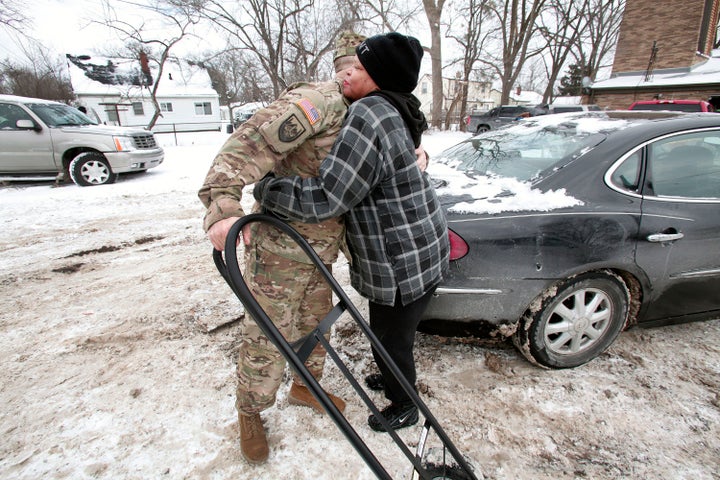 For weeks, Mary Stevenson's phone has been ringing off the hook. A pawnbroker in Detroit; a New York City police officer; a teacher in Chicago; the "Sleep Doctor"; the "Weedkiller"; a tech start-up; a high school hockey team; people from Alabama and Pennsylvania and North Carolina -- they're all eager to bring water to residents of Flint, Michigan.
Stevenson is the director of Catholic Charities' Center for Hope, which offers counseling, housing assistance, meals and other services for Flint's disadvantaged residents. Now, much of their time is spent in the parking lot, handing out bottled water to people walking to the center and lining up around the block because their tap water is contaminated with lead.
Donors send semi-trucks full of water to the Center for Hope daily, and other volunteers bring bottles in pick-up trucks, a school bus and a convoy of nine SUVs.
"These are people who just stepped up," Stevenson said. "It's a disaster, and it's a horrendous thing, but people understand this need, and they understand the danger to your children, and they just give."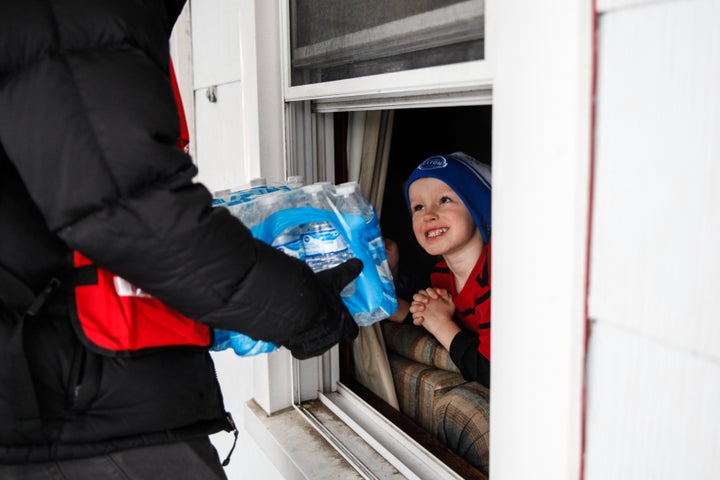 Catholic Charities is one of a number of local groups that have stepped up to face the man-made crisis that has left residents without drinking water.
The disaster began in 2014 when Flint left the Detroit water system and began using the Flint River as a cost-cutting move. State regulators failed to require the city to properly treat the water.
Without corrosion controls, lead from old pipes leached into the water resulting in resident complaints, though officials didn't acknowledge the problem until last fall. The city has returned to its prior water supply, but it's unknown when it will be safe to drink.
Flint residents' need for clean water is an emergency that has sparked an outpouring of donations -- celebrities and corporations have given millions of bottles, and dozens of smaller groups around the country are holding water drives. The Food Bank of Southeastern Michigan alone distributed 1.4 million bottles last month, and hundreds of volunteers are helping daily. But donations of water and filters only address one part of the larger disaster.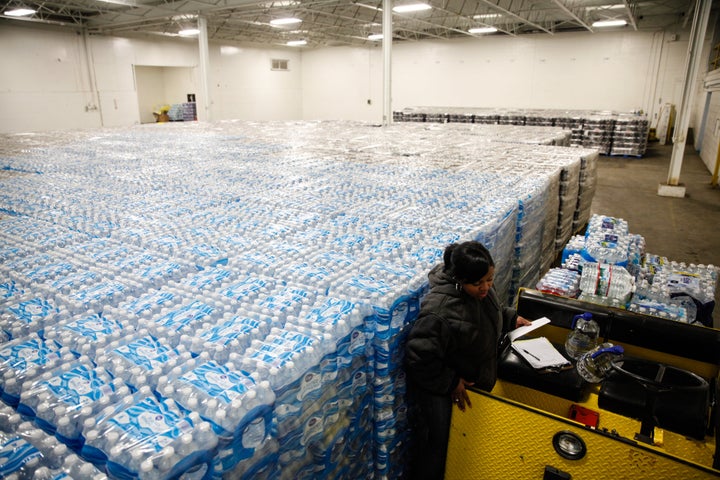 "After we no longer have a water crisis, we're going to have a lead crisis for at least 20 years," said Kathi Horton, president of the Community Foundation of Greater Flint.
Exposure to lead puts children at risk of critical development issues, including lower intelligence, lower academic achievement, worse fine motor skills and behavioral problems. Experts are most concerned about the outlook for the 8,000 or so children age 6 and under who were exposed to lead.
While other groups handle daily water distribution, the Community Foundation of Greater Flint is raising money to address long-term issues stemming from the crisis -- even before they've figured out exactly what those issues are. Their Flint Child Health & Development Fund has accrued $1.7 million from over 3,000 donors since it was started in mid-January, with a goal of raising $100 million to provide medical, nutrition and education services to kids in the next couple decades.
It's separate from the United Way of Genesee County's Flint Water Fund. About 5,000 donors have raised $1.2 million for the water fund, and once drinking water is safe, the organization will turn over any leftover money to the health & development fund.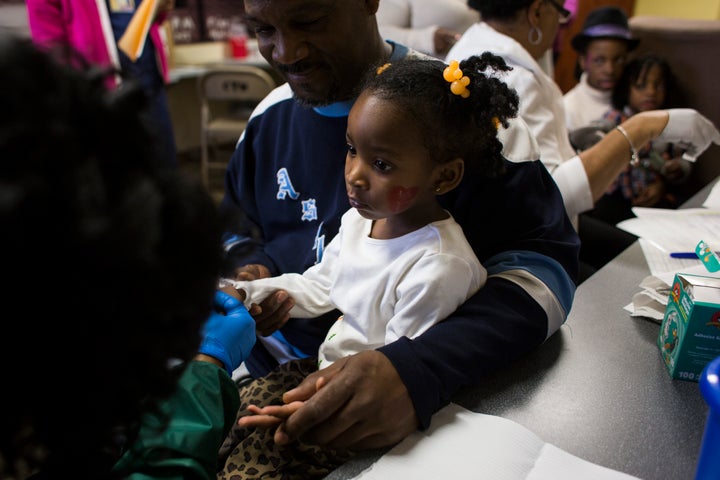 Horton credited Mona Hanna-Attisha, the pediatrician who first documented elevated lead levels in Flint children, as a "visionary" who motivated community stakeholders to immediately look beyond current water needs and capitalize on national attention to raise money for long-term responses.
That's a component that is crucial and too often ignored in crises, said Center for Disaster Philanthropy President Robert Ottenhoff. He noted that 90 percent of all the money given after a disaster typically comes in the first 90 days.
"Our giving to disasters tends to be very reactive, very emotional, very media-driven," Ottenhoff said. "We're not paying enough attention to issues like planning, like preparation, having good systems in place for building resilient communities."
In Flint, that's resulted in some well-intentioned but misguided donations, like six bottles of water mailed to Catholic Charities that cost the sender $29 in postage.
"At this point, unless people are sending a semi-truck of water at a time, we're discouraging people from donating water because there's so much in the pipeline," local United Way chapter CEO Jamie Gaskin said. "The most natural inclination to help is to send water ... and we certainly don't want to be ungrateful, but when people reach out we direct them to consider other options," specifically the health & development Fund.
Ottenhoff advised anyone seeking to help Flint to "take some time to think about what you would like to have accomplished."
"Your donation will be just as valuable, in fact may be even more valuable, if you give it a month from now, or give it a year from now," he said.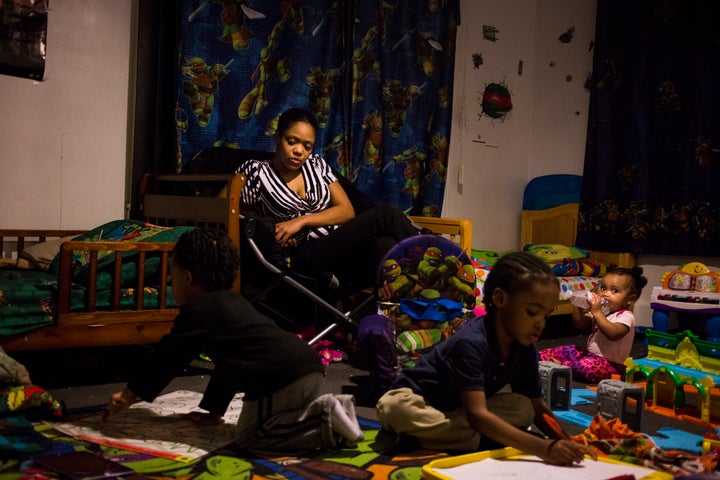 Horton pointed to long-term problems beyond health, like a negative economic impact for businesses and the city as a whole. But she sees the joint response to the Flint crisis as an encouraging sign that could put the city -- where 40 percent of people live in poverty -- on a different trajectory.
"We are not accidentally named 'Flint.' We are tough, we are tenacious, we are strong," Horton said. "That mentality is getting activated, and we are going to create a whole new day that's a whole lot better for all of our residents out of this tragedy."
Learn more about the Flint Child Health & Development Fund and how to donate here.