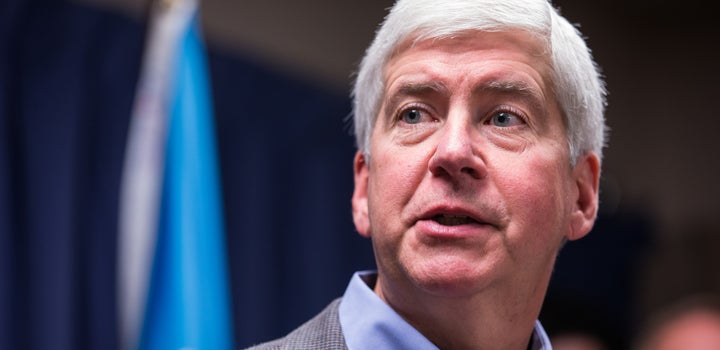 The Michigan Republican party would like you to know that Gov. Rick Snyder (R) has been busy trying to heal the city of Flint while the malevolent Obama administration has only stood in the way.
That's the message of an infographic the state party started putting out on social media on Thursday. The light blue water droplets on the left represent actions Snyder has taken since October, when his administration admitted its own mistakes created a crisis in Flint, a city whose 100,000 residents still can't drink the water because of high lead levels. The dark blue droplets supposedly show unhelpful actions taken by the Obama administration, such as the refusal to declare a federal disaster area in the state (it declared an emergency instead).
Though Snyder and Michigan Republicans have approved tens of millions of dollars in assistance for Flint residents, The Huffington Post asked the Michigan GOP if the infographic might be more complete with a drop on the left side for "caused the crisis" and maybe another for "ignored repeated warnings."
The Michigan Department of Environmental Quality has repeatedly admitted -- most recently on Wednesday -- that it should have made sure Flint's water was treated to prevent it from leaching lead from the city's pipes. Lead is a deadly neurotoxin that can cause permanent brain damage in children. The agency's director resigned in December.
Last year state officials brushed off warnings of higher rates of lead poisoning and Legionnaires' disease, telling Flint residents their water was safe even though it looked and tasted bad. Flint residents had been complaining ever since an emergency manager appointed by Snyder oversaw the city's switch to the Flint River as its water source in 2014. In February of last year Flint residents protested in the streets; this week they brought bottles of brown water to the U.S. Capitol.
The graphic does make a fair point that the federal Environmental Protection Agency helped the state downplay an alarming June 2014 memo drafted by Miguel Del Toral, an EPA official who started investigating the lead problem early last year. The EPA has since fired its regional manager and issued an emergency order that accused the state's environmental regulator of continuously dragging its feet.
Another dark blue droplet complains the Obama administration denied Snyder's request to expand a federal nutrition program for moms with young kids so that more Flint children could have access. But federal data show that statewide, the Snyder administration is only connecting half of eligible kids to the program to begin with.
Popular in the Community