I just flew from Prague to Basel and hopped on a train to Colmar, France. I'm meeting the co-author of our France guidebook, Steve Smith, to do some research work, and then we'll meet our film crew to make two new TV shows in France.
I love Colmar. For years, it was a two-night stop on our "Best of Europe in 22 Days" tour. Today it seems strange to think that the most charming city in the German-flavored corner of France called Alsace would merit that coveted spot on our "grand tour." When designing the tour, we figured that on a three-week Europe tour, while you'd obviously visit Paris, you'd also want a look at the French countryside. And Colmar offered a way to break the long drive from the Swiss Alps to the grand finale in Paris. As a bonus, it let us include a look at the WWI battlefield sights of Verdun and a stop at a Champagne cave, to boot.
Now, our Best of Europe tours stop in Burgundy rather than Alsace. We made the change because Burgundy is more quintessentially French than Alsace. But if you're touring Alsace, Colmar is still the best home base. I like Alsace -- but it really is a mix of German and French culture, as this is the region that for centuries flip-flopped between Germany and France depending on who won the last war. That's why you find people here named Jacques Schmidt or Gunter Dubois, and the wurst comes with fine sauces.
It's so important to be "heads-up" when you're traveling. For example, each Tuesday, folk dancers and musicians from a nearby village share their talents on Colmar's main square. I'm sure there are tourists sitting in their hotel rooms watching TV who would love this fun and free slice of Alsatian culture. They just forgot to ask their hotelier or at the TI if there was anything happening tonight in Colmar.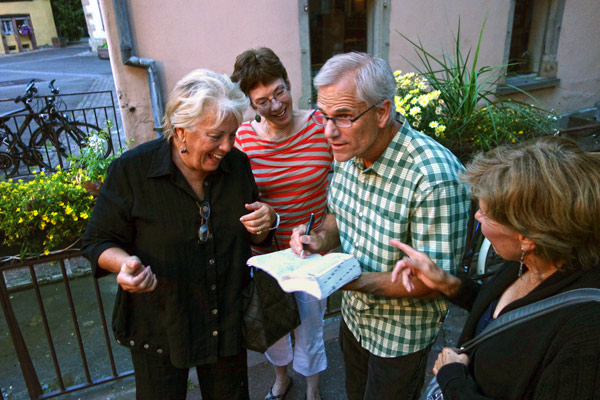 I love traveling through France with Steve Smith, the co-author of our France guidebook. And everywhere we go in France, we meet happy travelers with the book. They are eager to share their experiences -- as you can see in this photo of Steve and some satisfied readers -- and in our work, we find that very helpful.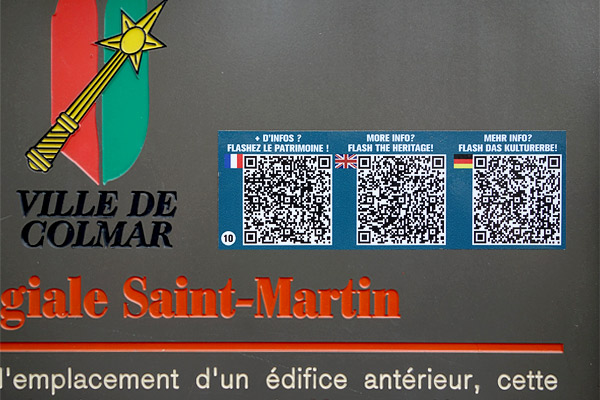 I'm starting to see more innovative ways to use your mobile device when sightseeing. These QR codes (which you can scan with your smartphone's camera) are posted at each spot of interest in Colmar. Scan it, and bam! You've got the information right there on your screen for free. It's almost as helpful as our guidebook!