So, you want to break your iPhone addiction, but you still need to be in touch at work or with family. What do you do?
Apparently, you get a flip phone. They're cheap, hard to break and provide very few distractions compared to the carnival circus of shiny apps offered by a modern-day smartphone.
While two-thirds of Americans now use smartphones, a number of high-profile executives, celebrities and politicians have been spotted going old school. If you need to reach these folks, you have to call. In other words, talking on the phone exclusively is now an exclusive thing.
Ellyn Shook, the chief human resources officer for consulting firm Accenture, made the move to an LG flip phone at the start of the summer. A self-imposed ban on keeping her iPhone by her bedside wasn't really working, she told The Huffington Post.
Shook oversees more than 336,000 workers worldwide, and she really needs to be reachable 24/7, she said. So now she stows her smartphone at night and brings the flip phone to bed.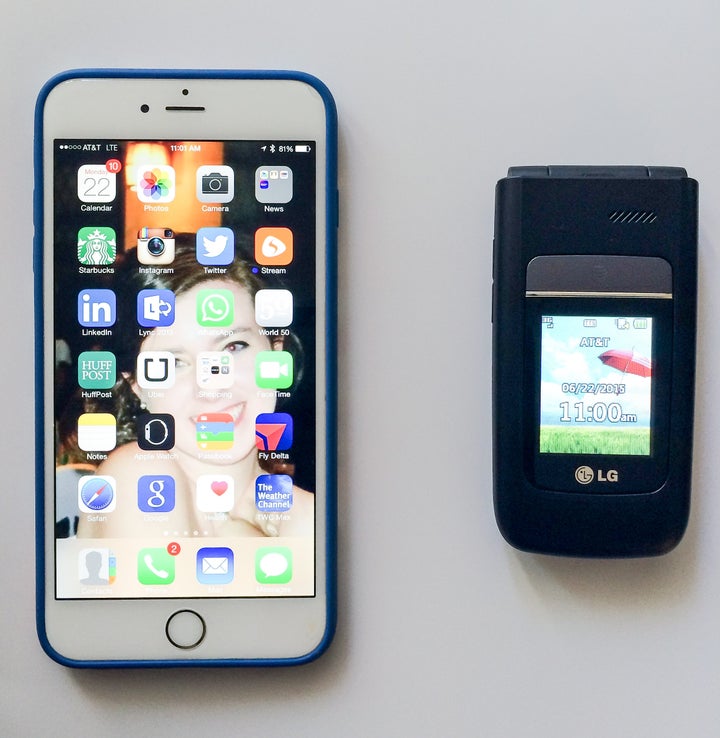 "I'm sleeping better," Shook said. On the weekends, she stores her iPhone at her beach house and goes down to the sand armed solely with her flip (and sunscreen, presumably). The other day, she made it for nine hours at the beach without looking at her phone -- and she actually got to talk more to her family, she said.
Still, it wasn't easy. "By hour seven, I was stressed. It was pain. Really." Shook acknowledged it sounded kind of ridiculous, but I understood. To be honest, I rarely go an hour without looking at my iPhone. "You want to look at your iPhone right now?" Shook asked me. "Go ahead," she teased. (For the record, I refrained.)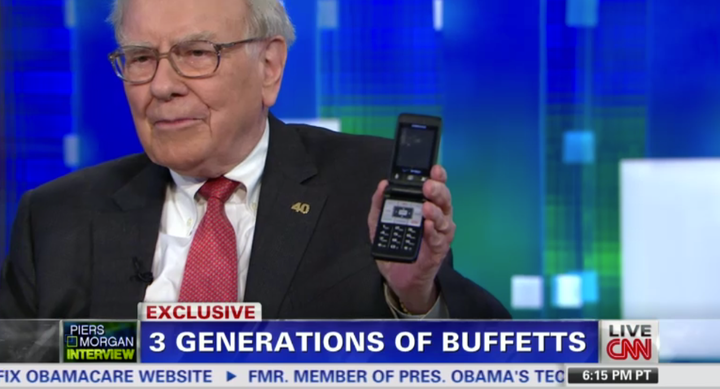 She's clearly on to something. A raft of celebrities and politicians have been seen using flip phones over the past year or so: New York City Mayor Bill de Blasio was spotted jay-walking and talking on one. Lovable billionaire Warren Buffett showed off his Nokia phone on CNN in 2013. "This is the one Alexander Graham Bell gave me," he joked. "I don't throw anything away until I've had it 20 or 25 years."
Vogue editor Anna Wintour was seen using a flip phone last year at the U.S. Open. Rock god Iggy Pop told New York magazine that he has a flip phone, in part "because you can drop it a lot and it won't break."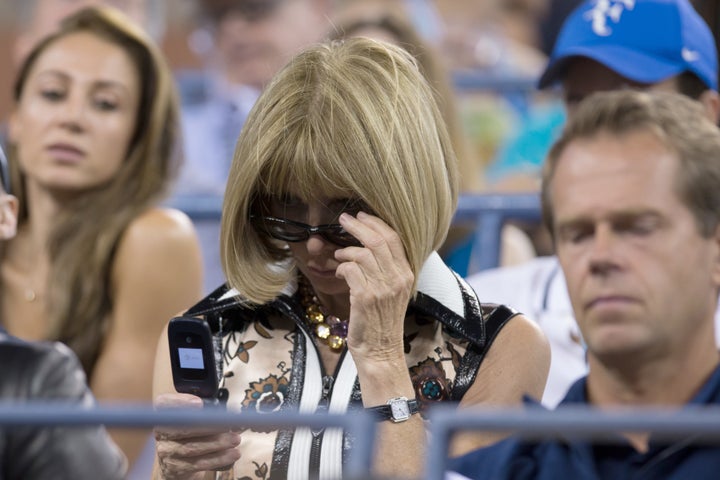 Even Rihanna has been spotted using the '90s-era device. And really, who's cooler than Rihanna? (She's also been photographed using a pay phone, but we don't see those making a comeback anytime soon.)
Asked about his LG phone in an interview with HuffPost last year, Sen. Chuck Schumer (D-N.Y.) said of flip phones, "I love them." He hates being in meetings when people are all staring at their iPhones, he said. (Me too, Chuck!)
Some of his political peers are on-trend, too. Sen. Lindsey Graham (R-S.C.) has apparently never even sent an email.
Another benefit of flip phones is that they're cheap. Shook said her flip phone cost $19, and the cost was comped by her phone provider. In fact, the $10-a-month fee for the phone also gets comped. They're literally paying her to have the ancient thing.
But not everyone can actually afford to ditch their smartphone. Many of us need to be reachable by email or text, and not every boss is going to understand that you're only available by phone. (Yes, you can text with a flip phone but remember how painstaking that was? Also: no emoji.) If you're a parent or grandparent, your kids or grandkids might never contact you again -- that's how deeply talk-phobic we are these days.
My 85-year-old aunt -- who never uses a mobile device -- recently lamented that no one ever calls her anymore. They all want to text, she said.
Still, no one's suggesting you totally ditch your smartphone for a flip phone. The device is just the latest add-on in your arsenal -- a security blanket for anyone who's terrified of going a moment without being connected.
Yet Shook said she's hearing from plenty of people at Accenture inspired by her move. One tech writer predicted earlier this year that the "dumb phone" would make a comeback.
Maybe it will? Then, finally, we can all get more sleep.
Related
Popular in the Community