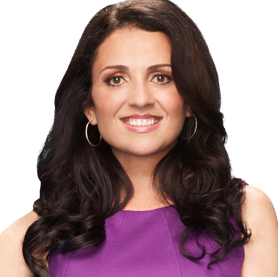 Yesterday, I shared a look-ahead at Season 10 of Bravo's Flipping Out http://www.huffingtonpost.com/entry/flipping-out-returns-to-bravo-august-17th-a-brief_us_598eed21e4b063e2ae057fc6, a show my friend Nell Kalter jokingly refers to as "real estate porn." For those not in the know, Flipping Out centers around OCD interior designer and house flipper Jeff Lewis, his intense work and demanding management style combined with the unique humor he brings to human interactions. Viewers love to see how those around him respond to his quirks and eccentricities, his moods, whims and obsessive tendencies and the way he handles clients. There are hilarious dynamics between the friends and colleagues that surround him, including his ebullient Executive Assistant Jenni Pulos, an actor and rapper with the Watch What Happens Live (WWHL) theme song to her credit.
I caught up with Pulos for The Huffington Post to get her take on why Season 10 could be the best one yet:
At the beginning of this upcoming season, we see that Jeff and Gage (his partner) are very stressed out, about to become dads as Baby Monroe is due (via surrogate) in mere weeks. What was going through your mind at that hectic time during filming?
You see in the first episode that they are frantically trying to get the house done to a point where it would be good for Monroe. Life changes as a parent and you're not number one anymore, so they're realizing that to work out of the home where there will be a baby, certain things have to be in place. There is a lot of tension, but I understand it - even the second time around (as a mom of two). Those weeks leading up to delivery, you just want everything to go well. If you have the tendency to worry, which I do as well, you handle things in a certain way. Jeff handles things by going ahead with construction and knocking the house down! Gage deals with emotions more internally. You will see when the baby comes how their whole lives change and it's so wonderful that it's caught on this show. In this case, it's so beautiful that they opened up that part of their lives and it was captured for the show. You literally see a shift in their world.
You'll also see that a lot of things happen that were not expected. As you're watching, you're thinking 'can one more thing possibly happen?' Then something else occurs...and that's life. The viewers will be on pins and needles saying I can't believe this.' Our show is very authentic so you're going to get the most heightened moments for sure.
We also get to see that Jeff is very tough on Vanina (Alfaro), a former intern who rose to the role of Design Associate. For those who are not as familiar with you from past seasons, do you intervene when Jeff is hard on employees?
I always try to intervene. When you're working for someone, sometimes you have to give them a straight call and your employer respects you more for that. I realize that too now as a parent: You can't always be your child's best friend. When you see Vanina getting upset, it was during a hard time. Vanina has been with Jeff a long time so you know she knows his personality and understands the dynamics. She knows you can't take things too personally. I think Jeff has really been self-reflective since becoming a parent. There's been a changing of the guards this season in many ways. Vanina makes life decisions and Jeff makes life decisions.
Some viewers wanted to know how you decided to go public with your fertility struggles.
My husband is a physician and he was against it in the beginning, as was I, but it was a big part of our lives and the show documents our lives. When I realized how many people had gone though IVF and so many things to get their baby, I thought 'why shouldn't I share this so others realize they're not alone?' I also thought I should share this great person - Dr. Potter - so others know they can come to the office and ask questions. We actually had a potential client who opened up to me and said that after seeing the show, they did IUI and now they're expecting twins. Maybe I was supposed to be a conduit for people. I mean...did I want to show that I was transferring my husband's sperm in a paper bag? Probably not. But my life became more of an open book once my first marriage didn't work out. If this fertility struggle can help someone, then let's go for it. It's very common and I think people don't want to talk about it, but some people want to know that this isn't going to be the end for them. It can be very emotional and there may be complications, but the outcome can also be incredible.
Those keeping up with the blogs and listening to Radio Andy know that Zoila Chavez (Jeff's beloved, adored and funny housekeeper) has retired. However, in the first episode we aren't given an indication about this. I don't know when this will be revealed, or if it will be revealed during this season. Do we get to see any major changes in Zoila's role? Also, what is her relationship like with Baby Monroe?
Zoila is very much there for Monroe and you'll see that. There is a lot that evolves this season. Jeff's mom died when he was young and there's a real love there with Zoila. You'll see things will change and she's still very much a part of his life, but it's emotional. There is a theme of rebirth and things changing. This is the richest season we've ever had because of real life changes. So many things are shown that people can relate to in all aspects. We see thing like how work dynamics change as we become parents and this is a season that really is all encompassing. You'll also see some moments that are difficult. If you left the show for a year or even more, you can come back. This is the year.
Some viewers asked about your rap career and if there are any new developments there?
I am a rapper and I always will be. Follow your dreams and the more haters, the more you're doing something right! I'm currently trying to develop a children's animated series with rapping and I'm working on some ventures that are more in the adult realm. Andy has been lovely because he kept my rap as the WWHL theme song. It's really wonderful and such an honor to see Cher as a guest and then hear my song. My daughter heard it and asked 'is that you, Mommy?' So I actually taught her the first line and she can do the rap!
To find out more about the "changing of the guards" this season and how Jenni helps anchor Jeff as new dad, tune in to Flipping Out. Season 10 premieres on Bravo August 17th, 9/8c.
Special thanks to: Penny M., Ryan B., Tara A., Megan T., Kate M., Catherine B., Stephanie M., Allison M., Claire B., Kathy M. and Moira K.
Calling all HuffPost superfans!
Sign up for membership to become a founding member and help shape HuffPost's next chapter
This post was published on the now-closed HuffPost Contributor platform. Contributors control their own work and posted freely to our site. If you need to flag this entry as abusive,
send us an email
.