When someone as creative as Flipping Out's Jenni Pulos takes on the role of mom, you want to know how it's going to manifest itself in the way she parents.
Pulos, a Greek American, is in the midst of balancing both a rich family life and career. She married orthopaedic surgeon, Jonathan Nassos over two years ago, and the couple now have 1-year-old Alianna.
Pulos also has a book out, Grin And Bear It: How to Be Happy No Matter What Reality Throws Your Way and a rap album for kids called Old School Kids Beats which includes songs like, "Bullies Aren't Cool," "Poo in the Potty" and "The Birthday Dance."
In a Q&A with Pulos, I asked about the joys and frustrations of motherhood and how she keeps it all in balance while still being uniquely her.
What is the best advice about parenting you have received?
That you will fail in some way, everyday as a parent. Embrace that and just do the very best you can. The time you spend with your child, no matter how long or short it may be in a given day -- it better count.
Be present in that time and make it all about them. Listen, engage, and be connected to your child. They feel our energy and quickly learn to speak the emotional languages we teach them.
My mother whose name is Alice has prayed for me every day of my life and that is what I now do for Alianna.
You are such a creative person. How do you plan to develop that kind of creativity in Alianna?
Again, I have to credit my mom who, with wisdom, let me be me. I hopefully will follow in her footsteps and allow Alianna the freedom to express herself and appreciate her own unique way to see the world.
Is there something as a mom that you're doing that you don't see other moms doing --something that's unique to you?
I dressed Alianna in crazy costumes early and she loved it -- she is my daughter. We play dance party in her high chair during breakfast. She now grooves and busts moves during lunch and dinner as well and loves it.
I took her to a Halloween party store and she looked at a creepy monster man and hugged him while yelling, 'baby!' I also let her touch the fake rats and snakes and she really enjoyed them -- she is my daughter.
What is your biggest frustration as a parent?
As a working mother, my biggest frustration is leaving my child. I am blessed to leave her in wonderful hands where she is happy.
What is your biggest joy?
She recently had her first birthday and shortly after took her first steps saying her name proudly when her tiny legs had moved four times. I never knew I would have these feelings in my lifetime that no words can express.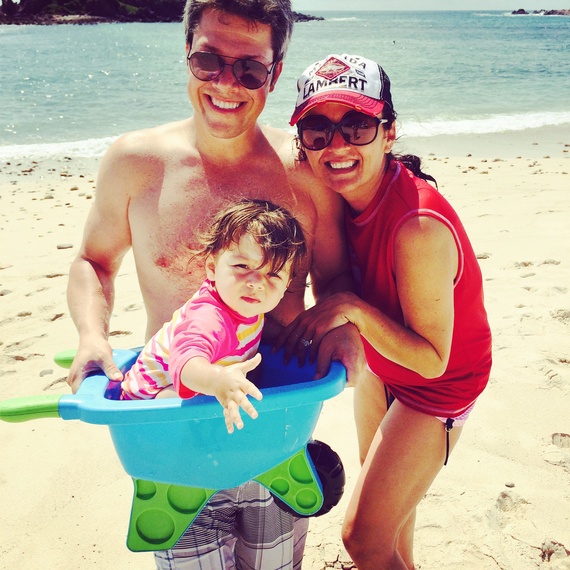 How do you maintain the connection and romance with your husband after having a baby?
We find time to get away for a quick overnight trip and reconnect our romance. We find time for date nights.
As far as connection, I have fallen more in love with my husband seeing the kind of father he is to Alianna. His attention and care for her is a direct reflection of the love he has for me. That's super sexy!
How does the way you were parented affect your parenting? Does your Greek background play a role?
I am the child of a working mother and I am sure that has helped me to be sensitive to Alianna's situation.
My baby girl was welcomed into a large family with large traditions that I am very grateful for. Jonathan and I will teach her how to celebrate being a proud Greek American.
What values do you want to pass on to Alianna?
The importance of faith in God, kindness, and the strength to practice the Golden Rule.
Do you plan on having other children?
Hopefully Alianna will have a sister or brother.
What is one of the main things you're doing to keep family and career in balance?
Realizing things will always be unbalanced with life's unpredictability and learning to be calm and cope with that reality.
Burying the illusion of perfection and perfect balance in the backyard. My faith helps me face every day's uncertainties and continued chaos. If my family understands they are my first priority -- all is well.
Other thoughts on motherhood?
I became a mother late. I had no idea the feelings I would have connecting with this miracle that is now in my life. Parenting is by far the hardest and most rewarding job. It is a game changer.
It is the greatest gift because the focus shifts off of you and your priorities change. Joy does not begin to express what I feel watching my husband look at his daughter. My two dogs love her. My family and extended family love her. I am very grateful for every crazy day. Very grateful is a very great place to be.
Popular in the Community