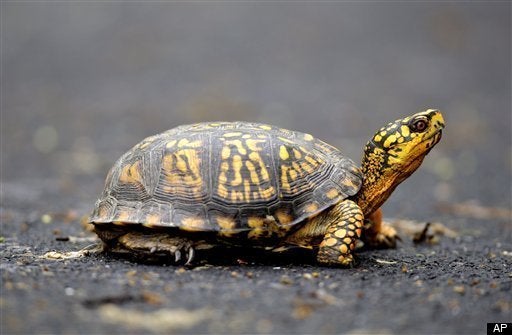 As a child, I could read Where The Wild Things Are in an infinite loop without boredom.

When I was in high school, I came across these words by Henry David Thoreau: "In wildness is the preservation of the world." I secretly carried them in my pocket for a decade.

In college, I learned most and felt best when hiking, camping, canoeing and scuba diving among my own private "wilderness preserves": the defunct flooded quarries and woods of south central Indiana -- the domain of hawks, raccoons and carp.

As a graduate student studying evolutionary biology, wildlife ecology and environmental economics, I learned that academia had little room for our deepest emotions.

Now, I've learned that the neuroscience of emotion, the rich diversity of those sentiments in each of us, and the feeling of "the wild" are as important to the preservation of the world as our understanding of biodiversity and economics.

Our ability to understand and study the human mind has expanded in recent years and with it follows a stream of new ideas about happiness, empathy, love, gratitude, creativity and our relationship with nature. This isn't rainbows and unicorns stuff, we're talking science: prefrontal cortex, amygdala, neuroimaging and neuron function with real world implications for education, public policy, health care and business.

To put it simply, it's entirely possible that after tens of thousands of years of human evolution, our abrupt separation from wild nature is making us kind of crazy. Richard Louv calls it "Nature Deficit Disorder" and his book Last Child in the Woods may change how you think about your future and your children's future.

Based on the totality of my life experiences as a child, young man and father, my academic research, and plenty of personal inquiry, I'm with Louv.

[Note: If you feel that I'm off track and that nature-free, plastic-cube life is the very definition of well-being, you may wish to stop reading.]

In 2008, I teamed up with Brad Nahill and an international network of organizations and advisors to merge academic interests, endangered species advocacy work and the notion that bringing people eye-to-eye with wild animals can be a powerfully transformative experience. We created a pilot project called SEEturtles.org that connected adventure travelers with community-based sea turtle conservation projects in need of modest financial and volunteer support. The project was a hit, and two years later it's provided jobs and hundreds of thousands of dollars to local non-profits, thousands of volunteer hours and hundreds of personal transformations. Each is a story worth telling. As a result, we have protected sea turtles, we have boosted communities and organizations and we have returned something lost to a number of reconnected travelers.

In his new autobiography, Michael J. Fox writes about his decision to pull the plug on Spin City while snorkeling with a sea turtle in the warm blue waters of U.S. Virgin Islands: "... maybe it was just the sublime indifference of that turtle, but a switch had flipped, and depending on how I chose to accept it, a light either just turned on or just turned off."
Who knows what combination of memory and analysis was triggered among the neurons in Fox's brain and whether the abrupt change had anything to do with the sea turtle, the ocean, the contents of breakfast or his battle with Parkinson's disease. Yet, "never once after my encounter with the sea turtle have I wavered in my conviction that it was the right thing for me to do and the right time for me to do it," he writes.
I've known countless others through the years who find clarity in nature, often while looking into the eyes of the wild.

Our little sea turtle experiment has expanded, it's now SEEtheWILD.org and includes whales, big cats, bears, birds, and sharks in addition to sea turtles. Our goal is to reconnect people, in the most responsible and thoughtful ways, with the wild within us and without us.

If you decide to travel, consider doing it in a way that flips your switch, helps an endangered species and supports the conservation efforts in communities near those animals.

Standing on the beach last month in El Salvador with one hundred tortugueros -- the Salvadorean men and woman on the front lines of sea turtle protection -- we each place a baby turtle into the surf: one hundred of 1.6 million released this year.
In Baja this week my Cuban colleague Felix Moncada swam with a whale shark for the first time, despite his proximity to the animals back at home -- getting a permit to enjoy, let alone study, the ocean by boat is difficult in Cuba. Emerging from the cool water his face and body beamed "increíble, precioso, fantástico!"
Some do this kind of thing every day and never get bored or take it for granted. Like reading Where the Wild Things Are, I guess.

The sea turtles and whale sharks swim off into the wild ocean. Without words, the connection to the past and the future is made. Our current responsibility to each other and our planet is clear.
Support HuffPost
The Stakes Have Never Been Higher
Related
Popular in the Community