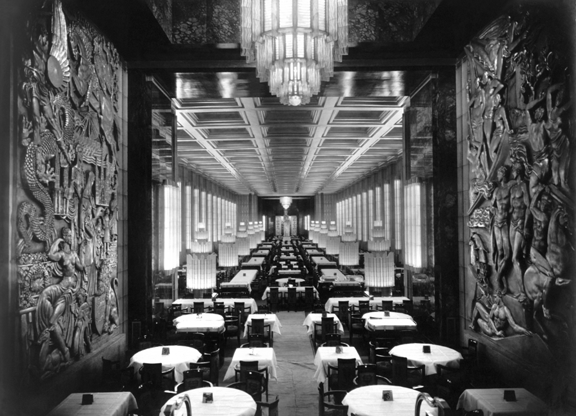 From Audrey Tatou's star turn as Coco Chanel in Anne Fontaine's Coco Avant Chanel to the recent, major exhibition devoted to thirties designer Madeleine Vionnet by Paris' Les Arts Decoratifs, French Art Deco is once again, a la mode. The Metropolitan Museum of Art in New York has recently put 75 percent its Art Deco collection on display (the most it has ever shown at once) and the cloche hat is everywhere - from the pages of Vogue, to the shelves of Saks, to the racks of Forever 21.
Right on cue arrives DECODENCE, an exhibit at New York's South Street Seaport Museum dedicated to a vast collection of interior artifacts and furnishings from the S.S. Normandie, the majestic transatlantic liner that boasted one of the most opulent expressions of Art Deco styling the world had ever seen.
Upon her maiden Voyage in 1935, Normandie was heralded as a triumph of the modern age and inevitably became the pride of the French Line as an estimated 100,000 spectators lined New York Harbor for her triumphant arrival. Her innovative, award-winning hull design was rivaled only by her unprecedented interior luxuries. The defining roster of Art Deco masters that worked on her fittings and furnishings included Rene Lalique, Jean Dupas, Jean Patou, and Emile-Jacques Ruhlmann.
Normandie's legendary three-deck-high First Class dining room, a marvel of the Art Deco era (and one this writer studied in design school) was, I believe, the most awe-inspiring feature of her interior design. At three hundred five feet long, it was longer than the Hall of Mirrors at Versailles. Yes, VERSAILLES! The room, which could accommodate 700 diners, boasted twelve tall illuminated pillars of original Lalique glass flanked by thirty-eight matching columns along the walls, and 20-foot tall entrance doors adorned with bronze medallions by artist Raymond Subes.
The spectacle continued into the staterooms. Normandie's finest First Class suites featured dining rooms, baby grand pianos, multiple bedrooms, and private decks, a selection of which can be seen at the exhibition. Other exhibit standouts include a full Ruhlmann dining room set from the famed dining hall, and the body of Normandie, replicated as an evening bag by Hermes. Most of these items, on loan from New York collector Mario Pulice, are in near perfect condition, surprisingly since Normandie met an untimely fiery death in 1942.
As sumptuous as the decor was, it was merely a backdrop for the illustrious passengers that Normandie delivered safely to both shores - a list that includes Ernest Hemmingway, Marlene Dietrich, Walt Disney, Salvador Dali, Douglas Fairbanks, Jr., James Stewart, Bing Crosby, and the von Trapp Family Singers. DECODENCE also features large-scale photographs and videos of some of Normandie's most acclaimed travelers enjoying the view from her decks.
As if all of this eye candy weren't enough, Lalique has issued a special engraved edition of its famed Cabochon cocktail ring, which was originally released during the days of Normandie. And fashion's enfant terrible, Jeremy Scott has designed the exhibition t-shirt in his signature cheeky style. Both are available in the museum's shop for those of us who want to take the dream home.