Artists, engineers and environmentalists are bringing mobile, self-sufficient living units to the parklands of New York City this weekend. It's all a part of "The Flock House Project," an exploration of alternative systems for living organized by artist Mary Mattingly. Now through September, the project is installing four new "Houses," all inhabited by project volunteers, that will migrate from Flushing Meadows to Battery Park to Van Cortlandt Park with a few stops on the way.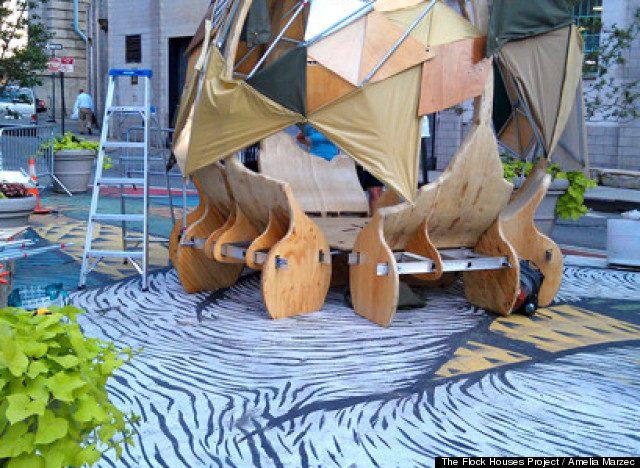 The units are built collaboratively using reclaimed and redesigned materials. The environmentally-friendly artists and engineers who serve as the architects and residents of the homes utilize rainwater capture methods, inner-city agricultural techniques, and solar energy technologies to create the mobile living centers. The shape and aesthetic of the units take into consideration the necessities of migration and pilgrimage, so that the walls and contents of the homes can function as transportable spaces. The resulting structures look like like angular, patchwork eggs equipped with gardens and interiorly decorated with hammock beds and a few personal items.
The project was initiated in Brooklyn in 2010 and has since set up shop in urban centers across the country seeking to enhance community-interdependence, resourcefulness, and creative exploration through the installation of these mobile habitats. The spaces were inspired by the current phenomenon of global human migration and the pressing need for urban communities to address issues of environmental and economic instability. Accompanied by workshops, lectures, performances, narrated cell phone tours and an interactive website, the project brings attention not only to the innovation of the self-sufficient units but also to the history and opportunity of the various areas that become the Flock Houses' temporary hometowns.
One of the homes is currently located at Pearl Street Triangle in DUMBO, Brooklyn and is inhabited by Brooklyn-based artist Amelia Marzec. She has set up a live video stream from the "Flock House," and will be demonstrating the various living systems involved with the home (energy, food, water, shelter) as well as the communication systems she has installed, such as phone booths and community wireless.
Check out photographs taken by Marzec below and let us know what you think of "The Flock House Project" in the comments section. The installations are completely interactive, so if you're curious about the living systems or the artists involved, visit the website and head to a "Flock House" nearest you!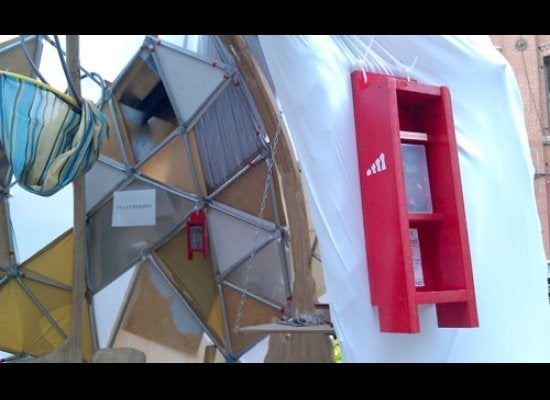 Photos of "The Flock House Project" by Amelia Marzec
Related
Popular in the Community