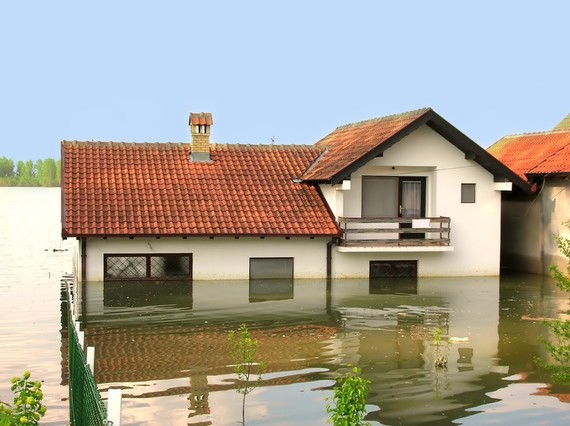 Real estate investors who have properties in areas requiring flood insurance need to know about changes in the law that went into effect on April 1, 2015. ROI and cash flow considerations make keeping up with cost increases important.
Changes in the law will result in some homeowners seeing premium increases of between 15% and 18%. Rental properties already have a different coverage level from a primary residence. Rental homes are only covered for actual cash value rather than replacement cost. This is an information tidbit that some homeowners converting their primary residence to a rental find surprising and not very friendly.
That aside, rate increases of close to 20% can put a decent dent in cash flow. If you're a homeowner living in the home, there are other clauses in the new law that should be of concern to you as well. There is a new $25 surcharge for primary homes and $250 for all others, including multi-family and secondary homes.
Congress is hoping that premium increases will help to pay down the $24 billion of debt built up by the National Flood Insurance Program due to claims from storms Katrina and Sandy. There are also a great many properties enjoying subsidies due to their higher risk profiles. These subsidies under the new rules will be phased out at 25% per year until the property premiums reflect the true risk.
There are some other changes worth noting as well:
• There is a new $10,000 deductible available for residential properties. If the owner chooses this option and also wants content coverage, that same deductible will apply.
• The minimum deductible for Preferred Risk Policies and the Mortgage Portfolio Protection Program will be $1,000 for both structure and contents. For building coverage over $100,000, the minimum deductible will be $1,250.
• Insurance agents will now be required to verify "primary residence." This is defined as the insured and/or spouse must live in the property for at least 50% of the 365 days following the policy effective date. To get the lower $25 surcharge, the owners will have to prove residence with one of the following:
o Driver's license
o Auto registration
o Vehicle proof of insurance
o Voter's registration
o Homestead tax credit form
One strategy used by some investors to acquire properties for rentals is the lease purchase. In this situation they may currently be enjoying lower flood insurance costs because no changes have been initiated and insurance agents may not even be aware of a change in occupancy status. Keep this in mind when budgeting forward for insurance costs.
New flood mapping has been proceeding for a number of years, and many people who never needed flood insurance previously are finding that it is now being required. Satellite mapping is creating new flood hazard zones and homeowners get some upsetting surprises when lenders require that their escrow be increased to cover their new flood insurance premium.
This is particularly painful the first year when escrow must collect an entire first year premium plus start building escrow for the next year's coverage. The impact on cash flow for rental properties can be painful, particularly if you can't adjust rents for many months into the future.
It's just one of those things rental property investors must keep in mind.
Calling all HuffPost superfans!
Sign up for membership to become a founding member and help shape HuffPost's next chapter