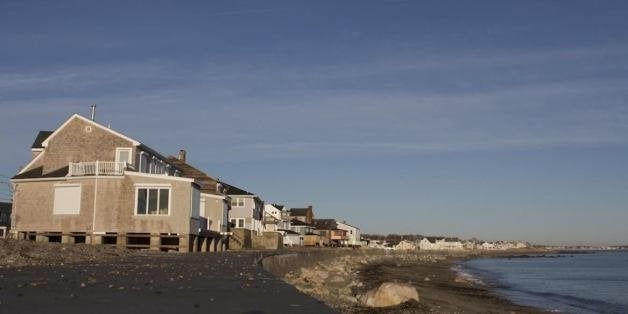 A Scituate, Massachusetts, vacation home damaged at least 10 times by Atlantic storms will be elevated with money from a federal grant for the second time in a dozen years – this time for $180,000 - town records show.
The 48 Oceanside Dr. home has emerged as a symbol of controversial federal policies that financially support the rebuilding of homes on the sea's edge with tax dollars, no matter how vulnerable they are to climate change's rising seas and more severe storms. The grant adds to the close to $1 million the home has received for flood damage in the past four decades through insurance payouts and grants, funded in part with taxpayer dollars.
"This is a repeated mistake," said Jack Clarke, director of public policy and government relations for Mass Audubon, an advocacy group calling for better management of coastal resources in light of global warming. "The way the federal flood insurance is administered now, there is a threat to public safety, a threat to public tax dollars and a threat to the environment by rebuilding in these vulnerable places."
The New England Center for Investigative Reporting learned about the grant to elevate the house because a building permit for the property filed in late April noted it. The grant was also confirmed by a government source.
The owner, a Florida widow, could not be reached for comment.
The home, which sold for more than $1 million in 2007, was last hit during the Jan. 26 blizzard. Once a small cottage, the house was renovated and expanded by various owners after flood and insurance payouts. It is now a 4-bedroom, 3.5-bathroom home. The house was first raised about three feet with a $40,000 federal grant about a dozen years ago. This time, it will go up five feet more.
The home is situated on the frontline of New England's losing battle with the sea. Scituate hosts some 150 homes that, like 48 Oceanside Dr., are hit so often they are designated "severe, repetitive loss properties" by the Federal Emergency Management Agency, which administers the national flood insurance program. Most of these homes in the town of 18,000 have received at least four payments from the federal flood insurance program.
Though always subsidized, the federal flood insurance program was once self-sustaining, operating with enough paying homeowners to cover losses. But it has been in the red ever since a series of punishing storms began with Hurricane Katrina in 2005. The program is now more than $20 billion in debt and relies on billions from the federal government to stay afloat.
Congress attempted to end the program's premium subsidies in a 2012 law, but backlash over the enormous proposed increases to how much people would have to pay for flood insurance – coupled with new federal flood maps that assigned skyrocketing premiums to homeowners never hit by water – triggered a new, less onerous law.
Properties designated as severe repetitive loss properties now pay higher premiums. Yet the law also allows owners of those homes to received 100 percent reimbursement for the price of elevating their homes.
Elevating homes can work: economic studies show that every dollar spent to elevate or protect buildings from flooding reduces future losses by $4 or more. That means taxpayers save money, said Doris Crary, a Scituate resident who elevated her home in 2010 and has not had a major hit by the sea since.
But the program has been controversial because many homes along the coast are owned by the wealthy and the flood insurance and elevation grant programs do not look at income as a base for reimbursement.
Clarke said that is not likely to change, but there needs to be a closer examination of homes often hit by the sea to see if they should be voluntarily bought out.
"There needs to be a portfolio of options ranging from elevating structures to abandoning areas that are repeatedly hit," said Clarke.
Massachusetts officials have been looking at many options, including a buyback program for some homes, but that effort remains unfunded. On Tuesday, a coastal erosion commission refined recommendations – from an offshore sand mining project to finding better ways to stabilize barrier beaches – before sending them to the Legislature for a vote. Meanwhile, a legislative committee heard a bill last week that would require the state to plan for more severe coastal storms and erosion in the future.
"Warmer oceans, rising seas and more severe storms are a recipe for disaster along the built shoreline," said Clarke. "Eighty-seven percent of our 6 million (state) residents live within 50 miles of the shore."
Calling all HuffPost superfans!
Sign up for membership to become a founding member and help shape HuffPost's next chapter
BEFORE YOU GO
PHOTO GALLERY
U.S. State Capitol Buildings