After a major American city went underwater and over 1,600 people died, a group was formed to make certain the details are accurately recorded for posterity.
That group is Levees.org, which I founded 120 days after Katrina passed east of New Orleans. Its surge triggered the worst civil engineering disaster in world history since the Chernobyl meltdown. Katrina's surge jumpstarted the death and destruction watched around the world five years ago.

Three of the most catastrophic breaches that flooded the City (17th Street, London and Industrial Canal) occurred prematurely and in a storm surge that a far less powerful storm could have caused.

Our group bristles every time a politician or news reporter gives Katrina all the credit for the disaster. Saying Katrina wrecked New Orleans would be like saying traffic wrecked the I-35 bridge in Minneapolis three years ago.

Both Katrina and the traffic exposed structural flaws. Both revealed blatant civil engineering mistakes.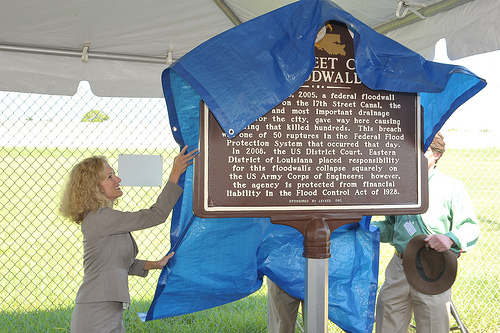 Sandy Rosenthal and others unveil Historic Plaque at 17th Street Canal. Photo/Pat Garin
Last week, I wrote to the New York Times asking them to please resist using fast and easy "Katrina shorthand." Forty-eight hours passed and we heard no response, so we decided to let our supporters step in. We urged our followers to sign our petition to the NY Times urging the paper to be more specific when referencing the flood disaster.
Over 1,000 people all across the nation signed our petition in under 48 hours. This immediate huge response - during the holiday no less - will hopefully show the New York Times that informed citizens understand that "Katrina" did not flood New Orleans. Civil engineering mistakes did.
Saying Katrina flooded the city protects the human beings responsible for the levee/floodwall failures. It is also dangerous since 55% of the American people lives in counties protected by levees.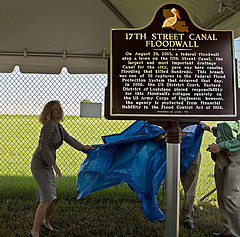 Our attorneys at Adams and Reese will deliver the signatures and accompanying comments during the first week of January.
Photo at left/Judi Bottoni
UPDATE: The New York Times has issued a response to our Petition. You can read about it here on this Huffington Post article.
The New York Times has responded to our Petition. You can see the response here:

http://www.HuffingtonPost.com/sandy-rosenthal/the-new-york-times-respon_b_816247.html
Related
Popular in the Community