Caitlyn the pit bull -- found in Charleston, South Carolina, last spring with her muzzle taped shut -- is now doing her part to help other homeless pets.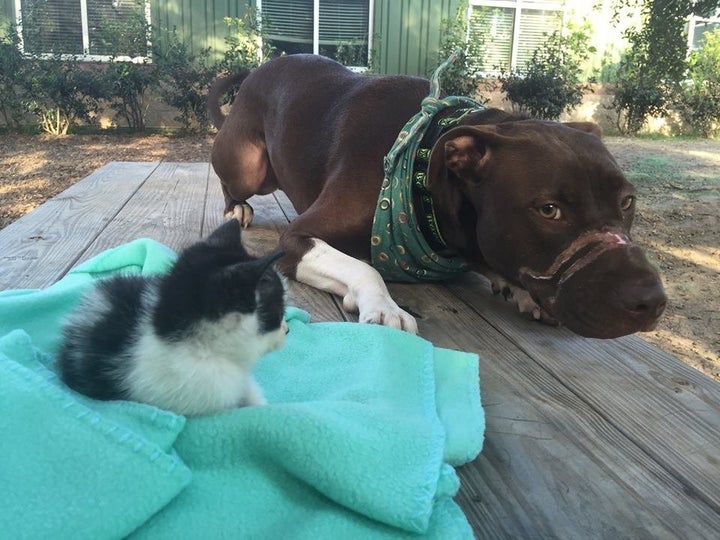 The group specializes in taking in feral cats and cats with behavioral problems. 
"Difficult cases," says the group's founder, Diane Straney.
Feline Freedom Coalition works with about 400 cats a year, helping make sure that they've got a shot at being adopted, instead of what would likely be their alternate fate: euthanasia. (To get them there, Straney has developed a cat socialization program, the  adorably named Last Chance Charm School.)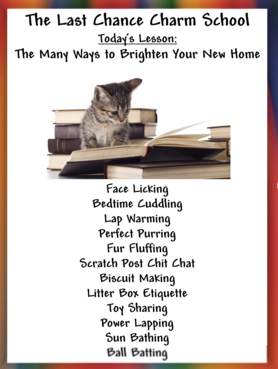 Many of these cats come from the Charleston Animal Society -- where Caitlyn came in and got fixed up, back in the spring; she's since become a sort of mascot and symbol of how love, commitment and resources can turn an animal's life so completely around.
The shelter calls Feline Freedom Coalition an important  "rescue partner," playing a key role in keeping Charleston's homeless pets safe and alive.
"Without them the most at risk cats and kittens in our community would suffer," Kay Hyman, spokesperson for the Charleston Animal Society, said.
But the recent "1,000-year" floods have made all this harder.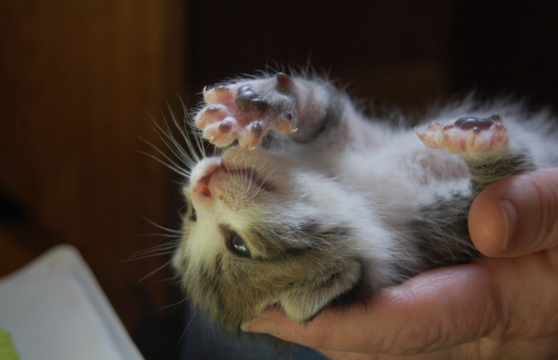 The sanctuary's road got ruined from all the rain. An RV used to keep sick cats in quarantine has a bad roof now, and mold.
Many of the cabins where the cats live while they're being readied for adoption have busted floors. Even the golf carts that Straney and her volunteers usually use to get around -- saving them time, as they look after the 250-some cats currently under their care -- got wrecked.
The estimate as of now is that the sanctuary sustained around $50,000 worth of damage from the flooding.
"Ultimately nothing can stop us from accomplishing our mission of helping stray and feral cats and kittens," Straney says. "But these issues certainly slow us down logistically."
That's where Caitlyn comes in.
Here she is, being her wonderful self, posing with a kitten, and asking for your help. (Possibly, also asking for a treat.)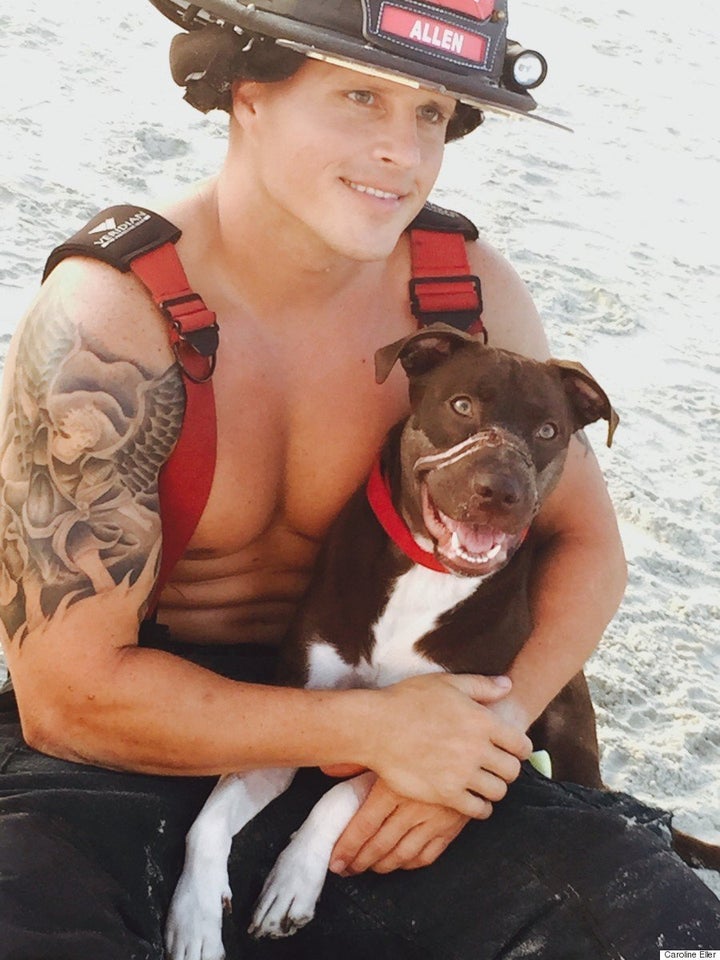 Since we know you'll ask: We don't know much about the firefighter, other than what we see here.
As for Caitlyn, we can tell you she's doing great.
She still has scars around her muzzle, but she's otherwise mostly healed up from her torture, except for a damaged salivary gland.
"She drools a lot," Hyman, CAS' spokesperson, said.
The shelter's CEO, Joe Elmore, describes Caitlyn as "a ham. After what she's gone through, she deserves to be."
Caitlyn's been in a loving foster home for a few months now, where she'll likely stay until at least next year, when her accused abuser's trial is expected to finish. Disappointingly to her many fans, she's not currently available for adoption.
But, maybe the surge of public interest in Caitlyn can transfer some good to these other animals, too: The shelter has lots, and lots, of cats and dogs who are up for adoption.
A few hundred more, even, than usual.
Rather miraculously, Charleston Animal Society's shelter didn't get flooded. But the floods left many of the area's animals homeless, and also reduced the number of local families able to take in new pets, right now.
"They're focused on recovering. They're not focused on coming in and adopting an animal," Elmore said. "We need homes."
Find out more about the Feline Freedom Coalition on the group's Facebook page. On top of donations, FFC could also use some new golf carts -- and volunteers, who aren't afraid of physical exertion. 
Check out Charleston Animal Society's adoptable cats and dogs. The shelter is willing to adopt out of state, though transport may need to be secured.
Get in touch at arin.greenwood@huffingtonpost.com if you have an animal story to share!
PHOTO GALLERY
These Pit Bulls Need Homes!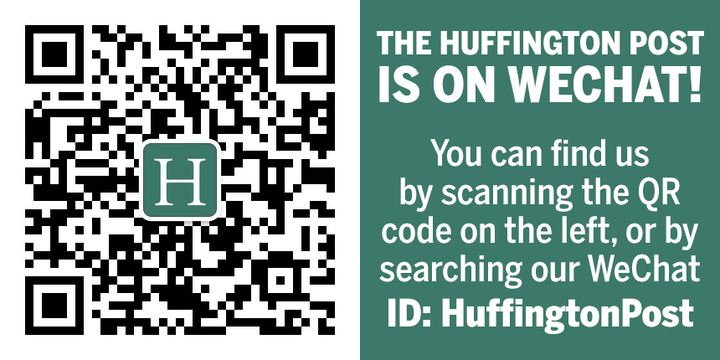 Calling all HuffPost superfans!
Sign up for membership to become a founding member and help shape HuffPost's next chapter