Floods affect more people globally than any other type of natural hazard. They cause some of the largest economic, social and humanitarian losses each year, and 2015 was not an exception. It started with heavy rains in Malawi in January leaving 200 people dead or missing and ended with the storms Desmond, Eva and Frank raging across the UK with expected losses over 2 billion dollars.
While floods are natural, there is nothing natural about their disastrous consequences. Repeated floods undermine societies' and economies' potential to develop. We easily think of these events as happening in other places to other people but when looking closer, the reason for these disastrous consequences are surprisingly similar in both developing and developed countries.
With the launch of a global flood resilience program in 2013, the Zurich Insurance Group set out on a journey to use our risk management expertise to examine how we can learn from successes and failures from past flood events, to take action to improve for the future. After reviewing major flood events in the Balkans, Germany, Morocco, Nepal, Switzerland and the UK, familiar themes emerge. From that work, we would like to highlight three areas that can make both developing and developed countries more resilient to floods (our definition of the word resilience is "the ability of a system, society or community to pursue its economic and social development and growth objectives while managing its flood risk over time in a mutually reinforcing way")
1) Today, people understand that we need to build forward and improve resilience rather than just building back in the same way as before. This dialogue has clearly intensified over the past two years but unfortunately we are not there yet. Although developed countries have more resources at their disposal than developing countries, they have very similar gaps in their level of resilience. This suggests that there are social and institutional barriers -including perception of risk, regulatory processes and systemic discrimination which restrict resilience. In poorer countries, social and institutional changes can be made without great economic input. For wealthier countries, this serves as a reminder that resource and economic capacity is not everything. Money alone cannot prevent a flood from becoming a disaster. Better planning and coordination across actors can generate successful responses to disaster, but stronger regulatory processes and fair policies are also needed.
2) Early warning systems save lives and allow people to protect assets but only if they function in an effective way. It is not only about setting up a system that sends out an alarm but to ensure the warnings get disseminated, understood and responded to. Lead times are very important for people to get out of harm's way and to stay away until the flood waters have retreated. Early Warning Systems are among the less expensive protection measures that can be put in place. They are constantly being improved through new mobile technology and more accurate weather forecasts.
3) Well designed, maintained and monitored physical infrastructures such as dams, levees and coastal defenses offer effective flood protection. But there is caveat. If not well managed, they cannot only accelerate the disastrous consequences of a flood in the short term, but also increase flood risks in the long-term by giving a false sense of security for people behind the protection. Furthermore, it is important to consider "green" infrastructure as a first line of defense. The use of green infrastructure to manage flood waters such as reforestation in the upper watershed, static and controlled flood water retention areas is found to be highly effective. In addition, park-like areas are particularly efficient at managing flood waters and which also have the co-benefit of being recreational areas during non-flood times.
We do not need to wait for another major flood to catalyze action. We hope that lessons learned and recommendations from our work can be applied both locally and nationally. To read more about our work, please visit us here.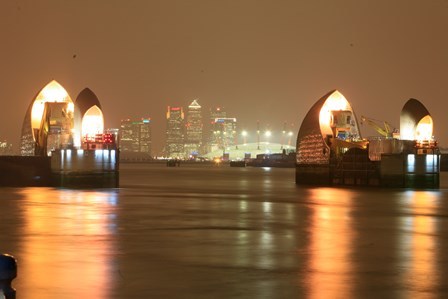 This post is part of a series produced by The Huffington Post and the United Nations Climate Change secretariat, in recognition of the Momentum for Change Awards. The series will put a spotlight on the organizations, cities, industries, governments and other key players behind some of the world's most innovative, scalable and replicable climate change solutions, and is part of The Huffington Post's What's Working editorial initiative. To view the entire series, visit here.
Calling all HuffPost superfans!
Sign up for membership to become a founding member and help shape HuffPost's next chapter