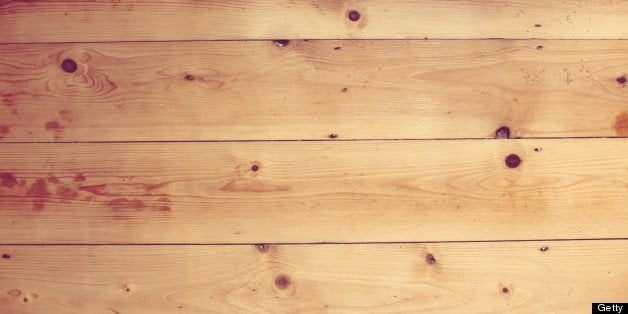 In the first and second of three posts with Russ Kendzior of the National Floor Safety Institute, we learned some general tips for fall prevention as well as ways to clean our floors to make them less slippery and dangerous.
In this final installment of our interview, he gives advice on how to purchase and install new flooring, insight from the commercial world, tips on how you as a consumer can influence the flooring industry and tips on how to keep from tripping over Fido and Fluffy!
You refer in your book to 'high traction' flooring. What is this?
This term refers to flooring that is not so slippery when wet. In technical terms, it has a high "coefficient of friction." A static coefficient of friction for a wet floor of at least 0.60 can reduce the likelihood of slipping by up to 90 percent. That means cutting your risk nearly in half.
The United States and Canada are setting new safety standards for flooring, but consumers need to go out and demand that manufacturers test and label their products. Vote with your pocketbook!
What can consumers do to get safer products that don't look industrial?
The good news is that industry is introducing a new standard for high-traction backing on consumer floor mats. So, if you buy them, look for "NFSI-Certified" on the label. This means the mat has been independently tested and found not to slide when you step on it. The most slip-resistant material remains rubber, by the way. But black rubber on vinyl can cause permanent stains, so the consumer needs to select products that are labeled by the manufacturer to be non-staining.
The main thing is to look for the labels, which are starting to appear in the United States and Canada. It doesn't cost you anything to be informed, and you can use your buying power to bring safer products to the market. Manufacturers will come around.
What additional products or finishes would you like to see retail centers add for flooring?
The main thing is for people to buy products that are certified by the NFSI; check labels to make sure the flooring is compliant. Change may have to start at the grass roots with consumers demanding that retailers get on board. If you know what to ask for, you can help make a change.
Will we start to see safer finishes as more attractive?
Yes, absolutely. Europeans use duller floor finishes, but the American public has been sold for years on shiny floors being clean floors, so we've gone for high-gloss finishes. I think as we get older and more safety-conscious, we'll shift to matte and satin finishes. And they'll become more fashionable.
A lot of people are worried about ceramic tile, because that's what we have in areas that get wet and slippery -- kitchens and bathrooms. Can you offer readers some advice?
If you're installing new tile, or any type of flooring for that matter, it is important to select the right type of product for a given location. Just because a certain flooring material will work indoors does not mean it will be suitable for outdoor applications. Ceramic tile is a good example of this. Most ceramic tile is designed to perform within a narrow temperature range and if exposed to freezing temperatures will crack, break or become loose, thus leading to a potential slip or trip hazard. So, make sure to check that the tile you buy is intended for your use.
After that, one option is to shrink the size of the tiles and add more grout lines. That reduces the potentially slippery surface and increases the rough, higher-traction surface. Of course, it also raises another issue -- smaller tiles and more grout lines mean more maintenance. So, whatever size of tile you choose, look for greater slip resistance and a higher static coefficient of friction.
For your existing ceramic flooring, clean it with water and a little vinegar. That's all you need. As I explained in your previous posting, many commercial cleaners add a slick build-up that makes floors less safe.
People fall outside their houses too, especially in wet weather. What can you say about outdoor materials?
Materials like slate or other natural stone are often used in outdoor applications like patios or walkways and if exposed to standing water, are prone to algae growth which when wet is very slippery.
What can people do to make their outdoor walkways safer?
Most outdoor falls take place on un-level surfaces such as cobblestones or patio stones, because of holes or raised nails in wooden patio decks, and so on. The most common -- believe it or not -- are trips over parking stops like those used in retail shopping centers. Ice and snow are also a problem but most elderly people tend to either avoid going out under such conditions or take great effort in reducing their stride and walk more slowly as to reduce the risk of falling.
As far as slate goes, you don't need to replace it but rather install it at a slight 2 to 3 degree angle to allow water to drain and not pool. [Standing water also breeds mosquitoes, making adequate drainage all-around important. -- RA]
You are deeply involved with fall prevention in industry. What lessons learned in the commercial world apply to slips and falls around the house?
The commercial world of stores and businesses has more square footage and higher traffic, so it uses a lot of tile-type floors. Still, just like you do in your own home, business owners have to maintain the flooring, provide adequate lighting, and remove clutter and cords.
The thing that's different at home is that a dog might be around the corner. It is common for people to trip over their pets. Professionals in the assisted living industry recommend putting a bright colored pet sweater, vest or collar on pets to make them more recognizable, especially when they are sleeping on the floor. A collar bell or jingly pet tags can help to provide audible cues as to the location of a pet as well.
If you feel this three-part series of columns on flooring safety will help people in your community, please share them widely. Work through exercise to strengthen the core and leg muscles that can keep you upright, wear securely-fastened shoes with non-slip soles, and remember how multi-focal glasses change your depth perception.
And tell us what you think. If falls aren't funny, then why are people so funny about doing what it takes to prevent falls? Have you considered changing your flooring to make it safer?
Related
Popular in the Community