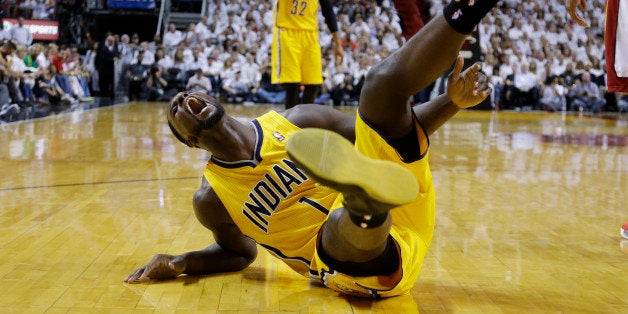 What's flopping? That's when a player exaggerates the effects of physical contact from an opposing player in an attempt to trick the referee into calling a foul. (Just check out the slideshow at the bottom of this article.)
But does flopping pay off? Not if you believe the results of a new study conducted in Israel. It suggests that most flops fail to fool the referee. What's more, it seems that players who flop actually harm their teams' chances of winning.
For the study, the researchers gathered 501 video-recorded incidents of flopping in Israeli Basketball Super League games and showed them to dozens of professional coaches and referees. Some of the experts were asked whether each incident of physical contact was intentional or not while others were asked to determine how a referee should respond. The researchers then compared how the experts called each play to what actually happened in the game.
What did the researchers find? When it came to flopping, not many of the referees in the actual game nor the experts in the study were fooled.
"Overall, the player is barely able to mislead the official and draw the offensive foul with a flop successfully in less than 10 percent of the time," Elia Morgulev, a Ph.D. candidate at the Ben-Gurion University of the Negev and the study's lead author, said in a written statement. "In the other 90 percent, the flopping player is simply left lying on the ground, leaving his team with four active defenders instead of five while the game goes on. Our methodical analyses of game outcomes in those cases reveal that flopping does more harm than good from the defending team perspective."
The NBA has acknowledged that flopping is a problem. In 2012 the league enacted an anti-flopping rule, and Stu Jackson, the NBA's executive vice president of basketball operations at the time, said in a written statement that "flops have no place in our game -- they either fool referees into calling undeserved fouls or fool fans into thinking the referees missed a foul call."
REAL LIFE. REAL NEWS. REAL VOICES.
Help us tell more of the stories that matter from voices that too often remain unheard.
BEFORE YOU GO