The toloache flower is a trumpet-shaped plant native to Mexico with a past steeped in legend. For centuries, the plant was used for its medicinal and hallucinatory properties, whether to relieve pain or attempt to divine the future. But as far as folklore goes, the toloache, considered "Mexico's flower of love and death," was primarily used in love potions.
It was this magical quality and romantic spirit that drew the all-women's mariachi band now known as Flor de Toloache to the plant when choosing their group name. The effects of the flower embodied all that the musicians hoped to convey through their sound.
"It seemed very fitting for the name of a mariachi band," Flor de Toloache member Shae Fiol explained in an interview with The Huffington Post. "The music is often used in romantic serenades, when someone is being proposed to. [...] Also, we're all women, and that is something rare, like the flower."
Fiol is one of the original members of the group, along with its founder Mireya Ramos. It was Ramos who was first drawn to the traditional Mexican folk genre, which was passed on to her by father, who learned it from his father before him. "The mariachi tradition is passed on through generations," Ramos told HuffPost.
Those not all too familiar with mariachi might immediately envision men in matching embellished suits and ornate sombreros, passing out roses as they serenade a group of blushing ladies. However, the genre is defined, musically speaking, by particular instruments ― guitarrón mexicano (acoustic bass), vihuela (guitar), violin and trumpet. But as Ramos specified: "It's not just the instruments but the way they are played. The guitar is very percussive, very rhythmic. It plays a musical game."
As for subject matter, the songs often revolve around heartbreak. And since mariachi bands are traditionally male-dominated, the songs sometimes fail to cast women in the best light. "There is sometimes a feeling that ... " Fiol paused, then finished, "women cause problems."
Ramos added: "There are certainly powerful and well-known female mariachi singers who have rebuffed those kinds of themes. We're trying to add to the balance."
Ramos had this very idea in mind when she resolved to form an all-women's group. The band began in 2008 as a trio ― Ramos, Fiol and a third member who is no longer involved ― busking in New York City subway stations, playing the mariachi classics. The impromptu stage was challenging, with trains zooming by, people pushing past, and the occasional turf battle with other performers. But as for exposure, the arena was unbeatable. The Daily News was the first outlet to catch the musicians performing below ground. They gave the band their first interview, and things snowballed from there.
Flor de Toloache now has a Latin Grammy–nominated album to their name and performs at venues around the world. They're made up of a diverse, rotating cast of members, with roots in regions including Mexico, Puerto Rico, Dominican Republic, Cuba, Australia, Colombia, Germany, Italy and the United States. This multiplicity is abundantly evident in the music itself, which evolved past traditional mariachi to include original songs and covers, textured with influences from genres like salsa, Latin jazz, pop, cumbia, hip-hop and soul.
"Mireya's brother is a very well-known DJ in Puerto Rico, so she brings a lot of hip-hop and R&B," Fiol said. "I grew up in Portland, with a lot of classic rock, pop and soul. It feels very organic to go back and forth between them, once we start bouncing around in genres it has such a cool feel. We're playing Nirvana and then we're playing Led Zeppelin and then we're going into 'Besame Mucho.' Sometimes people have never heard mariachi, or never heard all-women's mariachi, or never heard it going all these different places. It's exciting."
The creative process, Fiol and Ramos agree, is relatively natural and harmonious; the sundry threads of musical styles, heritages and personalities seem to fit together quite easily. In part, the artists attribute the smooth songwriting process to the close dynamics of the group, which feel as sisterly as they do professional. "You put women together and you just have this natural reaction of becoming sisters," Ramos said. "We all love each other. We've become a family. I think you feel that on stage."
It's this enchanting power of womanhood that Ramos and Fiol dreamed of eight years ago, when they first conceived of the idea of a band made entirely of women musicians. "I knew they were out there, but most of the musicians I worked with at the time were male," Ramos said. "It was also sort of an excuse to connect with other women artists. I wanted to create a platform for other women to be able to play other music and be known."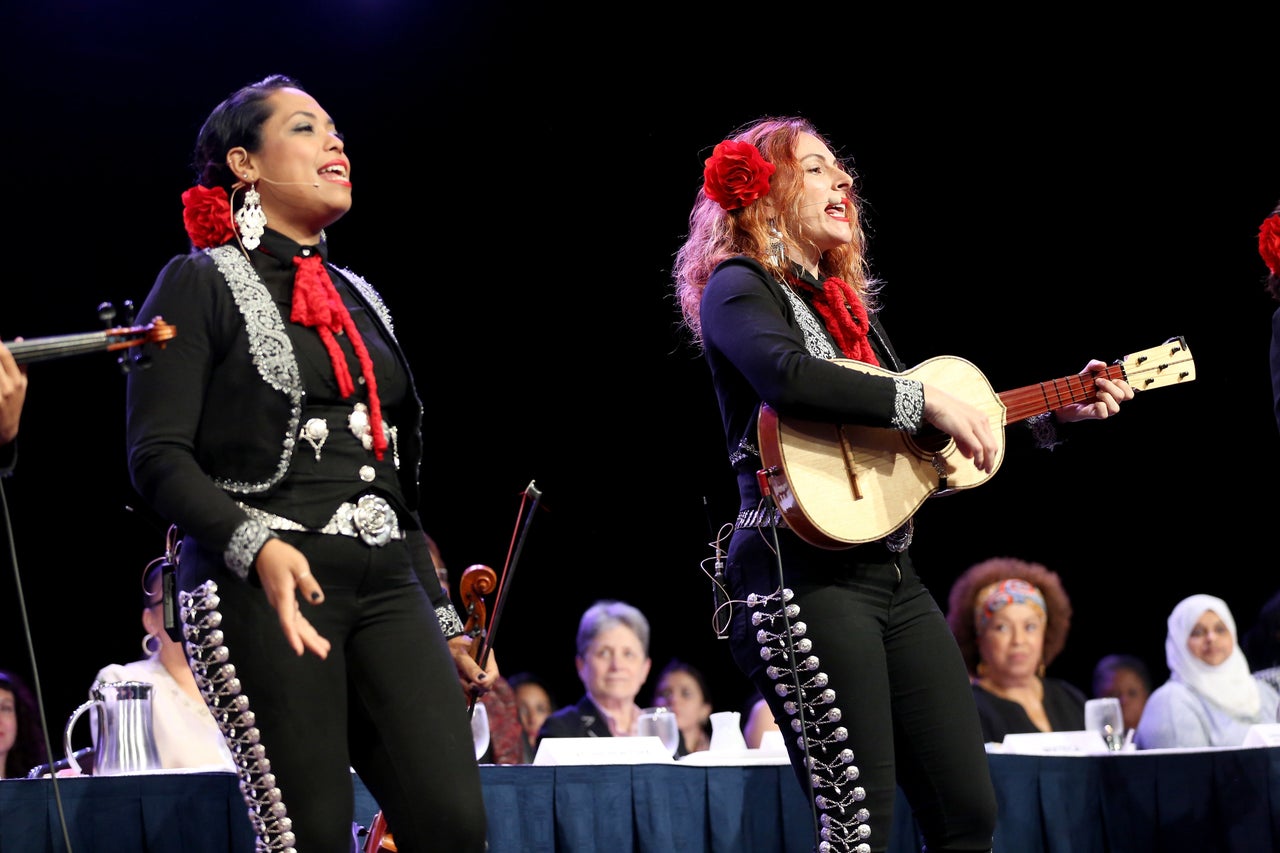 Working as an all-women group brings, not surprisingly, its additional hurdles. Both Ramos and Fiol expressed their surprise and frustration upon realizing that, when asserting themselves in leadership roles, expressing disagreement or disapproval, they were met with extra pushback because of their gender. "It's just a little harder to gain respect," Ramos said. "I didn't really know that was a thing until I was in this position."
Flor de Toloache also has to grapple with history of mariachi, which traditionally is suffused with machismo. "The tradition of mariachi got started by men," Ramos said. "Women didn't start playing until the beginning of the 1900s. You can see it in the world of mariachi if you are a woman. You can't do certain things. They want to pay you less."
Nevertheless, certain moments make the stretches of exasperation and disappointment all worthwhile. "When a little girl tells you she started her own women's mariachi band because of you," Ramos said, "those moments remind us of why we love what we do."
It is this mixture of mariachi's past and future, tradition and innovation, respect and rebellion, that delineates Flor de Toloache's intoxicating sound, the sound that defines them whether they are singing a cover of Kansas' "Dust in the Wind" or a rendition of the mariachi classic "El Rey," or "The King."
The latter, one of the ultimate mariachi songs, is a favorite of Flor de Toloache's. Although sometimes they change the original lyrics so they conform to a woman's perspective, they often perform this timeless piece with its original words intact. "It has an interesting effect to have an all-women group singing 'The King' and meaning it," Fiol said. "I'm not singing it as a man, I'm singing it as a woman, but I'm not changing it to 'The Queen' or anything. Women can be kings in their own right."
Flor de Toloache will perform on Nov. 10, 2016, at Rosslyn Spectrum Theatre in Arlington, Va. The concert is part of the Global-Phonic Music Series, sponsored by Arlington Arts, in partnership with the Mexican Cultural Institute. Tickets are available here.
Related
Before You Go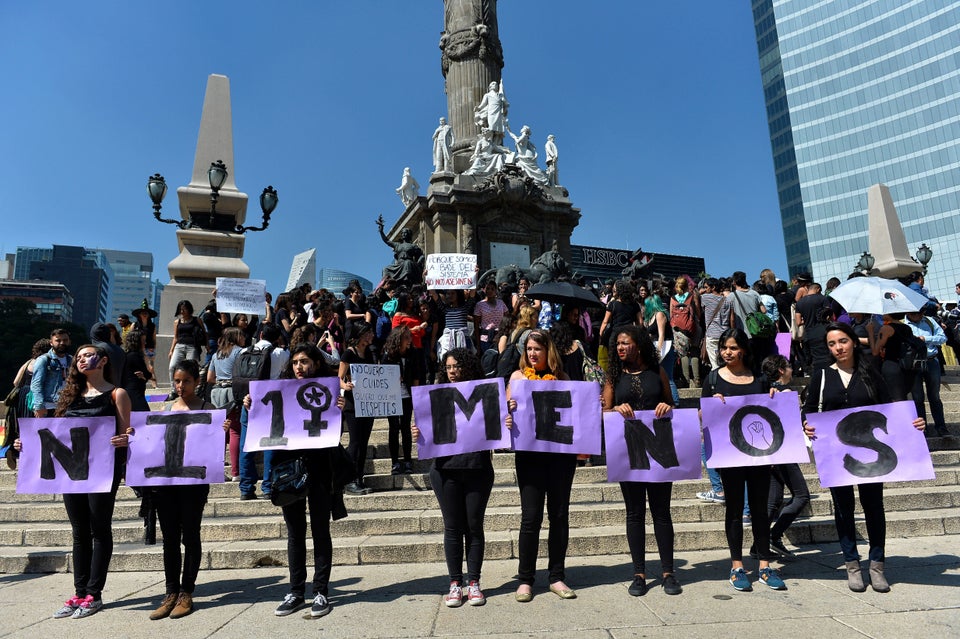 27 Powerful Images Of Latin American Women Protesting Against Machista Violence
Popular in the Community