Flora Farm is a magnificent ten-acre organic farm in the foothills of the Sierra de la Laguna Mountains in San Jose del Cabo, Baja California Sur, Mexico and a short drive from the resort corridor in Cabo. The road to get there is filled with some serious bumps and the place is always pretty booked. However, when we learned about the organic farm and the Farmarita, the Farm's spin on the traditional Margarita made with carrot juice, we knew we had to make a visit...A truly Farm to Table in every sense!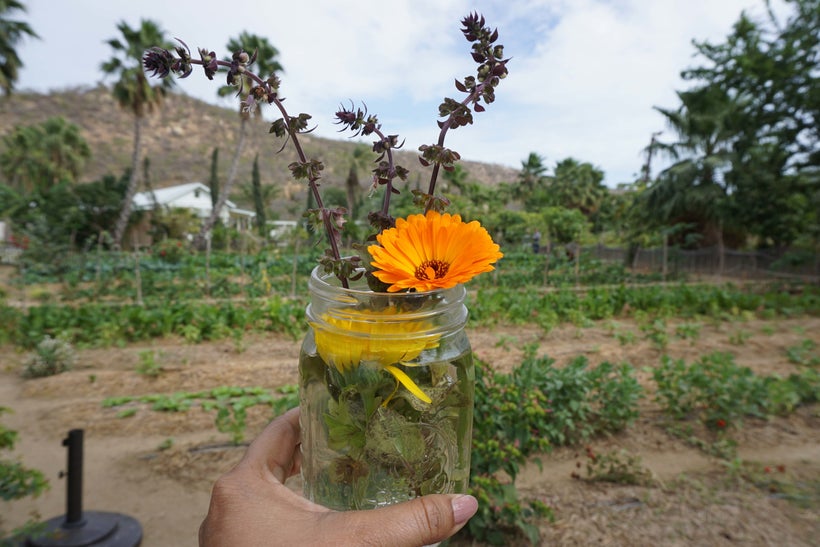 The philosophy of Flora Field is to create handmade food utilizing their own farm fresh ingredients... When they say Farm to Table, they mean it, it is not just a trendy tag line.  Their goal is "to create a healthy family meal with a sense of place."  While we were seated at our table, we could see rows of plants right across from us - that was exactly where our meal was coming from.  There were rows of rosemary, radishes, basil, asparagus, baby arugula, turnips, eggplant, even some cacti.  Almost every last bit of what is on the menu comes from Flora Farms, either at the farm where we sat or at what they call "the ranch," 15 miles away. That's where Flora grows larger quantity vegetables, such as carrots and cucumbers, and raises its animals.  How awesome is that? Food is served family style, we were there for lunch and started with some adult beverages - Farmarita made with carrot juice and a Farm Julep made with fresh watermelon juice.  The kids had Shirley Temples and ordered a Pizza to share. I had the Grilled Eggplant and Zucchini sandwich with veggie chips while the hubby had the Chicken Cheese burger.  The breads were beyond amazing, choices include pain l'ancienne baguettes, ciabatta, sourdough, focaccia, whole wheat and herb breads. I'd have to say that the chia breads were addicting.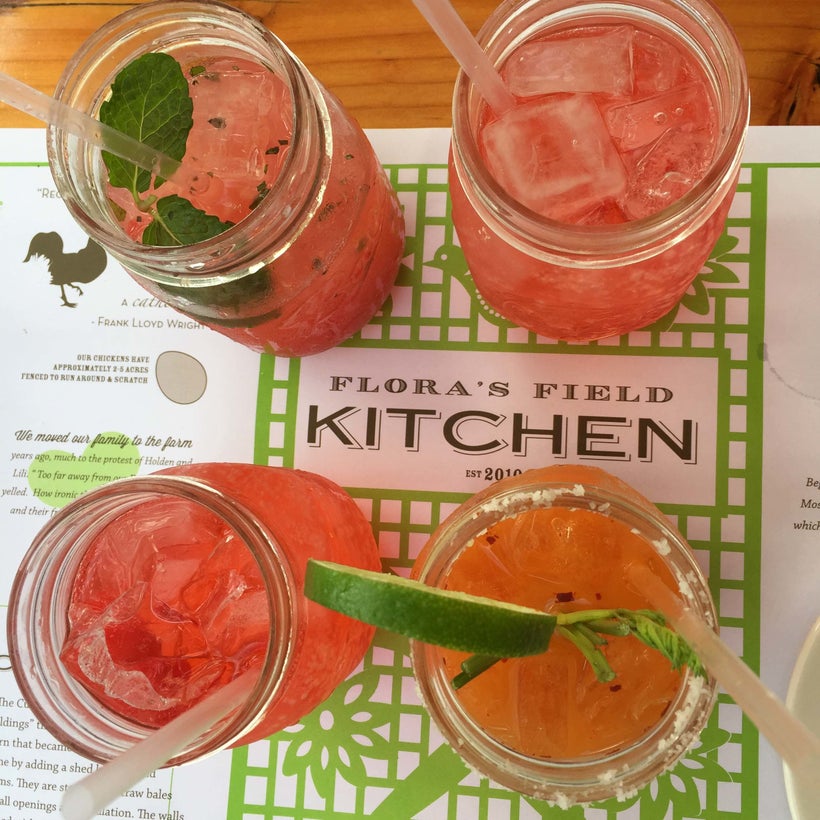 While we were enjoying the lunch in the valley surrounded by kale, sunflowers and cabbage patches, wondering if it could get and better - the trio of musicians started playing some fabulous tunes.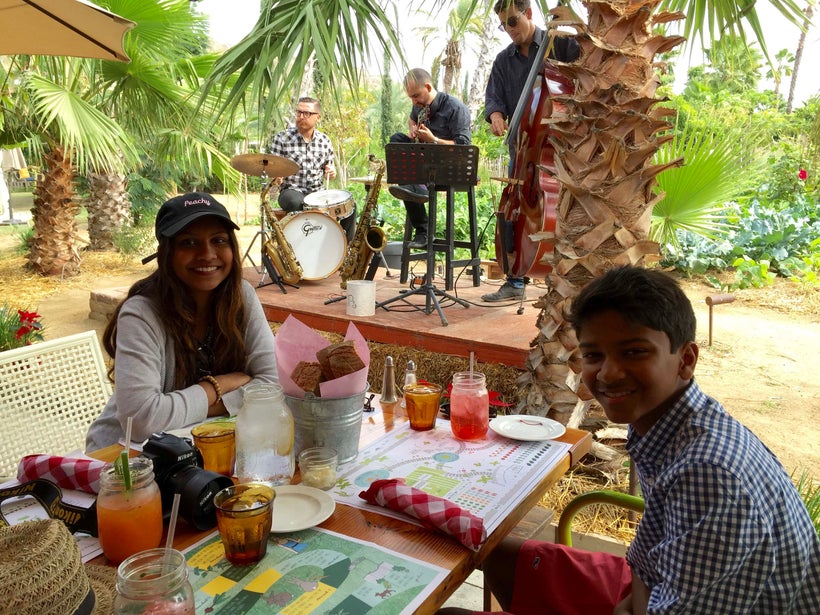 After lunch, we got to tour the farm and were told their working day begins at four am in the bakery when Jose arrives to fire the wood oven. The menu changes with the seasons. I love it when restaurants prepare food this way...  working hand in hand with nature and the seasons' bounty. Flora's Field Kitchen strives to provide you with only what we grow and raise- we were told...  all of their meat like pork and chicken is free range, hormone and antibiotic free.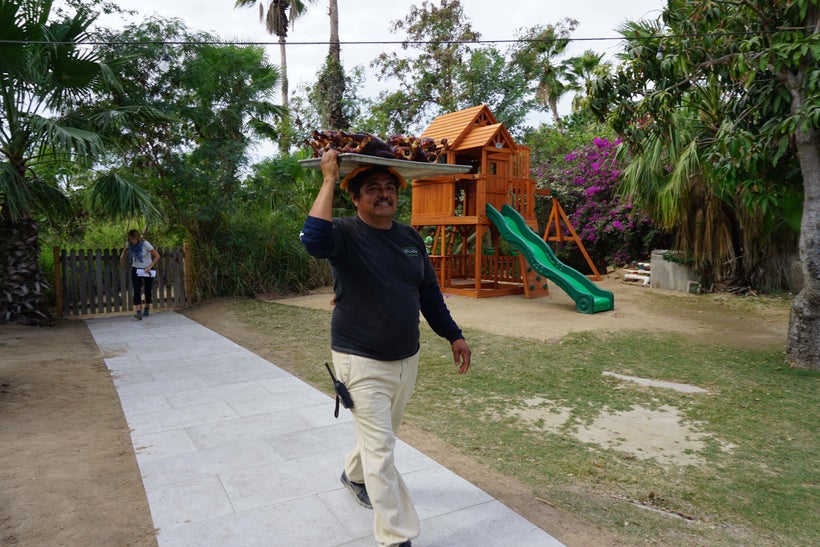 Between the patches of kale, cabbage and eggplant there were rows of zinnia and sunflowers which act as a natural insect repellent.  Zinnias deter cucumber beetles and tomato worms and the hollowed out hay used as the mulch also helps keeping bugs way, we learnt.  The farmers switch out the placement of the crops so that bugs don't come back, apparently they have memory of where the vegetable plants are and come back every year to find and eat the produce. After buying the land in 1996, owners Gloria and Patrick Greene, of Northern California, spent 10 years enriching the sandy soil with compost and cover crops. Once it became viable, Flora Farms carved a growing season out of the nine months of the year that aren't the oppressively hot Mexican summer. Its bounty is now wide and robust, about 90-plus heirloom vegetables, many of which are pulled from the ground the day they are served. Now that is truly Farm to Table right?
Flora Farm is also available for private gatherings to celebrate milestones and other special occasions.  The farm and gardens provide numerous private outdoor areas for events.  There is an herb garden amphitheater, lakeside lawn, hilltop altar and more. Adam Levine, the singer, song writer and one of the sexiest men around ( from pop rock bank Maroon 5) got married to his sweet heart Behati Prinsloo in a super secret ceremony at the hilltop chapel here at Flora Farms. It is closed to the public, but we were able to get a little tour...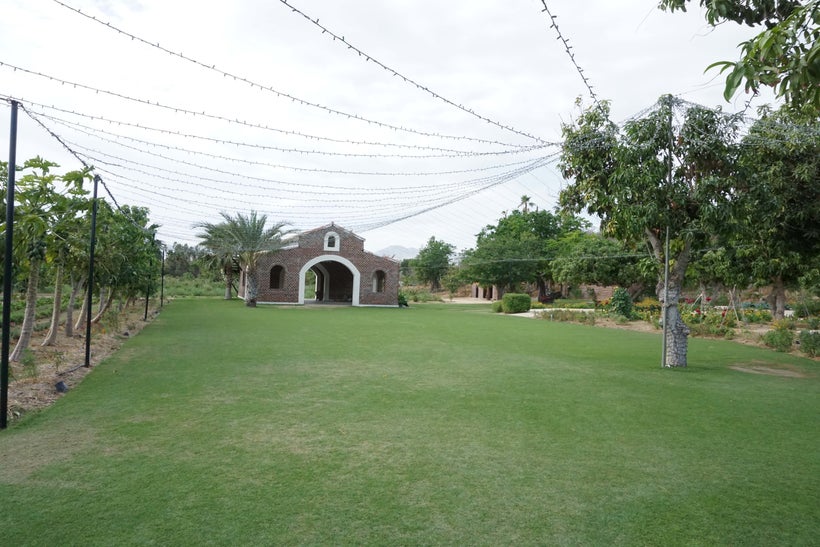 Cottage living in the Farm
In addition to the farm and there are 10 Culinary Cottages; handcrafted luxury outbuildings nestled within a private section of Flora Farms. Each with its own fully functioning, hand tended organic garden. This sanctuary is just a mile from the Sea of Cortez and the Puerto Los Cabos marina. Cottage Owners enjoy many private experiences on Flora Farms. There is the community pool and hot tub, spa with yoga and pilates studio, and a juice bar, filtered swimmable family pond, and a bocce ball court. On the culinary front there are harvesting privileges in the farm fields, private community dining as well as in cottage dining. Owners arrive through a private entry; enjoy parking for two cars at each Cottage and 24-hour security. Flora Farms will also operate a future Beach Club for Culinary Cottage Owners, starting in 2018.  Some of the cottages can be rented but make sure to book them early.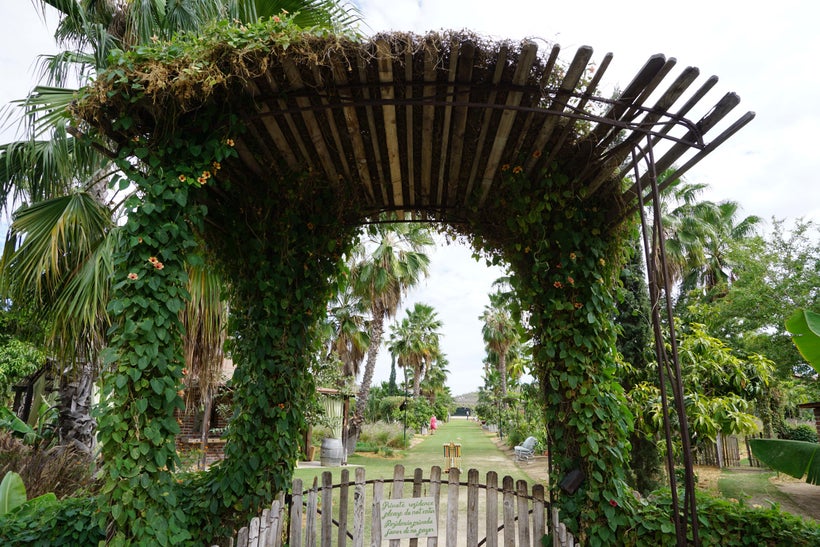 Flora Farm also has a small but colorful Grocery stocked with their produce, meats, eggs, breads, sweets, sauces, dressings and preserves. The vegetables, herbs, flowers and fruit are all picked fresh daily and bread is baked each morning in the wood-burning oven.  The spa also had some homemade soap, candles and potions that smelt heavenly.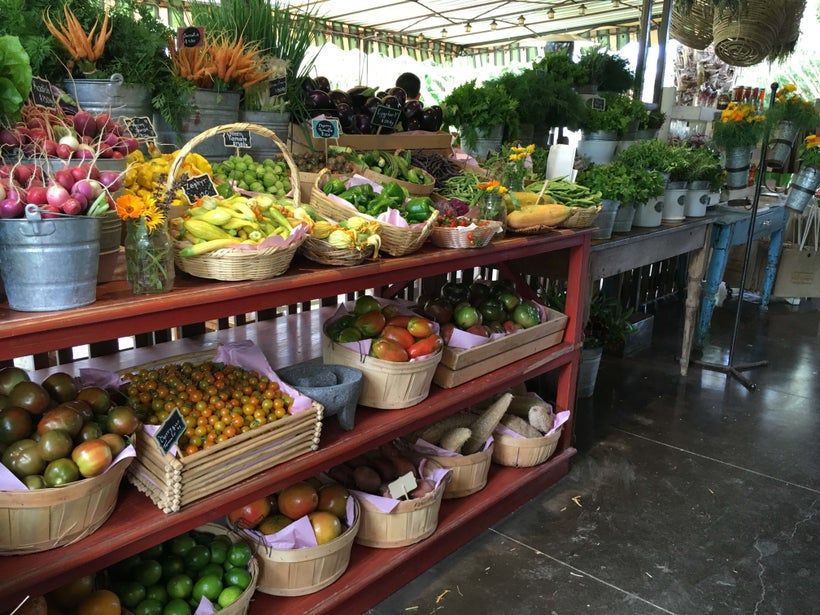 After wandering around the farm, we stopped to sample some carrot icecream and mango sorbet before heading back to the resort. If you find yourself in Cabo do yourself a favor and add lunch or dinner at Flora Farms to your itinerary but make sure you make your reservations.
REAL LIFE. REAL NEWS. REAL VOICES.
Help us tell more of the stories that matter from voices that too often remain unheard.
This post was published on the now-closed HuffPost Contributor platform. Contributors control their own work and posted freely to our site. If you need to flag this entry as abusive,
send us an email
.