By Anna Mehler Paperny and Ernest Scheyder
WILSON/WILMINGTON, N.C. (Reuters) - Deadly storm Florence drenched North Carolina with more downpours on Sunday, cutting off the city of Wilmington, damaging tens of thousands of homes and threatening worse flooding as rivers fill to bursting point.
The death toll rose to at least 15 from Florence, which crashed into the state as a hurricane on Friday, bringing record rainfall.
It had weakened to a tropical depression by Sunday, but was forecast to drop a further 5 to 10 inches (13 to 25 cm) of rain in North Carolina, bringing rainfall totals in some inland areas to 15 to 20 inches and over 30 inches (76 cm) closer to the coast, according to the National Hurricane Center.
"The storm has never been more dangerous than it is right now," Governor Roy Cooper told a news conference. Many rivers "are still rising, and are not expected to crest until later today or tomorrow."
More than 900 people were rescued from rising floodwaters and 15,000 remained in shelters in the state, Cooper said.
South Carolina's governor issued a similar warning, urging anyone in a flood-prone area to evacuate.
"Those rivers in North Carolina that have received heavy rainfall are coming our way," Governor Henry McMaster said during a news conference. "They have not even begun (to crest). But they will. And the question is how high will the water be, and we do not know."
At least 10 people have died so far in the storm in North Carolina, including a mother and child killed by a falling tree, state officials said. Five people died in South Carolina, including three in car accidents and two from a generator's carbon monoxide.
Officials urged those who evacuated to stay away.
"Our roads are flooded, there is no access into Wilmington," New Hanover County Commission Chairman Woody White told a news conference. "We want you home but you can't come yet."
In New Bern, a riverfront city near North Carolina's coast, the storm tore away porch steps, splintered balconies and sent a yacht plowing into a garage that shattered like kindling.
Anne Francis Coronado came back on Sunday to inspect the damage with her husband.
"There's mud all over the floor and the wood floors have buckled," she said, adding they planned to return to her brother's house because of the musty smell that pervades their home.
"We've been through hurricanes here but we've never had it come anywhere close to this," she said.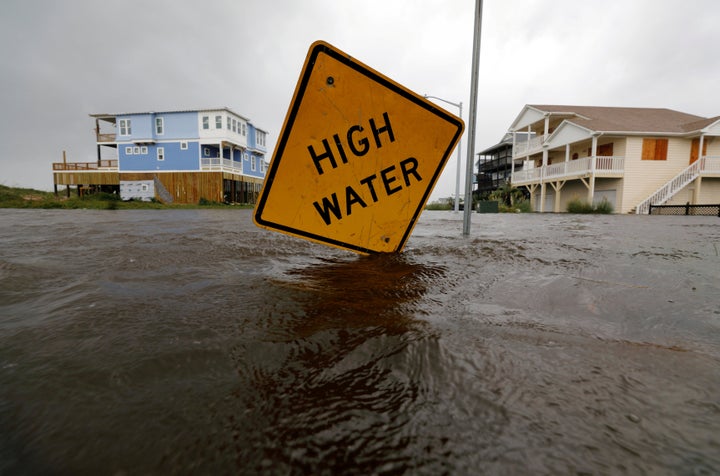 DIN OF GENERATORS
In Leland, a low-lying city north of Wilmington, homes and businesses were engulfed by water.
Gas stations were abandoned, with many pumps keeled over, and fallen trees cluttered many roads, making them impassable. The whir of generators could be heard throughout the city, a sound not expected to dim soon as crews work to restore power.
About 668,000 homes and businesses were without power in North and South Carolina and surrounding states, down from a peak of nearly 1 million.
In Belville, North Carolina, just south of Leland, some shops had power restored on Sunday.
"I thought I'd come out here and see if I could get more fuel, but no luck," said Steve McLean outside a Harris Teeter gasoline station that had electricity, but no gasoline.
"So far we've been holding up pretty well," said McLean, 72, a self-employed heating and air conditioning contractor. "We'll see how long this lasts."
Five people were arrested for breaking into a Dollar General Store, said the police department in Wilmington, which has imposed a nighttime curfew.
Florence set a record in the state for rain from a hurricane, dumping 33.9 inches (86 cm) in Swansboro, North Carolina. The previous record was 24 inches (61 cm), set by Hurricane Floyd, which killed 56 people in 1999, said Bryce Link, a meteorologist with private forecasting service DTN Marine Weather.
North Carolina officials warned motorists not to drive on roads in a large area - south of the I-64 and east of the I-73/74 highways - because of hazardous conditions in the southeast of the state. Swelling rivers and creeks threatened dams and bridges.
The flooding could taint waterways with murky coal ash. But officials said the state's many lagoons of toxic hog waste had so far withstood the storm.
By Sunday morning, Florence's winds had dropped to about 35 miles per hour (55 kph), the National Hurricane Center in Miami said. The storm was moving at 10 mph (16 kph), with its center expected to cross the western Carolinas during Sunday and the Ohio Valley and Northeast United States on Monday and Tuesday.
The White House said President Donald Trump approved making federal funding available in some affected counties. Trump, who plans to visit the region this week, tweeted his condolences.
(Reporting by Anna Mehler Paperny and Ernest Scheyder; Additional reporting by Rich McKay in Atlanta; Jessica Resnick-Ault in New York and Makini Brice in Washington; Writing by Lisa Shumaker; Editing by Frances Kerry and Peter Cooney)
Support HuffPost
The Stakes Have Never Been Higher
Related
Popular in the Community