Will you be my Florentine ? A warm and sensual caress, let the Tuscan light pull you out of bed before a romantic walk on Ponte Vecchio, hand in hand.
The breathtaking scenery from this historical bridge is enough to make you fall madly in love with Florence.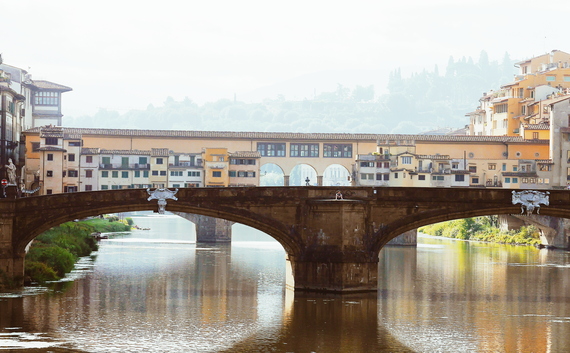 Ponte Vecchio - ©Alice Cheron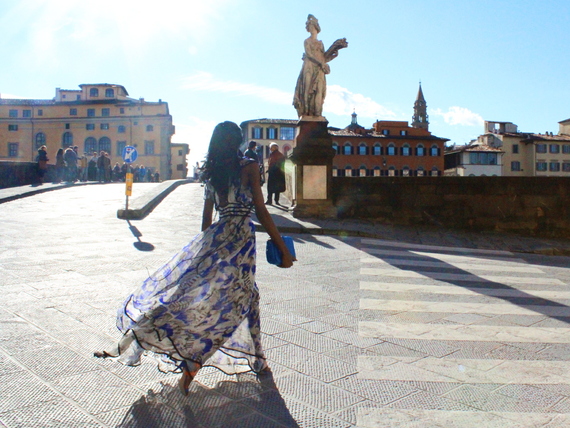 Photo credit: Sarah Fielding
So what's for breakfast ? A bouquet will do, but only on Valentine's day of course...
Located on "via de'ginori" La Ménagère is home to the city's most beautiful flowers. The venue even boasts a bar and restaurant, should rose petals not be enough to curb your appetite...
On your way out, grab bicycles for some Florence sightseeing, starting with Museo dell'Opera del Duomo followed by Basilica di Santa Croce.
Along the way, pause at Hotel Beacci Tornabuoni flowery terrace, and treat yourself to an authentic Italian caffè. Then off to Piazzale Michelangelo! There, the spectacular city view is definitely worth the ride up the hill.
Time for your Italian mid-day feast ! Nestled in the luxurious Rocco Forte Hotel on Piazza della Repubblica, Irene Bistrot's scrumptious Panzanella con mozzarella and Pappa al pomodoro ravioli will give you butterflies.
Jewelry keeps memories alive, so do not miss out on this opportunity to adorn your loved one. Florence has a long tradition of goldsmith with some exceptional gems available at iconic stores at the heart of city. Carlo Eleuteri, Fratelli Piccini and Luisa Via Roma are all within walking distance from each other.
What's next ? Some much needed rest, pampering and glamorous wardrobe change at the hotel. Then back to Irene's for a 4-course Valentine's special dinner.
Stroll along Lungarno where the sunset lends orange hues to clouds above the Arno River. This is the dolce vita you have been hearing about for so long. Gaze into the eyes of your soul mate and feel Florence's magic. If you've planned to bend down on one knee, here is your chance ! Is it a yes ? If so, Cupid has struck again.
Alice Cheron is a French Travel blogger based in Florence, Italy. On her blog, she shares the most exclusive spots and oh so chic Italian way of life with her international audience. Alice's first city guide "Love à Venise" came out just in time for Valentine's day and is available on Amazon. Follow her exciting adventures