Although polls have found almost 90 percent public support for medical marijuana in Florida, a state measure that would have legalized cannabis for medicinal purposes failed on Tuesday.
A majority of voters approved of Amendment 2, about 57 percent, but state law requires a supermajority of support -- 60 percent or higher -- so the ballot initiative failed to pass.
Amendment 2 would have legalized marijuana for medical purposes in Florida. The measure proposed allowing doctors to prescribe cannabis for "debilitating medical conditions," which the bill defined as cancer, multiple sclerosis, glaucoma, hepatitis C, HIV, AIDS, ALS, Crohn's disease, Parkinson's disease or "other conditions for which a physician believes that the medical use of marijuana would likely outweigh the potential health risks for a patient."
The measure faced a well-financed opposition campaign primarily funded by billionaire casino mogul and GOP mega-donor Sheldon Adelson. Adelson put $5 million toward the opposition to Amendment 2, accounting for roughly 85 percent of the total funding of the campaign to defeat the measure, according to The Washington Post.
Adelson, chairman of Las Vegas Sands Corp., opposed the measure even though his medical research organization, the Dr. Miriam and Sheldon G. Adelson Medical Research Foundation, produced a study in 2013 showing that medical marijuana has the potential to help people with multiple sclerosis.
As recently as May, support for medical marijuana was strong in Florida, reaching almost 90 percent in a Quinnipiac poll. But that support steadily declined as the months wore on, reaching a low of 48 percent in October.
Despite Tuesday's defeat, medical marijuana is not entirely illegal in Florida. In June, Gov. Rick Scott (R) signed the "Charlotte's Web" bill into law, authorizing a narrow medical cannabis program that allowed the limited use of marijuana strains high in cannabidiol, or CBD, a non-psychoactive ingredient used to treat severe epilepsy and cancer. The bill takes its name from 7-year-old Charlotte Figi, a Colorado girl with a rare form of epilepsy called Dravet syndrome. Though traditional pharmaceuticals have failed to help Charlotte, her parents have been successfully treating her debilitating seizures with a strain of high-CBD, low-THC medical cannabis, also called "Charlotte's Web."
"While it's disappointing that patients in Florida won't be able to find legal relief with marijuana just yet, tonight's result does show that a clear majority of voters in the sunshine state support a new direction," Tom Angell, Marijuana Majority chairman, said in a statement. He said patients and marijuana supporters "will keep pushing until the law reflects what most voters want."
To date, 23 states and the District of Columbia have legalized marijuana for medical use. Colorado and Washington became the first two states to legalize recreational marijuana in 2012, and sales of the plant began in both states earlier this year. Although many states have loosened their marijuana laws in recent years, the plant remains banned by the federal government, which classifies it as a schedule I substance alongside heroin and LSD.
Florida wasn't the only state to vote on marijuana Tuesday. Voters in Oregon, Alaska and Washington, D.C., are deciding on the legalization of recreational cannabis.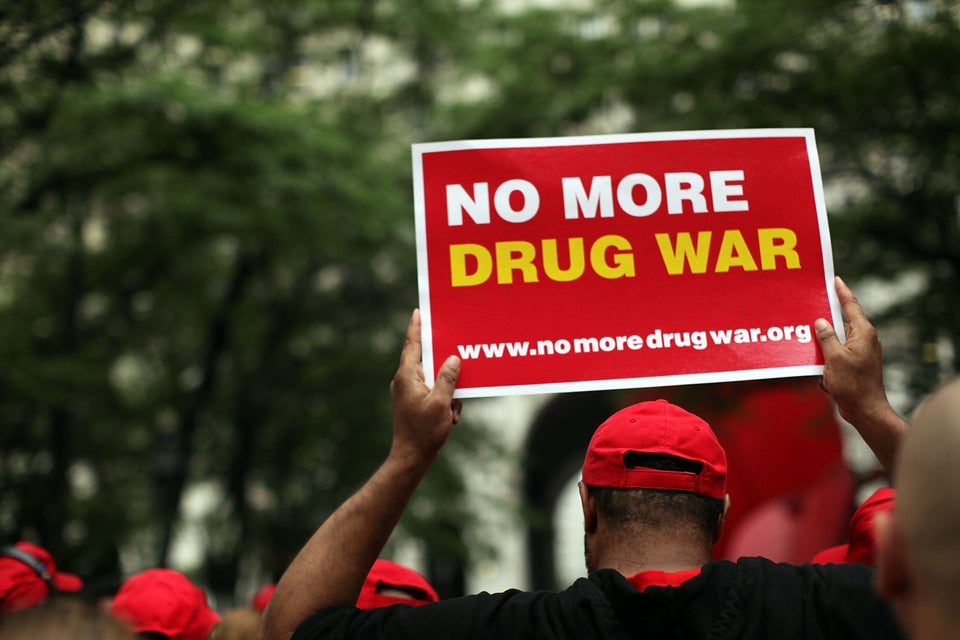 27 Reasons Why The U.S. Shouldn't Lead The War On Drugs
Popular in the Community