A new anti-bullying program in Florida sounds so good on paper. The first of its kind in the nation, it gives public money to kids who have been victims of bullying and helps them attend private school. Florida Gov. Rick Scott (R) touted it as an example of government stepping in to do good.
"Every child in Florida should have the opportunity to get a great education at the school of their choice so they can achieve their dreams," Scott said in March upon signing the bill into law.
The only problem is, not all victims are welcome. For some private schools participating in the program, LGBTQ students need not apply.
The Florida Hope Scholarship Program, a voucher program launching this school year, gives up to around $7,000 to individual students who have reported instances of bullying to help them attend a participating private school. Students may also use a smaller transportation scholarship to transfer to a different public school.
However, a HuffPost analysis of private schools that have signed up to participate in the program shows that many of these schools enact their own form of state-sponsored bullying ― by refusing to admit LGBTQ students or outlining punishment for students in same-sex relationships. For this analysis, HuffPost studied the student handbooks and mission statements of schools that signed up for the Hope Scholarship Program.
As of Aug. 1, nearly 70 schools had signed up to participate in the program, although the organization granting the scholarships says it expects more schools to do so over the course of the next few months.
Of these schools, at least 10 percent have zero tolerance policies for LGBTQ students.
Beyond discriminatory admissions policies, more than 30 percent of the nearly 70 schools use a curriculum that promotes bigoted views of LGBTQ students. These schools use curricula created by ultra-evangelical companies like Abeka, Bob Jones University Press and Accelerated Christian Education. A HuffPost investigation into these curriculum sources found that they promote regressive or hateful ideas about LGBTQ people, women and non-Christians.

The Hope Scholarship Program is one of four private school choice programs in Florida, with the other programs designed to help low-income students or students with disabilities. While the funding mechanisms and specifics of each program vary, they all provide students with taxpayer-funded scholarships to attend private institutions. The Hope Scholarship program will be paid for by residents who choose to earmark over $100 to the scholarship when they purchase a new car. The state does not require scholarship recipients to verify reported instances of bullying.
These voucher programs are a pet cause of Education Secretary Betsy DeVos, who spent years pouring money into the expansions of these programs and has proposed such a program at the federal level. DeVos has been repeatedly pressed about LGBTQ discrimination in these programs ― and has emphasized the importance of parental choice in these matters.
"The bottom line is we believe that parents are the best equipped to make choices for their children's schooling and education decisions," DeVos said during a hearing in May 2017 when asked about this type of discrimination. "States and local communities are best equipped to make these decisions and framework on behalf of their students."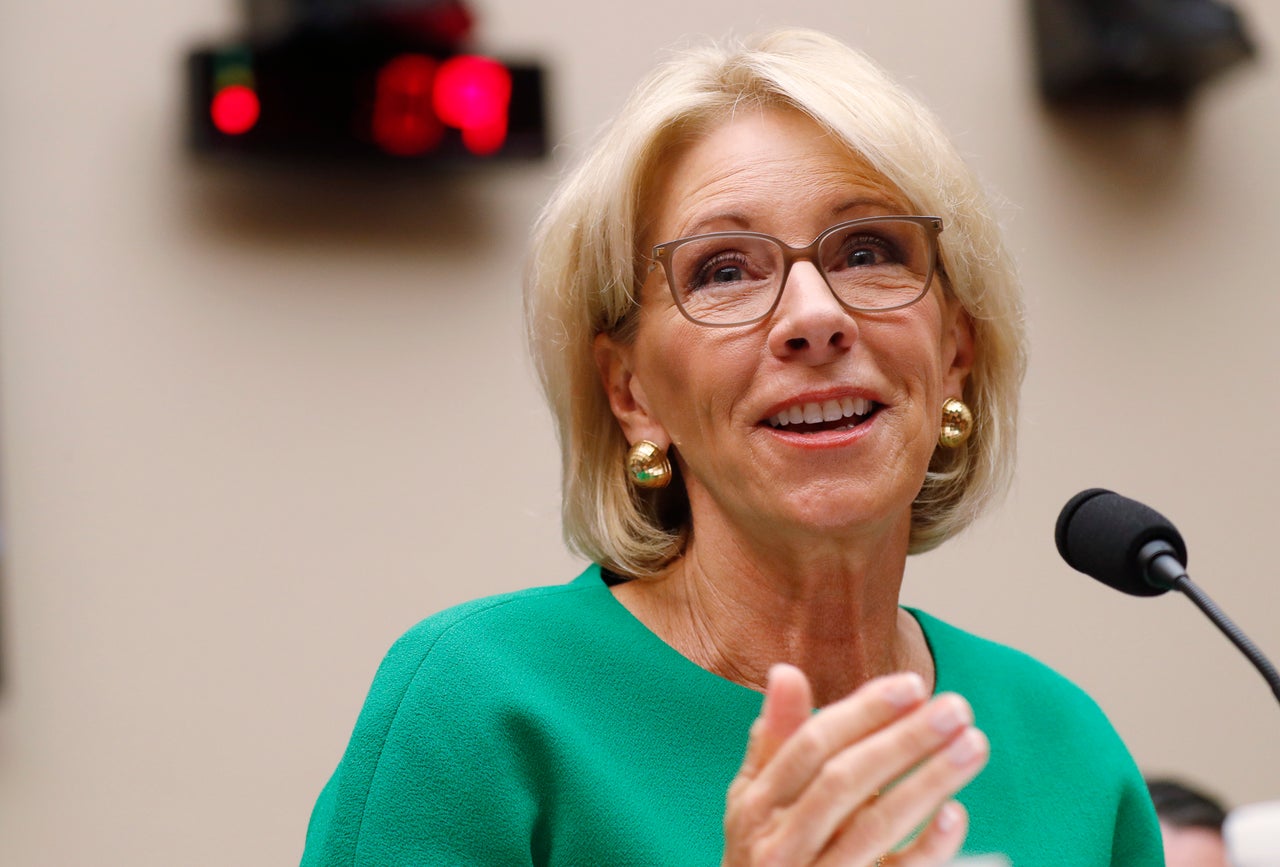 HuffPost asked Scott's office about the results of its analysis. "Governor Scott does not tolerate discrimination of any kind," Scott's press secretary Ashley Cook responded.
Public school activists and supporters have long rejected and fought against these types of initiatives, saying they drain the public school system of resources and prop up extreme religious schools with public money. But the Hope Scholarship Program is viewed with particular suspicion because it allows certain private schools to benefit financially from victims' pain while overtly discriminating against a group of students.
"Choice is a false and cruel promise for far too many children," Eliza Byard, president of GLSEN, a nonprofit that supports LGBTQ students, told HuffPost.
The Not-So-Safe Schools
Westwood Christian School is one of the more than 2,000 Florida schools already participating in a private school choice program and is thus eligible to take part in the Hope Scholarship Program ― though it is unclear if the school will participate.
When Lyana Rodriguez, a former student at Westwood, found out her old school might be part of an anti-bullying scholarship program, she was disturbed. Rodriguez, now 24, had transferred to Westwood after experiencing severe bullying in her middle school ― also a private religious institution. But Westwood was no haven, either.
Other students taunted Rodriguez for being too shy and for her appearance. One time, someone stuck a sanitary napkin to her hair. Rodriguez was particularly hurt by her school's strict teachings about who was considered a "good" Christian.
Rodriguez fought intrusive, obsessive thoughts. She wondered if she was an atheist and then hated herself for entertaining such ideas. She struggled with feelings of same-sex attraction, then swallowed such feelings so deeply that she forced herself to believe she was straight. She had nightmares about being damned to an eternity in hell.
"I can't imagine what would have happened if I had realized I was bi," said Rodriguez, who came out in college. "I could only imagine the type of torture it is."
Indeed, being LGBTQ at Westwood Christian School is not an option.
In the Westwood Christian School handbook, students who believe they are "homosexual, lesbian, or bisexual" are directed to disclose such feelings to the school pastor or administrator and seek counseling through the church. If a student acts on their sexual orientation or chooses not to seek counseling, "the student will be asked to withdraw from school," says the handbook.
Westwood Christian School also uses curricula created by Abeka and Bob Jones University that furthers this view. The founders of Abeka established Pensacola Christian College, an institution that outlaws homosexuality in its code of conduct along with profanity and transcendental meditation. Bob Jones University Press is connected to Bob Jones University, a fundamentalist college in South Carolina that banned interracial dating until 2000. The textbooks these companies produce promote racist versions of history and backward ideas about women and non-Christians.
"We use history textbooks where it said killing all these Native Americans was worth it because they got to hear the gospel of Jesus Christ. That was horseshit," said Rodriguez.
Representatives of Westwood Christian School did not respond to HuffPost's request for comment.
A Miseducation
The curricula used by many schools participating in the Hope Scholarship Program raise questions about whether these institutions are the best environments for victims of bullying and harassment.
HuffPost found that 21 schools which signed up for the program use curricula created by Abeka, Bob Jones University Press or Accelerated Christian Education, three popular evangelical Christian education companies. A HuffPost investigation found that these sources produce materials that are not only educationally unsound ― promoting false views of science and myopic views of history ― but that they promote prejudiced ideas about different races and religions.
An Abeka eighth-grade textbook that HuffPost reviewed disparages Native American ideologies, saying "their stories about the Creation and the Flood were not accurate."
The textbook later argues that ideas like "evolution," "progressive education" and "modern psychology" had a "devastating effect upon American life." The textbook also likens homosexuality to a "disgraceful sin," refers to the "liberal media" and says environmentalists view "mankind as the enemy of nature."
A Bob Jones University Press world history textbook for high schoolers takes a similar approach. It disparages Catholicism, saying the religion has problems rooted in "doctrinal error."
An 11th-grade textbook from Accelerated Christian Education, the most extreme of the three companies in many ways, flippantly describes slavery as "black immigration." The book refers to immigrants as "aliens" and suggests that God created the Civil War as punishment for "religious apostasy and cultism."
The textbook later says that women who cut their hair short are ignoring biblical wisdom and that President Barack Obama "promoted an agenda that encouraged lifestyles condemned by God's Word."
Professors who have reviewed the curriculum say its teachings provide a slanted, biased view of history while promoting patently false ideas of science.
"The textbook simply distorts history," David Brockman, a nonresident scholar at Rice University's Baker Institute for Public Policy, wrote to HuffPost for our previous investigation after examining Bob Jones and ACE textbooks in December 2017. "And given the biblical command not to bear false witness, I would question whether a distorted history is consistent with Christian teaching."
When HuffPost asked about these historical inconsistencies, Abeka representatives vigorously defend their product. Representatives of Bob Jones University Press and Accelerated Christian Education did not respond to requests for comment.
"We recognize that academic scholars have differing opinions on historical/scientific content and that this frequently occurs in both public and private educational institutions as reported in the media," Brent Phillips, a representative of Abeka, wrote by email several months ago for HuffPost's previous investigation. "We are confident that our content is accurate, age appropriate, and academically rigorous."
Still, opponents of school voucher programs in Florida take issue with the fact that public money is being used to bolster schools that use these curricula. In the case of the Hope Scholarship Program, they also worry that the program will fail to stamp out the root cause of bullying and instead shuffle victims from school to school.
Instead of helping children escape certain schools, the scholarship funds should be used to increase counseling and professional development so teachers are better trained on how to deal with these issues, said Joanne McCall, president of the Florida Education Association.
"We're going to leave the bully in place and this bully is going to pick another student," McCall told HuffPost.
Supporters of the scholarship are quick to defend it, however.
State Rep. Byron Donalds, a Republican, championed the bill that created the Hope scholarship. He says he has received overwhelmingly positive feedback from community members.
Responding to criticism that the program will allow bullies to flourish in public schools, Donalds countered that it will force public schools to double down on their anti-bullying efforts to retain students. And families and students ― including LGBTQ children ― shouldn't choose a school that is clearly a poor fit, he said.
"The reality is, there are all types of private schools in the state," Donalds said. "If the parent of a child doesn't feel comfortable going to a school of choice, well, they don't have to go to a school of choice. You can't mandate what a school is going to teach if you want them to be free to have the type of culture they want in their private school."
For Rodriguez, a bully-free environment only came when she left for her public, secular college. There, she came out as bisexual. She dove headfirst into her love of literature. She became more comfortable in her own skin.
"It was like a taking a plant into the sunshine. They're going to grow," said Rodriguez.
Popular in the Community