For the Polk Under Prayer campaign, the religious organization anointed the road that separates Pasco and Polk counties with olive oil last year.

PUP director Richard Geringswald told Bay News 9, that they were "praying for that entryway in to the city, that God would protect us from evildoers, mainly the drug crowd, that they would be dissuaded to come in to the county."
But Atheists of Florida found evidence on local pastor Frank Smith's blog that PUP's mission in placing the oil was to "ask God to have angels inspect every vehicle that travels into and out of this county if they will not submit to God's way of living, then the prayer is to have them incarcerated or removed from the county."
The results were immediate. There have been a number of arrests for drugs and drug manufacturing [sic] in Polk County since this project began. We are hoping to spread this project to all towns in Polk County so that God's protection and influence will be felt throughout the entire county. We encourage people to do the same with their drive ways [sic] and property lines.
At their Saturday 'unblessing' protest, Florida atheists also cited a recent Christian Churches of Polk County billboard that showed the Lakeland Mayor Gow Fields, Polk County Schools Superintendant Sherrie Nickell, and Polk County Sherriff Grady Judd endorsing Polk Under Prayer.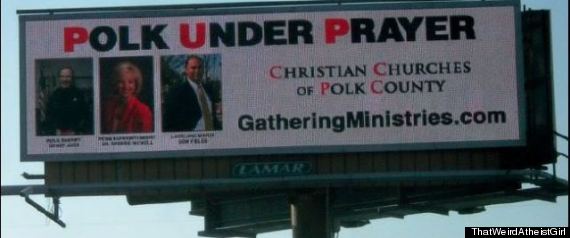 In addition to Humanists of Florida Association, Saturday's protest also included secular leaders from the Atheists of Florida, the Tallahassee Atheists, and the Freethinkers at Florida State University.
Before local humanists and atheists used water and brooms to scrub Highway 98, Palmer addressed the group's concerns and intent. Watch the video above.
Palmer called the ritual a "symbolic gesture" with two goals:
The first is to welcome all people, regardless of their beliefs, to travel in and through Polk County, as is their legal right. And the second is to make Floridians aware of what religiously motivated political machines are doing in some rural counties. PUP is not just some fringe group of religious zealots, but is the major political force in Polk County.

Palmer says the protest is also to point to the injustice in the recent arrests of EllenBeth Wachs, president of Humanists of Florida Association. Sheriff Judd, who appears on the PUP billboard, arrested Wachs for impersonating a lawyer,"moaning in a sexual way," and possession of marijuana.
Meanwhile PUP members spent last week burying bricks engraved with Psalm 37:9-11 alongside 12 major roadways leading into Polk County, reports ABC Action News.
The Psalm starts with "For those who are evil will be destroyed, but those who hope in the Lord will inherit the land."
Popular in the Community