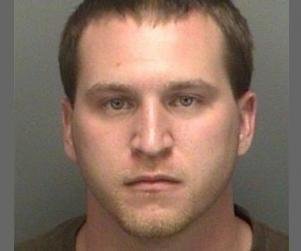 One man's unique case may have uncovered a loophole in Florida law that allows for certain forms of oral sex between humans and animals.
Eric Antunes, 29, was arrested in May on charges of child pornography and bestiality. After allegedly finding images of child pornography on his home computer, investigators say they searched his cell phone and discovered photos of Antunes engaged in sexual acts with his girlfriend's three-legged dog.
However, prosecutors now say they'll only be able to nab Antunes on the child pornography charges. Out of the 6 cell phone photos allegedly found, just one "would meet the strict criteria of the [bestiality] statute," Assistant State Attorney Beverly Andringa told the Tampa Bay Times.
According to the Times, this is because the bestiality law does not forbid oral sex between a human and an animal, and several media outlets have since reported on this "oral sex loophole."
The loophole, however, is not as straightforward as one might think. In fact, the bill does indeed cover oral sexual contact between humans and animals:
"Sexual contact" means any contact, however slight, between the mouth, sex organ, or anus of a person and the sex organ or anus of an animal, or any penetration, however slight, of any part of the body of the person into the sex organ or anus of an animal, or any penetration of the sex organ or anus of the person into the mouth of the animal, for the purpose of sexual gratification or sexual arousal of the person. . . .

A person may not:

(a) Knowingly engage in any sexual conduct or sexual contact with an animal.
So what is the "loophole"? An attorney interviewed by the Huffington Post points out that while the law forbids any contact between an animal's sex organ and a human mouth, it only forbids "penetration" of a human sex organ into an animal's mouth.
In other words, if a person made sexual contact with an animal's mouth, but was not "penetrating" the mouth, such contact may technically be permitted under the current law. A hypothetical example would be a dog licking a man's genitals, says the attorney, who wishes to remain anonymous.
Laura Bevan, Southern Region Director of the Humane Society of the United States, is unconvinced that a loophole exists at all. "It seems that any degree of contact would qualify," she told the Huffington Post.
Bevan theorizes that, in the case of Antunes, the prosecution simply wishes to focus primarily on the child pornography charges. In addition, she says, "I understand why prosecutors would not want to stand before a judge and jury and argue about whether or not there was 'penetration.'"
Antunes is still facing three counts of possession, control or intentional viewing of child pornography.
CORRECTION: A previous version of this story incorrectly referred to the Miami New Times as the Miami News Times.
Related
Popular in the Community