Florida's new school voucher program, designed to help students escape bullying in public schools, gives publicly funded scholarships to victimized kids and helps them attend private schools.
But many of the private schools participating in the Hope Scholarship program have strict hair policies that ban students who sport certain styles, like dreadlocks. Critics say these policies ― which have gained attention in recent weeks amid several incidents that have gone viral on the internet ― have racist undertones and fail the scholarship program's aim of helping victimized students.
HuffPost has previously reported that many schools participating in Florida's Hope Scholarship program have policies that exclude LGBTQ students, or use homophobic, racist and sexist teachings. Our latest analysis ― which examines the policies of the approximately 130 schools that have signed up for the program as of mid-August ― finds that many participating schools have strict or exclusive hair policies.
Nearly 20 percent of participating schools ― 23 institutions ― have policies regarding a student's hairstyle. These policies generally require that students sport "natural" hairstyles with "natural" colors. These schools have bans on styles that might be interpreted as "extreme" or "fad."

Four schools ban dreadlocks, or require that dreadlocks be tied back.

Two schools ban hairwraps or beads.

Five schools ban braids or cornrows, or have stipulations about the appearance of these hairstyles.

One school's handbook says, "Many styles of fashion are clearly a result of the liberal influence of today's secular society."

One school has a ban on "gothic" or "progressive" hairstyles.

Three schools require "feminine" appearance for girls.
Hope For Who?
The Hope Scholarship program, new this year, gives around $7,000 in taxpayer funds to students who have reported an instance of bullying and helps them attend private school. It also provides a transportation stipend for students who want to switch public schools. The program is the first of its kind in the U.S.
Florida Gov. Rick Scott (R) supports the Hope Scholarship program, and U.S. Education Secretary Betsy DeVos has championed similar programs and private school choice.
But, as HuffPost previously found, many of the schools that accept these scholarships ― more schools are currently signing up to participate ― are far from inclusive. LGBTQ students face high rates of bullying, but at least 10 percent of schools that have already signed up for the scholarship ban LGBTQ students or have policies objecting to homosexuality. As of mid-August, around 25 percent of schools in the program advertised using ultra-evangelical textbooks that promote racism, sexism and homophobia.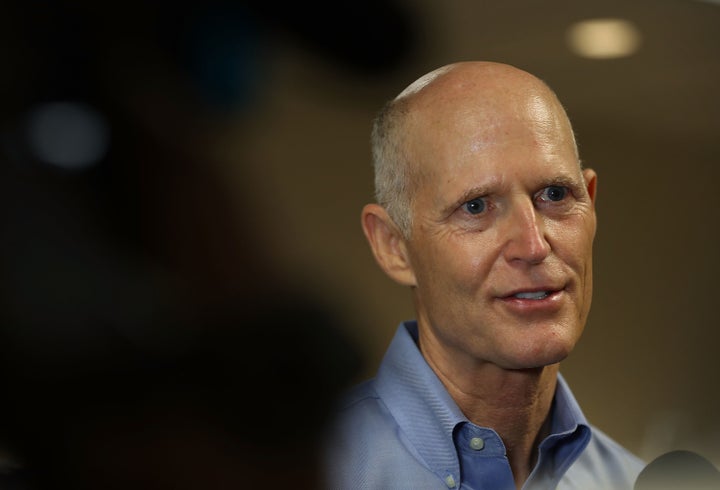 The hair policies in nearly 20 percent of participating schools help perpetuate racist and antiquated ideas about sex and race, and can have a devastating impact on a child's self esteem, critics say.
"It's an incredibly disturbing thing to say to black girls and black boys," Martin said of the dress codes. "And for girls, with these messages, it's layered on top of messages about gender and sex. You can really see the double whammy of being told in such a personal way that you don't measure up."
A spokeswoman for Florida's Education Department defended the scholarship program, and rejected the suggestion it was anything but inclusive.
"The Florida Department of Education does not condone discrimination of any kind in Florida schools," spokeswoman Audrey Walden wrote in an email. "Using a cursory review of private school handbooks, over which the state has no jurisdiction, to paint a negative picture of the Hope Scholarship Program is both deceptive and irresponsible."
Walden added: "This program was developed to provide families whose children were victimized by bullying additional education options, and participation is strictly voluntary."
Schools that participate in Florida's three other private school choice programs ― which target students with disabilities or families making below a certain income level ― are eligible to sign up for the Hope Scholarship program. Thousands of schools participate in Florida's other tax credit or voucher programs, and many have policies that ban certain hairstyles.
First Day Fail
This issue of discriminatory hair policies gained renewed attention in recent weeks after a video of a 6-year-old child with dreadlocks getting turned away from a private school in Apopka, Florida, went viral.
By now, Clinton Stanley Jr.'s story is well known. In August, the child was set to begin class at A Book's Christian Academy using a scholarship provided by one of Florida's voucher programs.
Clinton was well behaved and excited for his first day of school, but he wasn't allowed to enter the building. The school has a policy against students sporting dreadlocks, and administrators said he should come back with a different hairstyle.
But Clinton didn't come back. Instead, his dad Clinton Stanley Sr., recorded a now-viral Facebook Live video in which he immediately withdrew his son from the school. The video was viewed hundreds of thousands of times and was cited in numerous media reports, spurring petitions and protests.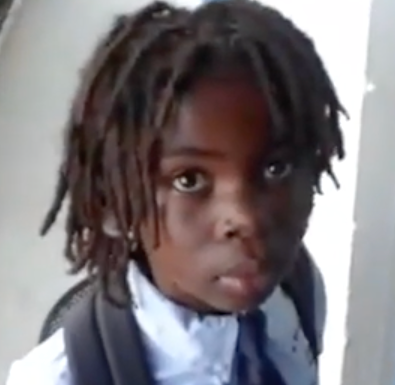 "A policy is a policy and you have to respect a person's policy, but it's not right," Clinton's father told HuffPost. "It's allowing you to be discriminatory. It's just allows people to treat you in a kind of way."
Clinton's story is only one example of a system of private schools that routinely punishes students for their hairstyles, pushing policies with distinct racial undertones. Since his story was broadcast on Facebook, similar incidents at other private schools in Florida and Louisiana have gained public attention. Those schools, HuffPost has discovered, also receive public funding through private school choice programs.
Activists in Florida are starting to rally around the issue.
Nonprofit leader Miles Mulrain Jr. has been calling attention to a Florida organization called Step Up For Students, which distributes scholarships for voucher programs like the Hope Scholarship. A petition started by Mulrain's group that calls for policies that protect against biased hair policies has received over 850 signatures.
"This was a real big fight in the '60s with the black is beautiful movement," Mulrain said. "Now it's 2018 but we're here still fighting for it."
A Step Up For Students spokesman told HuffPost it has received eight email complaints regarding the hair policy at A Book's Christian Academy, which it forwarded to the state Department of Education.
"At Step Up, we believe parents should have the power to determine which school is the best fit for their child, including consideration of factors such as dress codes and restrictions on hair styles," spokesman Patrick Gibbons said in an email.
A Book's Christian Academy administrators deny their policy is discriminatory.
"You can see my school, it's probably 95 percent black. Obviously I'm not a racist," the school director, the Rev. John Book, told local television station WESH. "We try to uphold certain biblical standards and certain standards of order that allow us to maintain a school."
But Mulrain said such biased policies are especially problematic when the school receives public funding.
"I believe if it's not hurting the kids and you want to focus on education, I don't believe you should ever deny a child education based on their appearance," said Mulrain.
A Book's Christian Academy is eligible to participate in the Florida Hope Scholarship program. A school administrator did not respond to requests for comment about whether it would sign up.
Clinton Stanley Sr. said he sees what happened to his son as a form of bullying, which could impact the child long term.
He immediately enrolled his son in a local public school after A Book's Christian Academy turned Clinton away. He continues looking for a private school that will embrace his son's appearance.
"I'm shocked these codes exist," said Stanley Sr. "Look at my son, it's a disappointment. I refuse to ever disappoint him."
CORRECTION: An earlier version misidentified Audrey Walden, a spokeswoman for the Florida Department of Education, as a spokeswoman for Gov. Rick Scott.
Popular in the Community