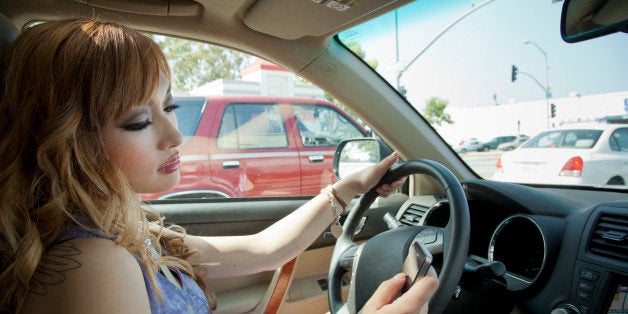 SEBRING -- A new Florida law banning texting while driving goes into effect Oct. 1, and now a proposed bill aims at barring youths under age 18 from using cell phones while driving.
State Rep. Irv Slosberg, a Boca Raton Democrat who has long pushed for traffic safety, filed a bill this week that would not allow minors to talk on cell phones while they drive. Minors could get ticketed for non-moving violations.
Slosberg, who is a member of the House Transportation and Highway Safety Subcommittee, has been heavily involved in traffic-safety issues after the death of his daughter in 1996 in a car accident.
The proposal (HB 5) is filed for the 2014 legislative session, which convenes March 4.
Highlands County Sheriff's Office Captain Jeff Barfield, who heads the Patrol Division, believes a teen ban on cell phone use while driving is a good idea, but it would be hard to enforce.
"New drivers should have all their focus on learning how to drive, however I would encourage everybody to pull off the road if you are going to use a cell phone, simply stop driving, that should apply to all ages," he said.
If it's an actual law more teens may decide to pull off the road to use their phones, Barfield said, but he believes many will still drive and talk on the phone.
The law certainly couldn't hurt and it could probably help some, he said.
Sebring Police Cmdr. Steve Carr said he hadn't heard of the proposed bill, but he said it sounds like a good deal.
"Obviously, younger drivers are in a large percentage of crashes and should be paying attention to their driving instead of talking on the phone," he said.
Many who commented on Facebook stated that cell phones are a distraction for drivers of all ages.
Cyndi Devries said, "No one should be on the phone while driving. I see it all the time."
She said her daughter-in-law was in an accident last week because an older lady was on the phone.
Cory Compton said, "Teenagers should not be the only ones that can't be on the phone and drive. Everybody should put their phones down while driving. Phones while driving are worse than driving drunk."
Nikki Cassel said, "99 percent of the worse drivers I have experienced are adults ... not teens."
Katie Lindau Wilson said, "I do believe phones are a huge distraction for new drivers, but so is eating and driving. Or changing the radio and driving. Or hey, I've even changed clothes, painted finger and toe nails and applied makeup while driving, so are they going to ban all distractions?"
Dennis Ouellette said, "Make it law for all drivers. I ride a Harley and I see all ages either texting or talking on the phone and not paying attention. Make first offense $1,000 fine, second offense, loss of license, third offense, loss of license, 60 days jail and impound vehicle ... can't kill anyone from behind bars."
Gov. Rick Scott signed the bill banning texting while driving into law on May 28, but the new law does not go into effect until Oct. 1.
The Florida ban on texting while driving will allow drivers to text while stuck in traffic or at a red light. Texting and driving is categorized as a secondary offense, meaning someone would have to be pulled over for another offense, such as speeding, and then cited for texting.
mvalero@highlandstoday.com
The News Service of Florida contributed to this story ___
(c)2013 the Highlands Today (Sebring, Fla.)
Distributed by MCT Information Services
Calling all HuffPost superfans!
Sign up for membership to become a founding member and help shape HuffPost's next chapter
BEFORE YOU GO
PHOTO GALLERY
Distracted Walkers