Cate Dobbins wants a word with the head of the church that put up a homophobic sign in her neighborhood, but so far the pastor has ignored her request.
Dobbins started an online petition on Friday, calling on the First Conservative Baptist Church in Jacksonville, Florida, to remove a sign on its property that read, "Homosexuals Must Repent Or Go To Hell."
The petition garnered nearly 200 signatures in two days, Dobbins said. She also reached out to the church and left a message with the pastor, but he had not returned her call as of Monday morning.
"NOWHERE in the bible does it mention gays and hell in the same sentence," she wrote on the Change.org petition. "There is no place in Jacksonville for such an ignorant and hatred-filled sign."
Dobbins, a travel agent originally from New York, said she was raised Catholic, and took issue with the sign's misreading of Biblical teachings.
"I'm all for the First Amendment," she told The Huffington Post on Monday, "but their sign was inaccurate. ... For a church to be so un-Christian, that really put me over the edge."
The church has not responded to a HuffPost request for comment. The pastor of the church refused to speak with press over the weekend but sent Action News a letter stating: "I was aware of the controversy from the sign, but this church feels it is needful to keep our citizens informed and be relevant through the word of God."
Dobbins went to the church on Sunday to deliver her petition to the pastor but was stopped by congregants, as shown in the footage above.
"You obviously do not know your scripture, so you need to leave," one churchgoer is heard saying off camera. "This is private property."
The church's secretary informed her that the sign is changed every Monday morning, Dobbins said, but she had not yet checked on it as of speaking with HuffPost. Whether the church puts up a new sign or not, Dobbins said, she hopes to engage the pastor in conversation and ask him why he allowed such an antagonistic sign to go up.
"I would like to speak with him and say, 'You catch more flies with honey than with vinegar. If you're really concerned that homosexuals are going to hell you should talk to them, not put up a sign that offends them so deeply.'"
Before You Go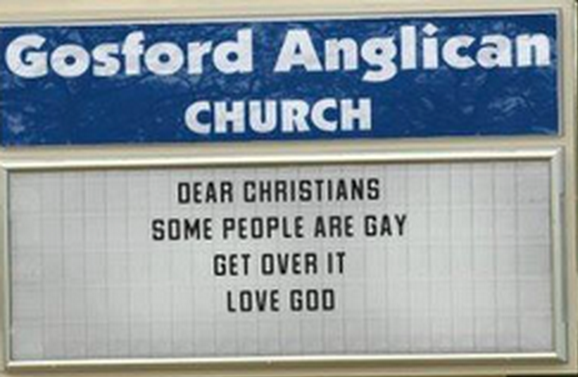 Controversial Church Signs
Popular in the Community