 Florida may soon be forced to clean up the water washing into canals, the ocean and the Intracoastal Waterway, but businesses and governments say the cost would be too draining.
A proposal by the Environmental Protection Agency takes aim at the nitrogen and phosphorus pollution that smothers coral reefs, kills fish and chokes rivers with algae. The pollutants come from sewage, lawn fertilizers, farms and other sources. They cause outbreaks of algae, from the mats of vegetation covering reefs to the microscopic organisms that turn rivers green.
The proposal could cost each Florida household an estimated $44 to $108 per year for sewage plant upgrades, stormwater management and septic system improvements, according to an EPA analysis. The amounts would vary widely, depending on whether you live in a city that needs major sewage improvements or have to upgrade your septic system.
The proposal, the EPA's first attempt to impose numerical nitrogen and phosphorus standards on a state, results from a 2008 lawsuit by the Florida Wildlife Federation, Sierra Club and other environmental groups.
David Guest, managing attorney for the Florida office of Earthjustice, called the EPA's proposal a "night and day" improvement over the current vague state rules. He said they should lead to cleaner water within a few years.
In South Florida, for example, he said the rules would require substantial upgrades along the West Palm Beach, Hillsboro and Miami canals, which carry to the ocean loads of nitrogen and phosphorus washed off farms, golf courses and lawns.
"You'll see improvements within five years," he said. "You'll see modernization of sewage treatment plants, hopefully improved methods for handling stormwater runoff."
The business community and local governments say the EPA proposal goes too far.
A letter to the EPA from 58 organizations representing virtually every major industry in the state says the pollution limits would "impose burdensome costs while not improving environmental protection." Among the signers were the American Forest and Paper Association, Florida Home Builders Association, National Cattlemen's Beef Association, Florida Golf Course Superintendent's Association, Florida Sugar Cane League, Florida Electric Power Coordinating Group and Associated Industries of Florida.
Local governments, responsible for disposing of wastewater, keeping water bodies clean and providing safe drinking water, say the standards may be too strict for canals and coastal waters in urban areas. They say they want to improve water quality but don't want to waste millions chasing an impossible standard.
"If they were talking about the Loxahatchee River, we'd agree with them," said Bevin Beaudet, Palm Beach County's water utilities director. "But our the canals run through agricultural areas, they run through urban areas, they're man-made water bodies."
In particular, Beaudet is concerned the rules could interfere with the county's highly successful program of using treated wastewater -- called "reclaimed water" -- for irrigating golf courses and housing developments, since that water, which contains nitrogen and phosphorus, could end up in canals.
More worrisome to Broward County are the rules for estuaries, which would include the Intracoastal Waterway and coastal waters, said Jennifer Jurado, the county's director of natural resources planning and management. The EPA would hold Broward's estuaries to a standard based on conditions in northern Biscayne Bay, a cleaner water body where the water gets flushed out by tides more thoroughly.
"It is an inappropriate use of data," she said. "We will be unable to comply if this is our standard."
Dee Ann Miller, spokeswoman for the Florida Department of Environmental Protection, said the department is reviewing the EPA's proposal but would prefer the solution not come from the federal government.
"Our goal is to have the state's criteria rules in place for all of Florida's waterways in lieu of federal criteria," she said. "A state-led solution is the best answer for Florida, and Florida remains committed on the path to work with EPA to adopt criteria for remaining estuaries and coastal waters."
Yet some environmentalists say the proposal is too weak to make much difference, either environmentally or financially. They say it allows looser state standards to prevail in 15 percent of waterways, exempts farms around the Everglades, and fails to impose tough compliance deadlines.
"It's pretty toothless," said Linda Young, director of the Florida Clean Water Network.
The EPA estimates an annual compliance cost of $313 million to $773 million, with urban stormwater treatment upgrades accounting for the largest share of the costs, followed by municipal sewage treatment and then septic systems.
Balanced against the cost, of course, are the benefits of clean water, healthy ecosystems and a robust tourist industry. Although difficult to quantify, the EPA estimates the annual monetary value as $39 million to $53 million.
Public comments are being accepted on the EPA's draft until Tuesday. The agency is scheduled to produce final rules by Sept. 30.
Under the Clean Water Act, states establish and enforce water pollution standards under the supervision of the EPA. But environmentalists for years had said state standards are too subjective since they tend to rely on judgments rather than on strict numerical pollution limits.
The lawsuit was largely inspired by the need to reduce pollution in the rivers and springs of central and northern Florida, such the periodic algae outbreaks in the St. John's River that have been dubbed "The Green Monster."
South Florida has a lot at stake in the process, too. The region's coastal waters account for a big share of the state's $5 billion a year saltwater fishing industry. Even the region's canals, not pristine by any standard, provide home for a large range of wildlife.
"They support fish, they support aquatic vegetation, we've got manatees, aquatic insects, fish that rely on food from the canals," said Nancy Craig, natural resource specialist for Broward County's Environmental Protection and Growth Management Department. "You don't want them to look nasty. You don't want to look out your window and see dead floating things."
dfleshler@tribune.com, 954-356-4535
To submit comments on the EPA proposal, go to regulations.gov and use docket number EPA-HQ-OW-2010-0222 ___
(c)2013 the Sun Sentinel (Fort Lauderdale, Fla.)
Distributed by MCT Information Services
Before You Go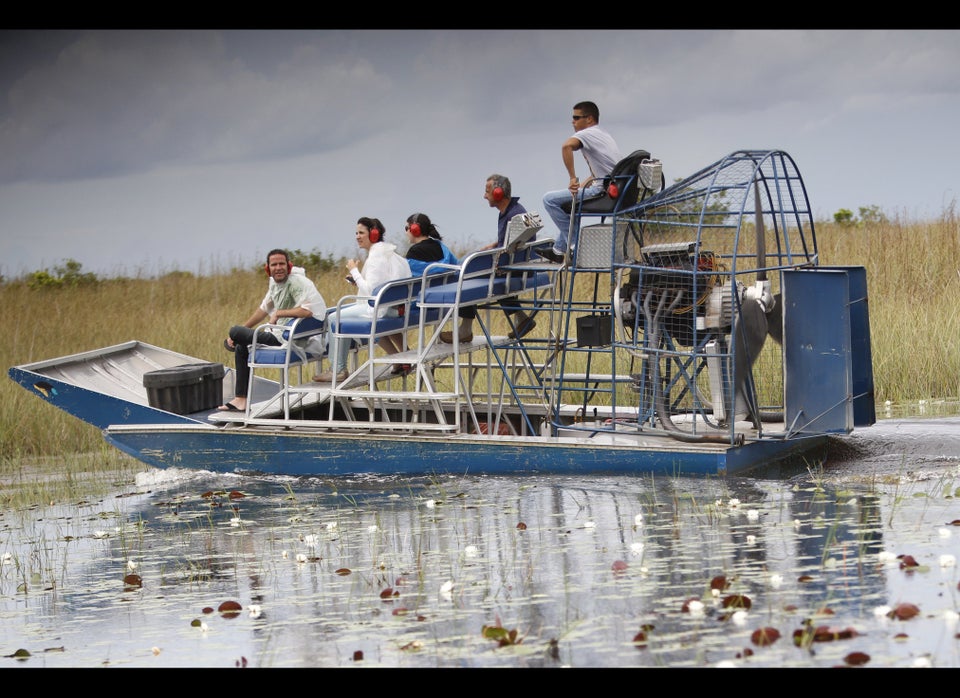 10 Challenges Facing South Florida's Environment
Popular in the Community