TAMPA -- Donna Giambrano traveled to Munich and Brussels this summer for one reason: Beer. "I do beer travel," she says. "Whenever I go to new places, I like to try the local beer."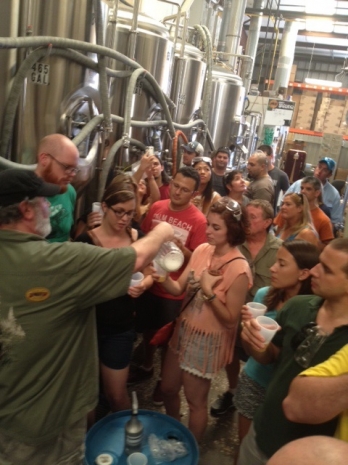 Which explains why Giambrano was snaking her way through the looming brew kettles, mash tuns and fermenters at Cigar City Brewing (left) on a recent Saturday afternoon in Tampa. The Long Island resident was visiting friends in Tampa who surprised her with a brewery tour and sampling. Giambrano has several craft breweries to choose from back home and didn't know about Florida's booming craft beer scene.
Highly regarded craft breweries and brewpubs are in every corner of Florida, from Pensacola Bay Brewing in Pensacola to Intuition and Bold City in Jacksonville, to Swamphead in Gainesville and the Funky Buddah in Boca Raton.
The craft brewers are still relatively small players in the commercial beer world but are helping to create a different sort of Florida tourist attraction for people like Giambruno, many of whom don't even care if there's a tour. For them it's all about the beer.
Cigar City, which opened three years ago in a humble warehouse behind a Home Depot off busy North Dale Mabry Highway, is the upstart leader of the Florida craft beer scene, in both recognition and volume.
Most breweries offer some kind of tour, from big players like Yuengling (Tampa) or Anheuser Busch (Jacksonville) or boutique operations like St. Somewhere (Tarpon Springs). CCB offers tours five days a week while smaller operations like Swamphead hold them weekly. Some, like Peg's Cantina in Gulfport or Seventh Sun in Dunedin, are so small a tour is decidedly short and often spontaneous.
Giambruno's tour, which was filled to its 20-person limit, began in the tasting room, a narrow bar built onto the brewery, with two flat-screen TVs showing different views of the brewery (sometimes busy, sometimes not). A typical Saturday mid-afternoon finds the place packed.
Jennifer Harden of San Diego was waiting for the tour with her Lakeland boyfriend, Jeff Page. It was their first stop before heading to Dunedin Brewery, Florida's oldest craft brewery, founded in 1996. They heard about Seventh Sun while at Cigar City and added it to their list.
"We get a lot of tourists," says Cigar City owner Joey Redner. "That's why you can come to the tasting room at noon on a Tuesday and the place is packed. They're all tourists. When you're a tourist, you can drink beer at noon."
Redner still sees plenty of room for growth in Florida, long dominated by mass-market beers and years behind states like California, Colorado, Oregon and North Carolina. He sees an advantage to breweries clustering within walking distance, such as Intuition and Bold City in the Riverside section of Jacksonville, or Dunedin Brewery and Seventh Sun in downtown Dunedin. Beer enthusiasts, like wine lovers, enjoy the variety that multiple breweries offer, along with the chance of trying something they can't get anywhere else.
Asheville, N.C., has a half-dozen breweries within talking distance. "We don't have that critical mass yet,'' says Redner, "but it's coming." Touring Florida breweries is more like touring wineries in Sonoma. It takes a car, some planning and moderation. Which gives Tampa Bay distinct advantages.
The biggest craft beer scene in the state by far is in Tampa Bay, with about a dozen breweries and brewpubs. At least three more are planned, from St. Petersburg (Green Bench and St. Petersburg Brewing) to Seminole (Rapp Brewing). The region also spawned the World of Beer chain of craft beer taverns, quickly spreading across the state. It's not uncommon to find craft beer bars with 30 or 40 taps, a rare sight three years ago.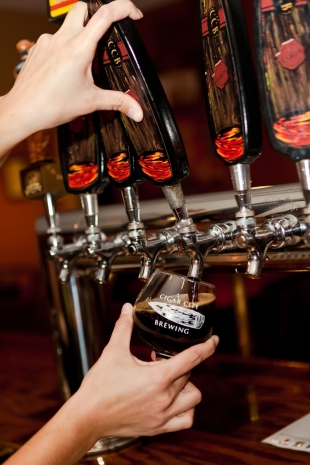 In Florida, breweries are the only place to legally buy draft beer to go, sold in so-called growlers - one-quart or gallon bottles filled and sealed to take home. Tasting rooms like Cigar City's are common at Florida craft breweries, and a key part of their business. Sales at Cigar City's tasting room hit $1.5 million last year and helped finance its expansion.
With shoestring budgets and narrow profit margins, Florida's craft brewers are relying on word of mouth and social media to get the word out. A weekly Tampa Bay radio show on craft beer (11 a.m. Saturdays, WTAN-AM 1340) is hosted by Savino Sterlacci, the World of Beer founder who helped change state law to allow myriad bottle sizes, which helped fuel Florida's craft beer explosion.
Name a city in Florida and it either has craft breweries and brewpubs or they are in the planning stages. Besides Swamphead, Gainesville also has Alligator Brewing, Tallahassee has Proof and Momo's Pizza, Boynton Beach has Due South, Melbourne has Florida Brewery, Sarasota has Darwin's on Fourth, Marco Island has the Marco Brewpub, Hourglass Brewery is opening in Longwood, Winter Park has Shipyard, Brandon has Three Palms Brewery. Miami has lagged far behind the rest of the state, though a couple of award-winning home brewers are planning their own small breweries.
Much of the current buzz has been generated by Cigar City, which garnered attention and national awards using local ingredients like guava, Cuban espresso and cedar to flavor their beers. It has grown from a two-person operation to a staff of 60, and is rapidly expanding into the next warehouse to keep up with demand.
Saturday tours at Cigar City are led by an affable bearded beer gnome named Bob Lorber, who wittily walks guests through the basics of beer-making, points out the various tanks and barrels and bottling equipment, and offers samples poured straight from the fermenter. Nothing fresher, he says, and his beaming guests soon ask for more. The tour takes 30-45 minutes and ends back in the tasting room with a souvenir glass and a beer of their choice.
Photos: top by Tom Scherberger; bottom courtesy of Cigar City Brewing
Related