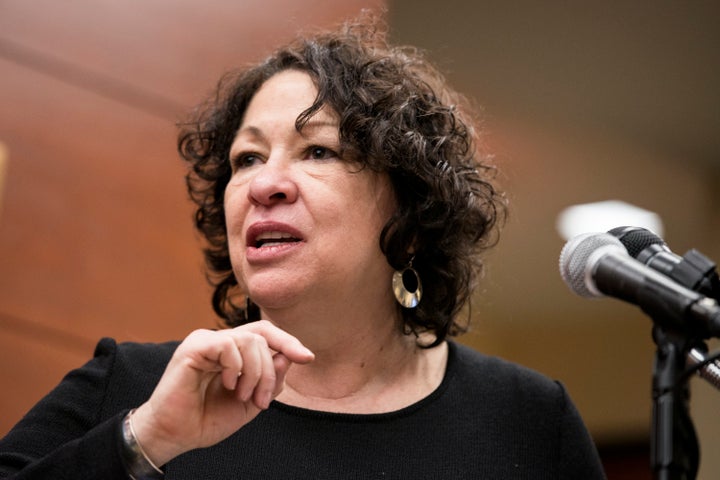 WASHINGTON -- The U.S. Supreme Court on Tuesday ruled that Florida's system of allowing judges to ignore juries in the imposition of the death penalty violates the Constitution.
Writing for an 8-to-1 court, Justice Sonia Sotomayor reaffirmed the Sixth Amendment's requirement that it is juries, and not judges, that must decide the factors that will lead to a "greater punishment" for a defendant who may be eligible for a death sentence.
"Florida's sentencing scheme, which required the judge alone to find the existence of an aggravating circumstance, is therefore unconstitutional," she wrote in the lead opinion in Hurst v. Florida, a case the court heard in October.
Timothy Hurst, the man at the center of the case, was implicated in a grisly crime that Sotomayor recounted.
"On May 2, 1998, Cynthia Harrison's body was discovered in the freezer of the restaurant where she worked -- bound, gagged, and stabbed over 60 times," she wrote. "The restaurant safe was unlocked and open, missing hundreds of dollars."
Jurors in Florida eventually convicted Hurst, Harrison's coworker, of first-degree murder, and proceeded to render an "advisory sentence" of death. Under Florida law, a judge must give this advice "great weight" in the sentencing determination, but it ultimately his or her "independent judgment" that determines if death is an appropriate sentence. 
A judge sentenced Hurst to death. But an appeal forced the state to start over the sentencing process. Once again, a jury recommended a death sentence for Hurst, but they did so on a 7-to-5 vote -- indicating that at least some of the jurors weren't fully convinced that the circumstances of Hurst's case merited a death sentence.
The judge then independently decided to impose the ultimate punishment on Hurst, finding that his crime was especially "heinous."
The Sixth Amendment, Sotomayor wrote, "required Florida to base Timothy Hurst's death sentence on a jury's verdict, not a judge's factfinding."
She added that none of Florida's "bevy of arguments" for upholding the constitutionality of Hurst's sentence were valid. 
Justice Samuel Alito, with the sole dissenting opinion, noted that the Supreme Court was wrong to reverse course after "repeatedly" reviewing and upholding Florida's sentencing regime over the last 25 years. He added that "more than 17 years have passed since Cynthia Harrison was brutally murdered," and that he would have upheld Hurst's death sentence.
Under the court's decision, Florida now must resentence Hurst by allowing a jury to determine whether the facts of his case merit the death penalty or only a term of life in prison.
Two years ago Sotomayor chastised the court for refusing to hear a case out of Alabama that called into question judges' predilection for overstepping juries in death penalty verdicts. 
"What could explain Alabama judges' distinctive proclivity for imposing death sentences in cases where a jury has already rejected that penalty?" she asked. "There is no evidence that criminal activity is more heinous in Alabama than in other states or that Alabama juries are particularly lenient."
Hurst v. Florida is one of several cases the court has heard or will hear this term challenging the way states carry their capital sentencing regimes -- though none of them directly attack the constitutionality of the death penalty.
Calling all HuffPost superfans!
Sign up for membership to become a founding member and help shape HuffPost's next chapter