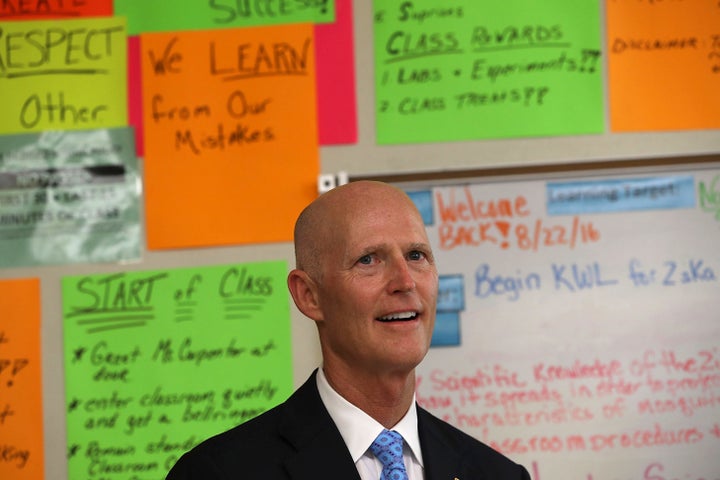 Florida has long struggled to take the lead in the State Most Hostile To Public Education contest, with North Carolina, Wisconsin and Nevada giving some real competition. But last week, Florida's legislature and governor took a decisive leap forward.
Let there be no doubt ― no state is more hostile to the very idea of public education than Florida.
But for some of Florida's education ― well, "leaders" isn't exactly the word, so let's call them Buckaneers, after the brave pirates who used to raid Florida in days of old, and yes, I spelled it with a K on purpose ― anyway, those guys didn't see enough destruction happening fast enough, and so, HB 7069.
Florida HB 7069 is everything there is to hate about the legislative process. The Miami Herald figures there are pieces of 55 old bills stapled together in this ugly dog. Cobbled together in some collection of dark back rooms, it offers a giant poop sandwich with a pickle on top, in hopes that people who like pickles will buy it.
Except that, in the end, the Florida GOP didn't make any real effort to sell it to anyone, though some of the charters that stood to profit from it assigned letter-writing duties to their parents. And some newspapers played along ― the Orlando Sentinel, in a truly amazing display of journalistic malpractice, covered the story as a bill "to scale back testing." The whole business came down to an 11th-hour hope that if enough opposition could be mustered to the bill, Gov. Rick Scott would accidentally follow his naked self-interested into doing the right thing and veto this unholy bastard of a bill.
That did not happen. In fact, because simply signing the bill wasn't enough of a big fat "F@#! You!" to all supporters of public education, Scott signed the bill in a Catholic School, like the faithless jerk who cheats on you with some loose sleazebag, and then brings the sleazebag to the family picnic, just to rub it in your face.
The bill includes hundreds of pages, but opponents and supporters agree on what it does― the bill shifts millions of taxpayer dollars from public education to the charter industry. Senator Linda Stewart summed it up pretty well here in her comments:
The legislation you signed today gives to the charter school industry a free hand and promises them a bountiful reward. It allows corporations with no track record of success, no obligation to struggling students, and no mandated standards of accountability to flourish, with the sole obligation to their shareholders. Not the public. Not to well-intentioned parents desperate to see their children succeed – but to a group of investors who have made a business decision to add these companies to their portfolios because they are interested in making money.
Rep. Michael Bileca, a Miami Republican and chairman of the House Education Committee, said legislators met with charter school operators and asked what it would take for them to set up schools in the neighborhoods now served by traditional public schools. He said one answer was that they needed help paying for new buildings to house the school.
Voila! HB 7069 gives charters the ability to just go ahead and suck up tax dollars for purposes like buying or building facilities.
The bill also provides the cynically-named "Schools of Hope," which is an unbridled license for charter schools to expand in markets where the public school has been sufficiently weakened ― and no requirement to accept the students from that community. The state's voucher program has been expanded. And a charter no longer needs the permission of a local district to expand ― just its money.
There are yet more amazing features (after all, it's almost 300 pages). Charter schools get to "grade" districts (but not, of course, vice versa). Title I funds are up for redistribution. New charters may ignore local zoning laws. Charters may of course hire any warm body they like, regardless of qualifications. And in a particularly baldfaced unsupportable move, HB 7069 says that if Chris does a lousy job as a student at Gotrox Charter Academy, then goes back to public school, the public school has to count all of Chris's failure in their public school grade.
It is true that HB 7069 does stop short of, say, allowing charter operators to take the food from in front of students in public school cafeterias. Nor does it allow charter operators to attack public school buildings with tanks or bazookas. But charter advocates are peeing themselves with glee. It is absolutely open season on public education in Florida, with the traditional system to be replaced with a corporate marketplace with a single purpose ― to make a bunch of money while pretending to sort of educate a select few students, kind of. Students will be at the mercy of whatever the market wants to offer them, while the children of the rich will head off to private schools. What happens when the state burns down your public school and no reputable or competent charter wants you? Some Floridians are about to find out.
There is no pretending this will serve students. Florida's education system has already been failing masses of students by gutting public schools and replacing them with unregulated, unqualified, unscrupulous charter operators, and this bill openly and deliberately accelerates that process. North Carolina has been trying hard to show us what one-party rule with no regard for democracy or the rights of citizens looks like, but it turns out they are just wanna-be's compared to the money-hungry back-room operators of the Florida GOP. I have seen on the twitterverse that some legislators may have voted for this abomination thinking that Scott would veto it (which ― really? Have you met your governor) and that other folks failed to speak out because they really like pickles and didn't believe the poop would be that hard to choke down. Shame on all of them.
I know there are still good schools and good teachers left in Florida, but their uphill struggle only gets steeper from this point. After last week's action, I wouldn't send my worst enemy to teach in Florida, nor their children to go to school there.
This is what Betsy DeVos thinks is an example for us all. This is what she thinks the whole country should look like.
Popular in the Community