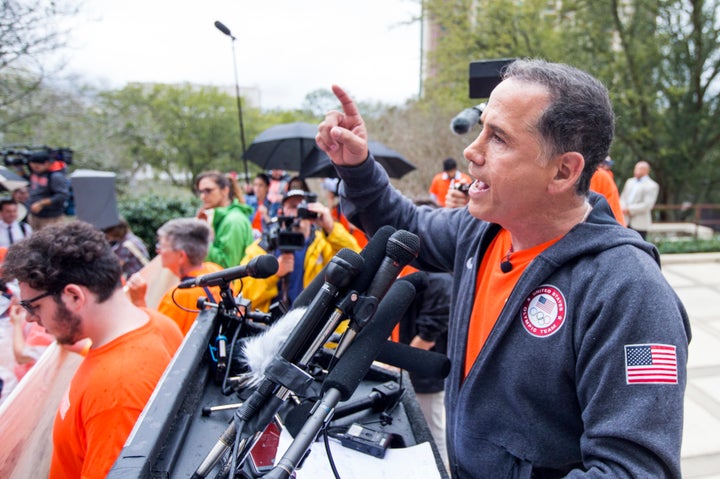 MIAMI BEACH, Fla. ― It's not surprising that a Republican political consultant known for attacking former President Barack Obama and cheering on current President Donald Trump is involved in the Florida governor's race.
What is raising eyebrows is the candidate he is helping: former Miami Beach Mayor Phil Levine, a Democrat trying to win that party's nomination for governor.
"Trump's use of Twitter and other social media is refreshingly spontaneous and represents the new way of communicating in politics," Adam Goodman said on Fox News two weeks after Trump's election. Seven months later, after Trump called the FBI director he had fired a month earlier "a leaker" and denied colluding with Russia during his presidential campaign, Goodman called Trump's news conference "a master performance."
But now, as Levine verbally eviscerates Trump on the campaign trail, there beside him is Goodman, who created Levine's television ads during his two mayoral campaigns and is now a close adviser.
During Levine's recent interview with Tampa's Bay News 9 television station near his 5,700-square-foot Miami Beach home, there was Goodman ― "staffing" it, as campaigns like to do whenever a candidate does a media interview.
Goodman has also taken part in the shooting of at least one television ad for Levine and has appeared with him at events on the campaign trail, including a Democratic candidates debate, according to multiple political consultants.
Goodman told HuffPost he is not an "aide" to Levine. "As one of his best friends, I am there for Philip to offer counsel," he said.
Top Levine strategist Christian Ulvert similarly downplayed Goodman's role in Levine's current campaign for governor. "He's been an informal adviser," Ulvert said. "Adam is a friend of Philip and a friend of the campaign."
Ulvert said that whenever Levine is in Tampa, where Goodman lives, or Goodman is in Miami, they try to get together. "He offers ideas. He offers general advice on the campaign," Ulvert said. "He's not being paid."
Goodman offered to cross the state on his own dime to staff the Tampa TV station's interview in Miami Beach, Ulvert said. "He knew the station, and he was willing to help. I have no problem with him helping out."
Goodman's and Ulvert's denials of a more formal relationship, though, come as news to other political consultants in the state, both Republican and Democratic, who believe that Goodman has been working for Levine since he began his campaign last year.
"They can deny it all they want, I suppose," said one Democratic consultant on condition of anonymity.
One Republican consultant told HuffPost, also on condition of anonymity, that Goodman had confided that he was helping make ads for Levine. The consultant said he had no reason to doubt that claim because Levine's television ads looked and sounded a lot like Goodman's ads for Republican candidates.
Florida campaign finance filings show that neither Goodman nor his Tampa-based company, the Victory Group, has received any money from either Levine's campaign or his political committee, All About Florida.
Both Democratic and Republican consultants said they believed Goodman was being paid through Edge Communications, Ulvert's consulting company. Edge Communications has received $16.5 million so far from Levine's campaign and his political committee, according to Florida campaign finance records.
But Ulvert insists he has not paid Goodman a dime. As for Levine's ads, he said he hired three producers to make them in-house and has no need for Goodman's experience.
As to Goodman's views on Trump, Ulvert said that one of the reasons Goodman is now offering his help to Levine was his disappointment in the president. "Adam's position on Trump has evolved a lot," Ulvert said.
Goodman agreed, adding that he had hoped Trump could shake things up. "Like many Americans, I was looking for systemic change that would prioritize the needs of people over the privileges of power and big money that controls the system, but I've been disappointed," he said.
Goodman has been a prominent GOP ad maker in Florida for decades. He worked for former Secretary of State Katherine Harris both before and after her starring role in the 2000 presidential election. More recently, he worked for Florida Attorney General Pam Bondi, who gained national prominence when it emerged that she'd decided not to investigate Trump's for-profit "Trump University" after Trump's charity gave $25,000 to a pro-Bondi PAC.
Levine is among five candidates seeking the Democratic nomination for governor. Polls had shown him in the lead after he started airing statewide television ads late last year, but recent surveys have shown former northern Florida congresswoman Gwen Graham edging ahead of him. Billionaire Jeff Greene, who has spent some $20 million on television ads in a few weeks, has also complicated the picture for Levine by entering the race. Both are from South Florida and are styling themselves as outsider business leaders willing to bring change to state government.
Popular in the Community