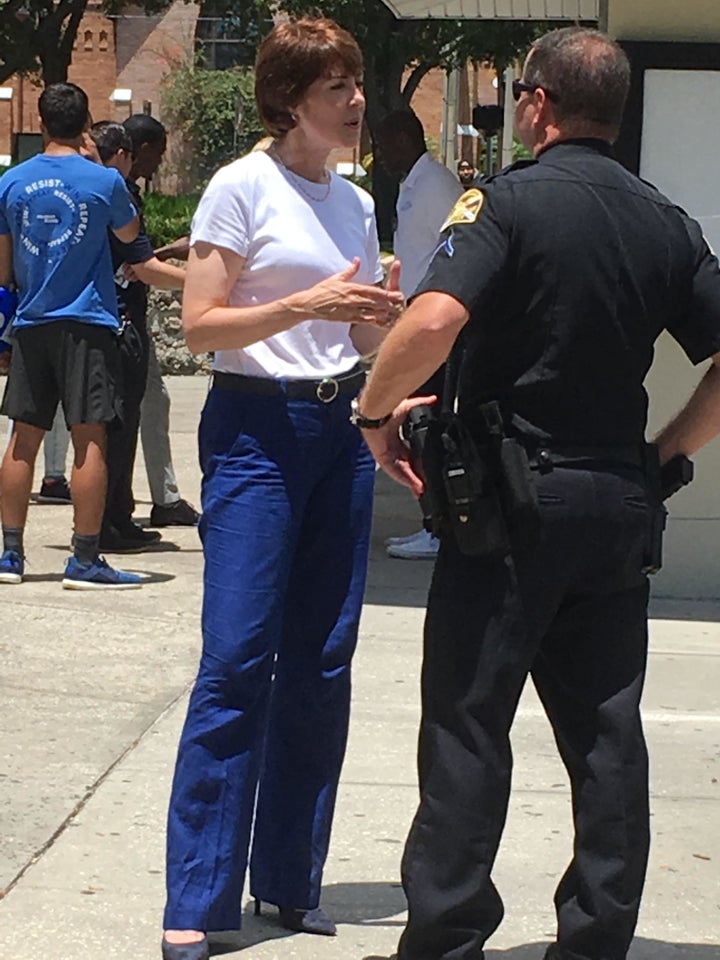 SAINT PETERSBURG, Fla. – The slaughter of 17 in a South Florida high school earlier this year has produced another tangible political result, as Democratic candidates for governor on Thursday ripped into the National Rifle Association — a position that would have been unthinkable in past elections.
"The NRA is no longer going to have control," Gwen Graham told a downtown rally staged by March For Our Lives, a group started by students at Marjory Stoneman Douglas High School after 14 of their classmates and three staff were gunned down in February. "Any one of us gets elected, we are going to fight the NRA every single day."
"We're going to beat them again," said Andrew Gillum, referring to gun restrictions that passed weeks after the shootings, the first of their kind to become law in Florida in decades. "Your ability to have a gun does not trump my ability to live."
Graham, a former congresswoman from North Florida, and Gillum, the mayor of Tallahassee, were among four Democratic candidates of the five running who attended the rally, which drew several hundred despite the 90-degree heat.
"Parkland changed this," said one former state GOP official who spoke on condition of anonymity about an issue that is affecting his clients. "This didn't happen somewhere else in the country. This happened in Florida. In the middle of the day. On television."
The official said Democratic candidates who wanted even a chance of winning statewide office in past years were careful not to anger the NRA and its top lobbyist in Florida, Marion Hammer. "This is a new Democratic party."
Hammer, once the leader of the NRA's national office, acquired near legendary status in the state capitol as an aggressive lobbyist who demanded loyalty from Republicans and moderate Democrats. Thursday, she told HuffPost she wondered how Democrats were so confident that her group's power has waned. "Where did they get a crystal ball? How can they know?" she said. "They're not looking at the polling data. And that's all I have to say."
The Feb. 14 murders took place in the closing days of the annual legislative session. Republicans who control both chambers and the governor's mansion responded with hastily assembled legislation that imposed some modest restrictions on gun rights, such as imposing a three-day waiting period for the purchase of long guns. Nevertheless, the measure, signed into law by Gov. Rick Scott, represented a sea change in Tallahassee, where each spring typically brings at least one new law expanding gun rights. Indeed, some proposals that had been moving toward passage this year — such as one that would have allowed guns in some churches — were quickly shelved by GOP leaders.
And, contrary to Hammer's assertion, polling done in the state is showing that independent voters, the fastest growing segment of the voting population, are now more open to some gun restrictions, the former GOP official said. "The swing voters are moving more toward: Something's got to be done."
This movement is already revealing itself in the two marquee races this summer on the Republican side. The two GOP candidates for governor facing each other in the Aug. 28 primary are both hewing to the NRA position. But Scott, who faces no Republican opposition in his campaign to unseat Democratic U.S. Sen. Bill Nelson, actually pushed for the post-Parkland legislation and has signaled he is open to more.
"I think after Aug. 28, we're going to see a lot of different ideas that make sense to a lot of people except Marion Hammer," the former official said.
"Things have changed drastically as a result of the Parkland massacre," agreed Cindy Lerner, a former Democratic state representative from Miami. "We still have more to do next session. That is why Democrats are demanding more from their candidates going forward."
Calling all HuffPost superfans!
Sign up for membership to become a founding member and help shape HuffPost's next chapter