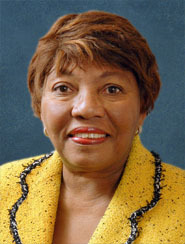 TALLAHASSEE, FL - Democratic State Senator Geraldine F. Thompson (FL Dist 12) cast a deciding committee vote in Tallahassee that advanced Bill 58, which national advocacy organizations have labeled the "Anti-Religious Hate" bill.
According to the International Law Section of the Florida Bar, this controversial legislation would ban Florida courts from considering any religious or foreign law during family legal disputes, namely those involving divorce and custody agreements.
The American Bar Association and the Florida Bar have publicly opposed such legislation, citing that the Florida and U.S. Constitutions are already the prevailing "law of the land" and that, in fact, this bill would prevent the judicial branch from being able to arbitrate disputes "in accordance with the law and tradition chosen by the parties."
Republican Sen. Alan Hays (FL Dist 11), the bill's sponsor, feels that bill is necessary in order to "[protect] what we often take for granted -- our fundamental Constitutional rights."
Sen. Thompson agrees, stating that her vote was cast "because my primary job is to uphold the Constitution of the United States of America."
Opponents of the bill are concerned that, not only is the bill battling a "phantom menace" of a supposed invasion of foreign law into Florida courts, but that such legislation would negatively impact Florida's relationship with other countries and various minority communities. The ACLU of Florida, the Florida Anti-Defamation League and the National Council of Jewish Women cited the potential impact on the Jewish community in particular.
"This would bar courts from recognizing any divorce settlements granted under Israeli or Jewish law," explained David Barkley, counsel for the Florida Anti-Defamation League. "This legislation... could undermine Florida's strong reputation and track record as a center for trade with Israel and other nations."
The fact that the bill has been referred to as an "Anti-Shariah Law" bill by supporters, concerns advocacy organizations such as the Florida Council on American-Islamic Relations, I Am Choice and Emerge USA.
"As an organization that represents thousands of Muslim, Arab and South Asian Americans in Florida, it is very clear to us that this legislation has a history of discriminating against of our communities," states Laila Abdelaziz, Regional Coordinator for Emerge USA. "Certain groups are trying to paint a picture that Muslim Americans are un-American and that Shariah law is a threat to our court system. These sentiments must be rejected."
I Am Choice's President, Ayele Hunt, cites similar concerns as the reason her organization stands firmly against the bill. "Like the Arizona ID laws, this bill directly targets certain communities and denies their civil rights. Senate Hate Bill 58 is not only offensive and discriminatory, it is un-American."
The bill's sponsor, Hays, has likened Shariah law to a "dreadful disease" that requires inoculation and Rep. Larry Metz, sponsor of the House companion bill, said that such legislation is necessary to prevent "offensive law [from] invading our legal system."
While Sen. Thompson said that she was unaware of SB-58 being labeled as a hate bill at the time of her vote, she cites a similar need to protect Americans from foreign law, specifically recalling a story about a woman needing protection from harsh African divorce and custody customs.
According to an article in the Miami Herald, however, there are no such reported cases in which a Florida court applied foreign law.
Three Democrats and one Republican voted against the bill in the Children, Families and Elder Affairs committee, while Sen. Thompson was the sole Democrat in favor of the bill in a 5-4 vote. The bill is expected to be voted on by the Florida Senate in the coming weeks.
Shawna Vercher is a political pundit and media strategist based in Florida.
Calling all HuffPost superfans!
Sign up for membership to become a founding member and help shape HuffPost's next chapter