The suit, filed in Miami federal court, seeks extended voting hours in counties including Palm Beach, Miami-Dade and Broward because of "inadequate polling facilities."
Lines were especially long in Miami-Dade County, where by 7:25 a.m. Saturday two of the county's 20 early voting stations were already suffering 5-hour wait times. Six of the locations listed wait times of six or more hours on Saturday afternoon, hampered perhaps in part by a hefty ballot that was 10 pages for most voters.
Florida's GOP-led legislature cut the number of early voting days down from 14 to 8 last year, eliminating the traditionally heavy Sunday before Election Day but keeping the number of maximum hours the same. The move was signed into law by Scott and approved by federal courts.
But previous Republican governors Charlie Crist and Jeb Bush extended early voting hours by executive order when demand was high. Scott declined to follow suit earlier this week.
At the busiest polling site in Leon County, the home of Florida's capital, Supervisor of Election Ion Sancho told voters waiting in the the 90-minute line that they would be breaking an early voting record today.

He also said that other polling sites, two libraries in the city, were "a mess" as traffic was snarled by voters unable to find parking. The county has had to recruit law enforcement to handle the traffic and "it's still impossible,'' he said.

"This is what happens when you make it not accessible by design,'' Sancho said. He said that the Republican-led legislature has intentionally limited early voting sites to libraries and supervisors of elections offices in an attempt to "suppress access."
In a response to Sawyer's request for extended hours in the Florida Keys, Florida Secretary of State Ken Detzner, against whom the lawsuit was filed, said the state's voting laws only allow for extended hours because of emergencies defined as those that may result in "substantial injury or harm to the population or substantial damage to or loss of property to the extent it will prohibit an election officer's ability to conduct a safe and orderly election."
"Fortunately," Detzner wrote, "no such situation currently exists in the State of Florida."
But a judge on Sunday determined that had not been the case in Orange County, where the Winter Park Library polling location was shut down for several hours as a suspicious cooler found on site was detonated by a bomb squad. The judge ordered early voting hours extended Sunday at that location alone.
Though all other polls across Florida are now closed until Election Day, absentee ballots may still be requested in person and turned in by 7 p.m. Tuesday.
"While state law does not permit Early Voting today, we are permitted to provide and accept absentee ballots," officials said in a release.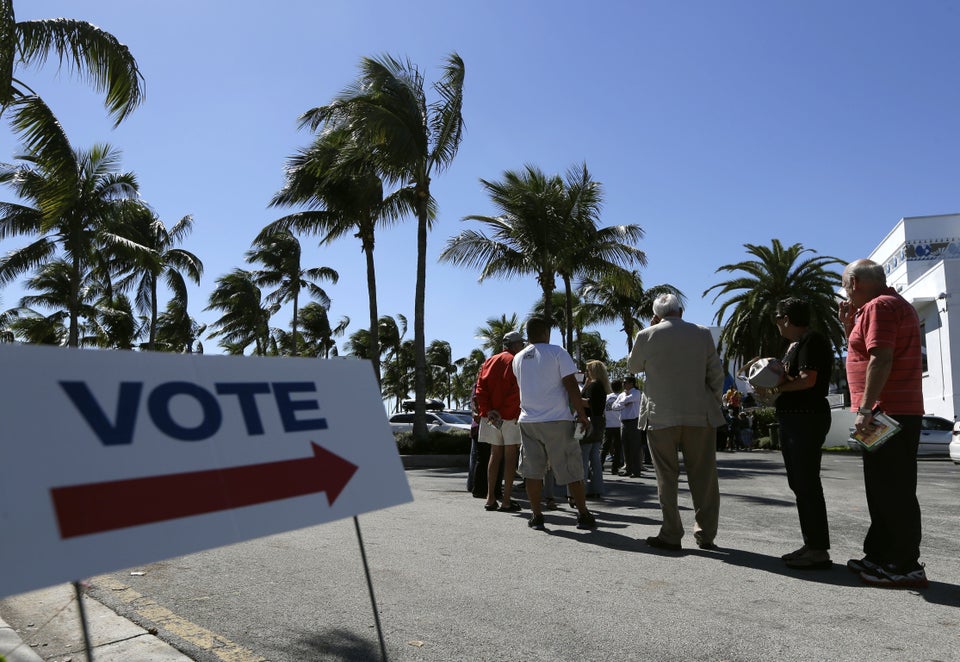 Long Lines For Miami Early Voting
Related
Popular in the Community