Jaime Roy, a rising senior at the University of Florida, voted in a local race in Gainesville this year, but it wasn't easy. Roy, who uses the pronoun "they," doesn't own a car. To get to their polling place at the Florida Museum of Natural History, Roy had to take two buses that took between 40 minutes to an hour each way.
Even though Roy spends the majority of their time at the university, Florida's top election official wouldn't allow them ― nor any of the 830,000 students enrolled at public institutions of higher education in the state ― to vote early on campus.
But that could soon change. On Tuesday, a federal judge temporarily blocked the policy, ruling that the state's blanket ban on early voting on college campuses is unconstitutional.
U.S. District Judge Mark Walker found that the ban violated the guarantees of the First, 14th and 26th amendments. The 26th Amendment prohibits age restrictions on voting for anyone 18 or older.
Walker, who was appointed to the bench by President Barack Obama in 2012, conceded that some inconvenience when voting is constitutionally tolerable, but said Florida's position went beyond that. The ban made it more difficult for a particular group of people ― young voters around college campuses ― to vote.
"Florida's public college and university students are categorically prohibited from on-campus early voting," he wrote. "This is not a mere inconvenience."
The ban has its origin in a 2013 state law that lays out where local election supervisors may allow early voting. Allowed locations included stadiums, civic and convention centers as well as government-owned senior and community centers.
But in 2014, the office of Secretary of State Ken Detzner (R) issued an opinion saying the student union at the University of Florida, a state-funded institution, didn't qualify as such a place, because it was "designed for, and affiliated with, a specific educational institution." He went further, saying that the law did not permit early voting at "college- or university-related facilities" because lawmakers had explicitly chosen to exclude them from the bill.
Walker did not buy that reasoning, nor the state's argument that its interest in maintaining campus order and parking outweighed the burden the ban placed on students' right to vote. In his ruling Tuesday, the judge said the state's justifications "reek of pretext."
"While the [Detzner's] Opinion does not identify college students by name, its target population is unambiguous and its effects are lopsided," the judge wrote. "The Opinion is intentionally and facially discriminatory."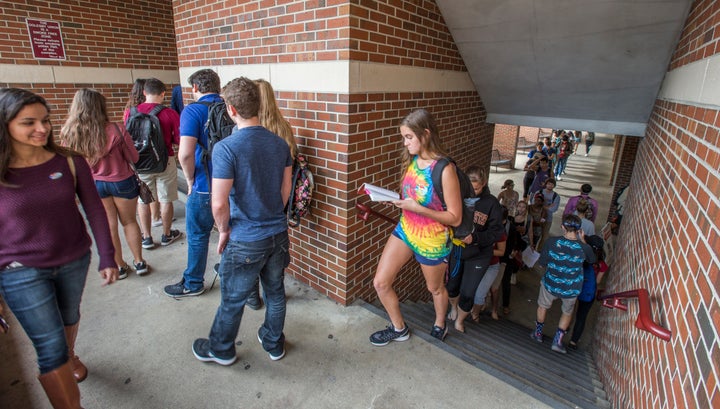 Walker listed a number of reasons why access to early voting sites, in particular, is important for college students. While they can vote on election day, the judge wrote, the lines are often long. Student communities also face longer transportation times to early voting sites, and people living near college and university campuses disproportionately lack cars. College students in Florida also vote early at higher rates than their counterparts across the country, he said.
Through the ban, the judge concluded, Florida was "creating a secondary class of voters who [the state] prohibits from even seeking early voting sites in dense, centralized locations where they work, study, and, in many cases, live."
McKinley Lewis, a spokesman for Florida Gov. Rick Scott (R), said in a statement the governor was proud to have signed an early voting expansion and would review the ruling.
The suit was filed on behalf of Roy and five other university students in Florida, along with the state's chapter of the League of Women Voters and the Andrew Goodman Foundation, a group that promotes civic leadership among young people.
"The court ruling demonstrates that making it easier for our students to vote truly matters," Patricia Brigham, the president of the Florida League of Women Voters, said in a statement. "This is the right decision, at the right time, for our democratic process. With this decision, we have an affirmation that making early voting accessible to all is part of a true democracy." 
Immediately following Tuesday's decision, the supervisor of elections in Alachua County, which includes Gainesville, asked the University of Florida to use the student union building as an early voting site between Oct. 22 and Nov. 3.
Jenny Diamond Cheng, a lecturer at Vanderbilt Law School, said this is the first time a court has struck down a state policy as intentionally discriminatory under the 26th Amendment. That's significant, she said, because it gives future challengers support when they're arguing that a voting restriction ― or any other law ― runs afoul of the U.S. Constitution.
"Courts have tended to shy away from holding that state actors actually intended to discriminate. They're reluctant to ascribe bad motives to state legislators or officials," she said in an interview. "The groundbreaking element of this case is the finding not only that the 26th Amendment prohibits intentional discrimination, but here's what that looks like. Here's what unconstitutional discrimination on the basis of age looks like." 
Calling all HuffPost superfans!
Sign up for membership to become a founding member and help shape HuffPost's next chapter