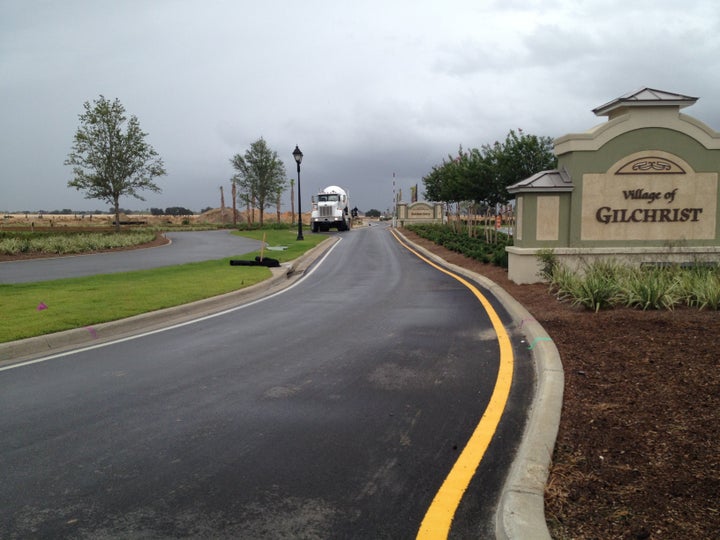 Retired submarine captain Don Hahnfeldt wouldn't put it this way, but eight years ago he came to Florida to die.
"We moved 30 times over my career and when I got here my wife said there wouldn't be 31," he says, gunning his Navy-themed golf cart around the Villages, the world's largest retirement community.
Hahnfeldt is hardly alone. Legions of seniors have joined him at the Villages and the development, which grew out of cow pastures about an hour north of Orlando, is basically a sleep-away camp for old people who want to chill out but not necessarily slow down. Covering 23,000 acres and home to 88,000 people, it boasts 513 holes of golf, 85 restaurants, 63 swimming pools, 14 medical centers and the largest softball league in the world.
It is also a bit Twilight Zone: the development's scale and isolation make it feel more like a colony than a community. Almost everyone is old, almost everyone drives a golf cart — they outnumber cabs in New York City by a factor of four — and almost everyone is white. But retirees of Hahnfeldt's generation, who are reshaping notions of what it means to be old, say that it sure beats the life they left behind.
"Wake up, eat breakfast, read the newspaper and it's only 8 a.m. and you wonder what you are going to do the rest of the day," Hahnfeldt, 68, says of retired life elsewhere. Here, he plays golf, serves on a hospital board and gets to freak out visiting reporters on high-speed golf cart tours. "It's like Disneyworld for adults," he says more than once.
Whatever the lure, whether it is the Golf Channel ads or the personal testimony of true believers like Hahnfeldt, it seems to be working. Just outside the western gates a passerby can observe an extraordinary sight, on view almost nowhere else in a state where the housing market has collapsed: bulldozers are clearing ground for what will become a third town square and thousands more homes.
Last year, retirees purchased 2,307 homes in the Villages. It is the fastest-growing small community in the United States, according to Forbes. That growth is decidedly geriatric and it's emblematic of what is happening across the entire country.
"There is a demographic train wreck coming that we are not really addressing nationally or in Florida," says Sean Snaith, director of the University of Central Florida's Institute for Economic Competitiveness.
Over the next 20 years, the number of adults over 62 in the U.S. will double to 80 million, as the largest generation in American history retires. A demographic model that once looked like a pyramid, with a relatively small number of seniors with lots of younger people to support them, now more closely resembles a bobble-head doll. Right now in the U.S., four working age adults support each retiree. In 20 years, that ratio will slip to three to one nationally — and two to one in Florida.
This imbalance will create a shortage of the high-skilled workers needed to service the needs of the senior population, and drive up inflation, says Amy Baker, director of the Florida legislature's Office of Economic & Demographic Research. A recent report by her office predicts that the surging senior population will strain the economy, cool growth, widen budget gaps and make government services more costly to provide — even as the aging seniors become increasingly reliant on those services.
Florida is also a pivotal swing state in an election year, and it's grappling with some of the same issues that consume the federal government in Washington: the proper scope of public policy, revenue and spending, and deciding who should pay for public services and crumbling infrastructure.
Aside from Nevada, no other state was as devastated by the housing crash as Florida. More than half of all homeowners are currently underwater on their mortgage, meaning they owe more on the loan than the home is worth. Sales tax collections, the prime revenue stream for the state's government, are off sharply; Florida is now so desperate for cash that one lawmaker proposed selling advertising space on the side of school buses.
Yet after years of stagnant population growth, Florida is adding new residents again, especially in those areas where it is growing gray. According to projections from Florida's Office of Economic and Demographic Research, more than half of the five million migrants expected to flow into the state over the next 18 years will be 60 or older. This elderly population boom, fueled by the retirement of the Baby Boomers, the biggest generation in U.S. history, will profoundly change the face of Florida from a state that is simply very old, to a state with one of the oldest populations on the planet.
If it seems like there are a lot of wrinkled faces crowding the aisles at the Publix grocery store in Boca Raton now, just wait. By 2030, one in four Floridians will be older than 65, up from one in six today, with the 85-plus set the fastest-growing group, according to projections.
Lest you may have thought otherwise, Florida needs more senior citizens like it needs more tanning beds. "What you want is a college educated 30-year-old worker," says Dowell Myers, a demographer at the University of Southern California who is also a Miami native. "This is not what is happening."
In the short term, seniors, who typically inject cash into local markets by bringing money from the sale of a previous home and through their retirement or pension plans, will help ease the economic crisis in Florida. But as they age, older residents contribute less to the tax base, demand more services and tend to vote against economically optimal things like education expenditures. After all, they came here for the sunshine, not to pay for the schooling of a younger generation that is far more racially diverse than they are, and with whom they have little contact.
"Basically you are asking a bunch of old retired rich white people to vote for school bonds that benefit immigrant Latino kids," says Jennifer Hochschild, a Harvard University professor who studies the intersection of politics, immigration and education. "This is a potential political disaster."
Spend 24 hours in the Villages, and all of the state's problems feel like just that — someone else's problems. The Villages' press-averse developer, H. Gary Morse, who would not comment for this story, runs a tight ship: my rental car is photographed whenever I pass through the community's gates. There's nary a speck of litter anywhere, and I walk past parked golf carts with cameras in the dashboards, keys in the ignition and golf clubs jutting out the back.
Even in early June, when about 25 percent of the snowbird population migrates back north for the summer, the place is hopping. I've missed the end of polo season, but I catch a bit of a minor league soccer game and in the evening, the bars are full of seniors watching the Miami Heat battle the Boston Celtics in NBA playoffs. Practically everyone is rooting for the Celtics.
My last stop is the sales office for the development, where a brown board lists in white letters the names of 46 new homebuyers who have bought into the community within the last three days.
Things just keep humming along. But drive two hours southwest from the Villages, to Florida's Gulf Coast, and recovery seems like a joke.
I've put my rental car in park and am idling at an intersection near the middle of the neighborhood. Stop signs stretch off into the distance in front of me and scrubby brush and pine trees line one side of the road. On the other a white house with a broken mailbox lying in the driveway sits empty and abandoned.
I roll down the windows and turn off the engine. Swampy air creeps into the car. It is completely quiet; all the scene needs is tumbleweeds. Finally, 20 minutes later, a lone pickup truck crosses through a distant intersection.
Welcome to Lehigh Acres, and ground zero of the foreclosure crisis. Home sale prices in this huge but sparsely populated neighborhood fell to $63,000 in the spring of 2012 from a median peak of $208,000 in 2007. One of every 172 homes received a foreclosure notice in May, according to RealtyTrac. This sounds preposterous – not because the rate is four times that of the national average, but because it is hard to imagine that anyone is left after the purge that swept through here over the past five years. This is the anti-planned development: 100,000 lots in a nowhere exurb traded like playing cards and lofted ever higher in price until the scheme collapsed.
"The real estate industrial complex drove Florida's economy," says Roy Oppenheim, a housing lawyer at a Ft. Lauderdale firm. "We did an analysis. If you count the builders, bankers, appraiser, brokers and laborers whose businesses were tied to the real estate market, somewhere between 25 and 30 percent of the entire economy was tied to housing."
Oppenheim, whose firm once represented mostly mid-sized family builders with revenue between $20 million to $50 million a year, says that his firm's real estate practice went from boom to bust overnight.
"All of a sudden, our phones stopped ringing. Most of our clients disappeared. Soon our business dropped by 90 percent. We had a wonderful staff of people with nothing to do."
He has since reinvented himself as an advocate for homeowners screwed by banks in the foreclosure debacle.
How bad did it get? Three out of six the housing counselors at Tampa's Housing & Education Alliance, a nonprofit in the struggling north end of that city, lost their homes to foreclosure over the past five years, as the agency saw a sharp drop in funding from government and private sources, including banks, and the counselors accepted big pay cuts or became volunteers.
In May 2006, at the peak of the housing bubble, the construction industry employed 691,000 Floridians, according to the state Bureau of Labor Statistics. As of May 2012, there were 313,000 workers in the industry.
Many of those construction workers bought homes in places like Lehigh Gardens. Some took out ridiculous mortgages that they couldn't afford, but the typical homeowner in distress these days looks more like Eliseo Orasco.
In 2003, Orasco and his wife bought a little yellow house with white trim for $150,000 not far from the intersection where I am parked and eating my lunch. He now lives with a persistent knot of fear in his stomach that he will lose his home to foreclosure and his family, which includes a 17-year-old daughter, will be forced to live on the street or in their car.
Orasco, a trim Mexican native by way of California who looks a decade younger than his 51 years, hasn't worked since a car accident a decade ago left him disabled, he says. In 2010, his wife lost her job of 12 years as a caregiver at a senior center after it shut down, and the family fell into default on their home.
A housing counselor is working with Suntrust Bank on a possible loan modification that may allow Orasco to remain with reduced payments on the house, which is now worth about $52,000 according to a Zillow estimate. His wife recently found part-time work at a daycare, but money is still very tight.
"We have hope but at the same time we feel weak," Orasco says.
Then he begins to sob and tell me about his next-door neighbor who died suddenly four days ago, leaving three kids and his a wife. The neighbor was also deeply behind on payments and in foreclosure.
"The bank was grinding him down," Orasco says, rubbing his eyes. A foreclosure sale is set for later in the month, he says.
Conditions aren't much better in nearby Ft. Myers, where Jose and Alma Navarro are fighting to keep their little home. Jose, who has a fourth-grade education, was laid off from his job as a road painter in 2010, after he started suffering severe asthma attacks. They are making payments on a trial loan modification that reduced mortgage payments to $447 a month from $1,100. Their monthly income is $760.
The Navarros rely on food stamps and clothes from Goodwill, and keep the air conditioning turned off during the day to save money, even in the brutal summer heat. Jose says he is in therapy for depression. Alma is looking for a job, but she doesn't speak English and prospects are bleak.
"We are just holding on," Jose says.
It is hard to overstate the degree to which the housing crisis has wrecked not just Florida's economy, but also the confidence of millions of workers in the state. Seniors haven't been immune — most have seen their property values go down, too, and some have faced foreclosure — but many of those who live in the midst of what seems like a foreclosure apocalypse seem curiously distant from what is happening to their neighbors.
After I finish my sandwich, I drive aimlessly around Lehigh Acres, looking for residents out in their yards or out for a walk. It feels like I have stumbled onto a Mad Max set. I don't see anyone. Finally, I happen upon William Collon, a 75-year-old retiree from Chicago who is cleaning the outside of his screened-in porch. He lives with his wife in one of the older parts of the neighborhood, which means he built his house way back in 2000.
"The retired folks around here have done just fine," he says, pointing to the homes of neighbors. "It's the young people who got in trouble."
What does he think about the state's future, I ask, what with all the budget cuts and drop in home values?
"If you don't have kids you don't pay much attention," he says.
For most of its history, Florida below the panhandle was an unpleasant mélange of swamp, forest, mosquitos and alligators, along with the occasional citrus plantation and sweaty homesteader, who probably wished he had moved to Oregon instead.
In 1924, with the hope of encouraging rich people to move to the state, voters approved a constitutional amendment banning a state income tax. This effort didn't accomplish its goal — much of the interior was still a fetid swamp and most northerners considered even beachfront property uninhabitable for half the year.
Air conditioning changed everything. From 1950 to 2010, lured by the enticing combination of sunny beaches and cool bedrooms, the population shot up 600 percent, to 19 million from 2.7 million. Sometime around 2016, Florida's population will top 20 million, replacing New York as the third biggest U.S. state.
All this population growth hid deep flaws in Florida's economy. It became far too reliant on tourism jobs, construction jobs and jobs in the service sector. These workers suffered the most when the economy crashed.
At Metropolitan Ministries, a homeless shelter in north Tampa, I meet Dennis Hebert, a well-spoken 26-year-old who lost his job last summer as the manager of the dairy section of a Winn-Dixie. In October, unable to find work, he moved with his wife and five-year-old son into a car, where they lived for a week, parking overnight at the beach or in a Walmart parking lot.
"It was hot and we got a lot of bug bites," Hebert recalls. "I couldn't sleep because I was constantly on guard. The worst part was that my child kept crying that he wanted to go home."
Hebert says he and his family are lucky, though. Tampa has one of the highest percentages of homeless children in the U.S. and the waiting list to get a small room here is about three months. The shelter offers a place to sleep, child care, computer classes, resume writing classes and free meals. It even loaned Hebert a suit for a recent job interview, which he aced: Coca-Cola offered him a $12 an hour job in the sales department. His family is moving out of the shelter and into subsidized housing in August.
The state's unemployment rate has been falling, down to 8.6 percent in May from a peak of more than 11 percent in 2010. But there is still a deep jobs hole to fill. To return to pre-recession employment levels, and accounting for population growth, the economy needs to create 1 million jobs — roughly the populations of Miami, Tampa and St. Petersburg combined.
State tax revenue is also in a hole. Sales tax collections, which account for 73 percent of general revenue, are down 14 percent from the peak. Property taxes, which fund local governments and provide about one third of public school aid, are off nearly as much. To bridge the gap, Gov. Rick Scott, a Republican and Tea Party favorite who was elected in 2010, has hacked away at the budget with a true believer's zeal. The hardest hit: the state's children.
For the 2007-08 school year Florida spent an anemic $7,036 per student, 34th best nationally. Alabama, Georgia and Louisiana — hardly the poster children for progressive education — all spent more. Since 2010, Scott (who declined to comment for this story) and the Republican-led legislature have slashed $2.1 billion from the public school budget. In the upcoming school year, the state will spend $6,375 per student, or 12 percent less than it did five years ago. (This is, alas, actually an increase from last year).
Scott has refused to consider tax increases, or broadening the sales tax to cover items that are currently excluded, like bottled water and Internet sales, in order to replace lost revenue. (As for a state income tax, God forbid: "It's sort of over our dead bodies," Ray Sansom, a former Republican state legislator from Destin, and head of the state legislature's budget committee, told the Associated Press in 2007).
Instead, Scott's solution to the revenue crisis: cut taxes further. The most recent budget, approved in March, includes $1 billion in tax breaks for businesses over the next three years — and trims another $300 million from higher education.
Senior citizens have certainly felt the effects of the recession. Many have seen their home values plunge and retirement portfolios shrink and some have lost their homes to foreclosure. Some also justifiably fear for the future and may believe they cannot afford to pay any more in taxes, even if for a good end. An estimated one-third of Baby Boomers, mostly women, have nothing socked away for retirement. But by and large, they have watched the collapse from the sidelines.
Seniors who live in the Villages have had the time to form 1,900 different affinity clubs, including everything from Bible study to bocce, and 40,000 turned out to see Sarah Palin. But they are not staging big rallies to save state education funding. They are also voting against new spending.
School boards are permitted to levy a half-cent sales tax, with voter approval, to repair and build schools that deteriorate quickly in Florida's blistering climate. In 2012, just 15 of 67 counties will collect this tax. The most detailed study of school tax votes found that in Florida counties where voters rejected a school tax, the over-65 demographic opposed the measure nearly three-to-one.
Economists say such opposition is shortsighted.
"Ultimately, these kids that older people don't want to support now will be inserting their catheters or will be phlebotomists drawing their blood," says Snaith, the economics professor. "I know I'd want anyone doing this to be as educated as possible."
In person, of course, the average senior citizen in Florida — a group that includes members of my own family — is charming and kind, and many with whom I spoke voiced support for increased education funding and thought what was happening to their neighbors was horrible.
Hahnfeldt, my Villages tour guide, a self-described conservative Republican, says that casting all seniors as anti-education, or somehow bad for the state's future, is unfair. His community supports a high-performing charter school, he notes, and has doled out $500,000 over the last decade in college scholarship money. Thousands of residents volunteer their time in hundreds of ways, including sending care packages to overseas service members, he says.
Migrant seniors, who tend to be relatively well off, also provide some measure of immediate economic stimulus to the neighborhoods where they move. Workers come from as far away as Gainesville, more than an hour's drive away, to work in the Villages, T.J. Andrews, an an easygoing 25-year-old who sells Yamaha golf carts, told me.
"There weren't many jobs around here before this place was built," he says. "We are all grateful for it."
Older people also put much less strain on some public services than younger people. They tend not to get in bar fights or need police to intervene in domestic disputes. They don't want to support schools, but they don't use them, either.
There's also hope that such a big cluster of senior citizens all living in one place could provide marketing opportunities for companies that want to better understand how to sell products to an aging America.
In Sarasota, the oldest large county in the U.S., the chamber of commerce and other boosters have created the nonprofit Institute for the Ages, with the aim of pairing seniors and the businesses that hope to sell to them.
"We offer the lived experience of a real community not a lab setting," Tim Dutton, one of the founders of the nonprofit, tells me on a visit to the mostly empty offices of the brand-new enterprise. The institute hopes to encourage companies to come to Sarasota to experiment, for example, with new designs that would make grocery stores more friendly to older people — best practices that could give them a leg up in attracting customers elsewhere as the population ages.
In Tampa, Stephen Klasko, the high-energy dean of the University of South Florida's medical school, says Florida's aging population "is an amazing opportunity" for medical research and study. He is currently conducting a wellness study in the Villages, part of an effort to make it "America's healthiest community." He says the study has produced the highest response rate of any study he has ever conducted.
Barring the unexpected — a European economic cataclysm, for example — economists predict that Florida's economy will return to pre-crash size by 2015. Newly arriving seniors, tired of shoveling snow in New Jersey or Michigan, will help drive the growth. But despite some small measures by forward-thinkers like Dutton and Klasko, the state as a whole is woefully unprepared for the profound demographic changes ahead.
One of the most disturbing statistics about where Florida is right now, and what is in store for its future, concerns the fate of recent college graduates. Butler, the state economist, says that about 40 percent of recent graduates from Florida's universities and colleges are not working in the state. This means that the young workers that the state will need so desperately in the next few decades are either living in Florida and are unemployed, or have moved elsewhere in search of better economic opportunities.
The last person I meet in the Villages is Angel Pedraza, a 20-year-old recent college graduate. We talk on the front deck of Toojays, a burger joint in the Villages, where she has just dropped off a job application. She is living temporarily with her grandparents and trying to find a job, any job.
"I feel like I am stuck," she says of her job search. "I'm inexperienced but overqualified."
Pedraza has a degree in elementary education, but schools aren't hiring.
"I'm trying to show that I am willing to start at the bottom and work my way up," she says, hopefully.
CORRECTION: A previous version of this story incorrectly stated the number of Florida counties. There are 67.
Related
Popular in the Community