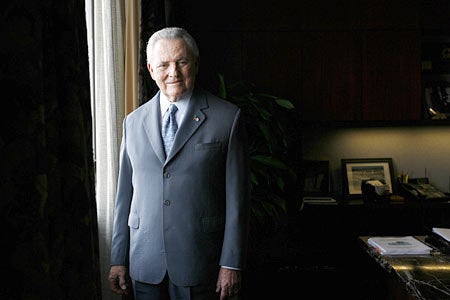 The issue of campaign tone came up in last night's debate, with a false equivalency drawn between the Obama campaign calling McCain erratic and people on the campaign trail referring to Obama in shouts like "Traitor!" and "Terrorist!" And as this false equivalency is being allowed to stand as proper and just, it's no wonder that people continue to find it okay to promulgate jokes in which the Democratic candidate's death is broadly mocked.
Via Spencer Ackerman, we learn of one more: Tampa Bay's Al Austin, "a longtime, high-level Republican fundraiser," who thought it would be a good idea to forward the following joke on to his political contacts via email:
The joke concerns a group of schoolchildren discussing the definition of "tragedy" as opposed to "great loss" or "accident." The punch line comes when one child says that if an airplane carrying Obama and his wife, Michelle, "was struck by a 'friendly fire' missile and blown to smithereens," the event might be a tragedy "because it certainly wouldn't be a great loss, and it probably wouldn't be an accident either."
Yes. Ha. Austin should, truly, take his act on the road. Specifically the middle of Interstate 4, during rush hour. Austin was found out because two of the people on his email list happened to be reporters. According to Tampa Bay Online, "Austin acknowledged sending the e-mail to his list of political contacts but said he forwarded it without fully reading it and didn't know what it said."
Sure he didn't. Anyway, as John McCain might say, this is me, making Al Austin famous.
REAL LIFE. REAL NEWS. REAL VOICES.
Help us tell more of the stories that matter from voices that too often remain unheard.