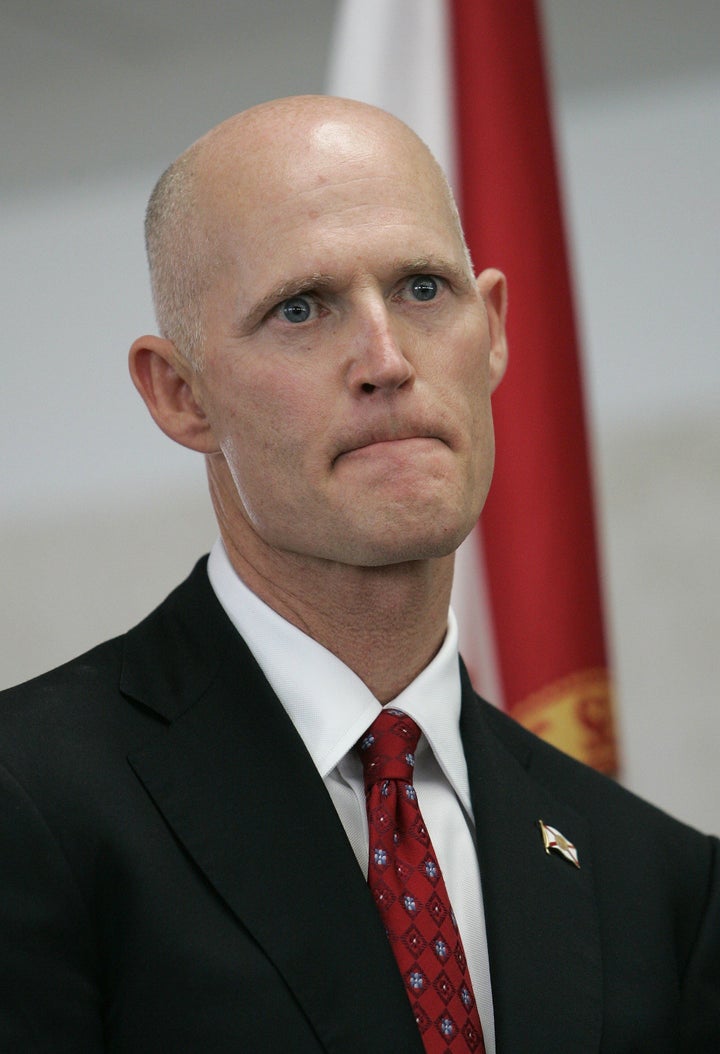 Shiny-pated Florida Gov. Rick Scott (R) has never been shy about his opposition to the Affordable Care Act. Back in 2009, Scott's Conservatives For Patients' Rights ran ads comparing the health care reform bill to the bailout of AIG, and that darkly warned of "bureaucrats" taking over health care decisions and the perils of living under socialized medicine in Britain and Canada. Additionally, one of the things that Scott and his primary opponent, Attorney General Bill McCollum, could agree on was McCollum's lawsuit against the health care reform bill, which Scott said was "what many of us hope is a rollback of the single largest government power grab in history."
So, Scott: not a fan of Obamacare. Unless of course, we're talking about an eight-figure federal grant that the law provides. In that case, Scott says, ALL YOUR MONEYS, GIVE ME THEM.
Gov. Rick Scott will allow a state agency to accept a $35.7-million federal health grant, even though the funds flow from a law that Scott hates and says is invalid.

The Agency for Health Care Administration won the "Money Follows the Person" grant from the Department of Health and Human Services on Feb. 22. Florida was one of 13 states that won the grants, which pay for services that enable people who are mentally or physically disabled to get out or stay out of nursing homes.

The money was allocated through the federal Patient Protection and Affordable Care Act - the same law that Florida is contesting in federal court. But the grant does nothing to carry out the Act itself, Scott spokeswoman Amy Graham explained in an e-mail.

"The state will not be drawing down any dollars that bring about the implementation of ObamaCare," she said, using opponents' slang term for the Act.

A spokeswoman for HHS, Mary Kahn, said only, "We're glad they're taking the money."
Of course, this phenomenon is nothing new. Even federalists love ribbon cuttings! But as Gentry points out, "when U.S. District Court Judge Roger Vinson in Pensacola ruled that the Act was unconstitutional" in January, Scott "said right after it was issued that it blocked the effect of the Act in Florida."
In the event that Vinson's decision wins out, will Scott return this $35.7 million? I'm not going to hold my breath. The good news, I guess, is that these millions of dollars will probably give Florida residents a brief respite from the fear that Scott is going to pick them up by their legs and shake them down for loose change, as is his wont.
Calling all HuffPost superfans!
Sign up for membership to become a founding member and help shape HuffPost's next chapter