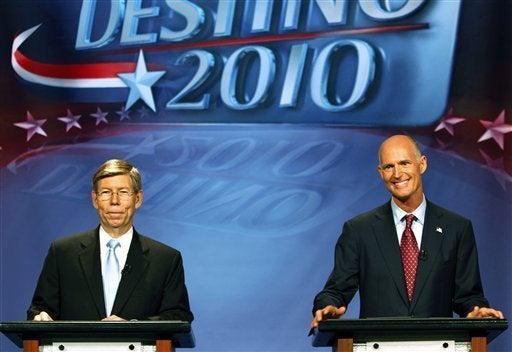 FORT LAUDERDALE, Fla. (AP) ― Republican voters will decide Tuesday if they want a career public servant or a wealthy newcomer to get their party's nomination for Florida governor.
The GOP primary election culminates months of personal attacks, name-calling and negative TV ads in the race between Attorney General Bill McCollum and Rick Scott, a former hospital corporation CEO who's never run for office.
Scott, 57, has presented himself as a "conservative outsider" who will run state government like an efficient business, cutting costs and services to balance the budget. Like McCollum, he has proposed cutting corporate taxes, easing regulations and taking other steps to make operating a business in Florida more attractive.
The 66-year-old McCollum served 20 years as a congressman from central Florida and twice ran unsuccessfully for the U.S. Senate before he was elected attorney general in 2006. Scott has attacked him as a career politician who is part of the problem.
McCollum has hammered Scott repeatedly for his leadership of Columbia/HCA, a hospital conglomerate that ended up paying a record $1.7 billion to settle criminal charges of Medicare and Medicaid fraud. Scott, who was forced out as CEO by his board amid the government investigation in 1997, has said repeatedly that he didn't know about any criminal activity and was never charged.
McCollum was the party's presumptive nominee until Scott jumped in the race suddenly in April. Scott, who moved to Florida seven years ago from Connecticut, had taken a high-profile role in fighting President Barack Obama's health care law last year and had become a favorite of the tea party movement.
After announcing his candidacy for governor, Scott started pouring millions of his own money into statewide TV commercials introducing himself to voters and tearing down McCollum. He's spent more than $30 million so far.
Both candidates have presented economic plans they say will create hundreds of thousands of jobs. Both oppose abortion rights and gay adoption, and support Arizona's tough new immigration law. Both have vowed to stop Obama's health care law from being implemented in Florida.
The winner of the primary will face presumptive Democratic nominee Alex Sink and independent candidate Lawton "Bud" Chiles III in the Nov. 2 general election.
Popular in the Community