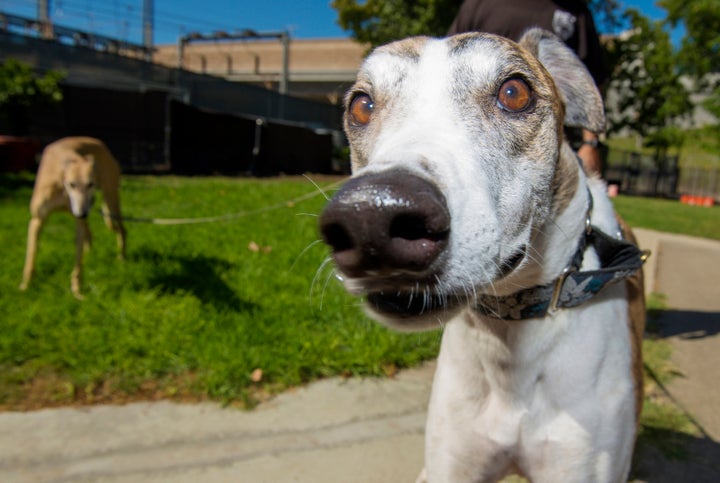 As Democrats took back the House and Republicans made gains in the Senate on Tuesday, animal rights activists scored a notable win in Florida: Voters overwhelmingly passed an amendment to end greyhound racing involving wagering.
Amendment 13 will shutter commercial dog-racing tracks, long labeled a cruelty not so different from cockfighting, by the end of 2020. It won 69 percent approval.
"Florida voters have delivered a knock-out blow to a cruel industry that has been hurting and killing dogs for nearly a century," the Committee to Protect Dogs, which also supported the ban, said in a statement. 
Activists say greyhounds are bred for suffering, living in small cages and trained for racing that frequently leads to broken legs and backs. Some racers have even fed their dogs cocaine in an attempt to make the already lithe animals win more races.
Nearly 500 greyhounds have died as a result of racing in Florida since the state began tracking such numbers in 2013.
Among the measure's other opponents were several conservative groups, the Florida Farm Bureau and the American Kennel Club, which "encourages and strongly supports the interaction and mutual enjoyment of owners and dogs in sporting activities" including hunting, herding and "agility trials." The AKC claimed that animal abuse regulations were enough to combat abuses in the sport. 
The National Rifle Association also opposed the ban. The gun group's top lobbyist in Florida accused animal rights activists of using the measure as "a front" to go after hunting and fishing practices.
Lara Trump, President Donald Trump's daughter-in-law who heads his 2020 campaign, came out in favor of the ban, telling The Palm Beach Post this week that it would save dogs from "deplorable conditions."
The Committee to Protect Dogs plans an outreach effort to find racing dogs forever homes ― where they would be free to run or laze around as much as they want. 
REAL LIFE. REAL NEWS. REAL VOICES.
Help us tell more of the stories that matter from voices that too often remain unheard.