The NAACP Legal Defense Fund sent a letter to the Florida Department of Education earlier this month asking it to take action against schools that ban students from sporting dreadlocks, braids and other traditionally African-American hairstyles. The letter, which calls such hair policies racially discriminatory, comes after a HuffPost investigation into the issue.
The HuffPost investigation found that at least 20 percent of private schools participating in Florida's Hope Scholarship Program have strict hair policies with distinct racial undertones. Six schools ban or regulate dreadlocks, Afros and braids. The NAACP LDF cites this data, saying the policies are either "discriminatory on their face or may lead to discriminatory application against African-American students."
The Florida Hope Scholarship is a voucher program that gives publicly funded scholarships to kids who have experienced bullying. However, many of the schools that participate in this program either ban LGBTQ students or have strict hair policies that disproportionately affect African-American students.
This issue jumped to the spotlight in August after a video of a 6-year-old student being turned away from a private school in Florida went viral. The student, Clinton Stanley Jr., sported dreadlocks. The school, A Book's Christian Academy, bans such hairstyles in its handbook.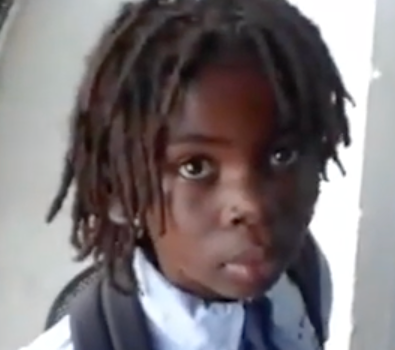 A Book's Christian Academy, a Christian school, does not currently participate in the Hope Scholarship program, although it is eligible. It participates in other Florida voucher programs, meaning it receives public funding although it is a private school.
The NAACP LDF letter calls on the listed schools to create new hair policies in consultation with community members and says they should commit to providing cultural competency training for faculty and staff. The letter also asks the Department of Education to review hair policies at listed schools and request that any that are discriminatory are rescinded.
Florida school voucher programs ban discrimination based on race. But, as the NAACP LDF letter points out, hair policies can perpetuate a more subtle type of discrimination.
"The forms of racial discrimination most commonly seen in education have evolved. It is now rare to find a policy that explicitly excludes potential students based on skin color," says the letter. "However, subtle rules and restrictions based on racial stereotypes and proxies have the same force and effect."
Representatives of the Department of Education did not immediately respond to requests for comment. State offices in Tallahassee were closed Wednesday due to Hurricane Michael.
The NAACP Legal Defense Fund asked the state to respond to its letter within 10 days.
"This has always been a priority for us, that African-American children have access not just to quality education but that they are welcomed into those environments," Angel Harris, assistant counsel for the Legal Defense Fund and author of the letter, told HuffPost.
Popular in the Community