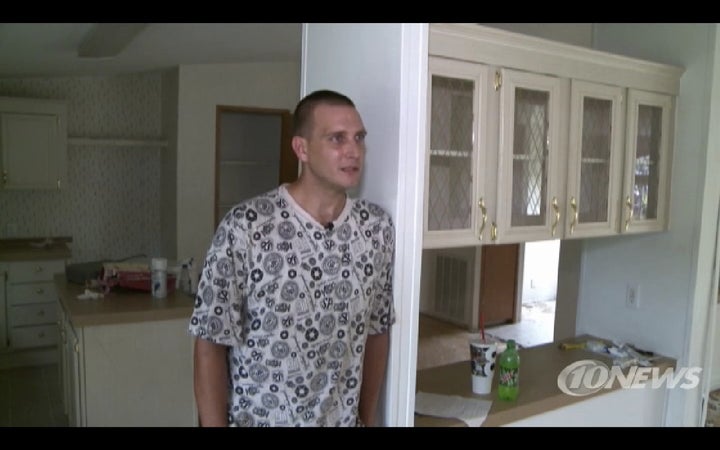 Chris Boudreau of Brooksville, Florida says he is the unwilling recipient of a home makeover, courtesy of his mortgage company.
21st Mortgage Corporation, which says it is a Berkshire Hathaway company on its website, allegedly hired a private firm to ransack and clean out Boudreau's home, according to WTSP 10 News. They reportedly took out his sofa, tables, television, DVD player, tapes and cabinets. They even shredded Mrs. Boudreau's wedding dress, claims Boudreau.
"When she saw what happened, she actually went into in the dumpster trying to go through the stuff," Boudreau told the news station. "She was crying her eyes out."
According to WTSP, Boudreau had fallen slightly behind on his mortgage payments, prompting the mortgage company to take independent action.
Richard Ray, 21st Mortgage Corp's Chief Financial Officer, told The Huffington Post that Boundreau's story, as reported, is one-sided. "It's inconceivable," he told Huffington Post, "that we would hire someone to diminish the property that we have a loan against." For legal reasons, Ray would not discuss Boudreau's particular situation.
Tom Altman, Mr. Boudreau's attorney, told the local CBS affiliate that when he contacted the mortgage firm, he was told that it had the right to the actions taken because Florida is a "self-help state." However, according to Altman, Florida is not a self-help state. In fact, he says, the state has very strict foreclosure laws, which he claims 21st Mortgage violated.
The Hernando Sheriff's office sees things differently, however. They have no interest, they told WTSP, in investigating any charges of burglary, breaking and entering and trespassing, claiming the situation to be a civil matter.
Boudreau is not the only individual to allegedly experience a mortgage horror story. As the New York Times reported in September, Florida's former attorney general Bill McCollum announced that his office would investigate claims that banks presented doctored or dubious records in courts as proof that a lease exists against a property.
On its website, 21st Mortgage Corp. claims that Clayton Homes purchased their firm at the direction of Berkshire Hathaway in 2003. According to Clayton Homes' own website, Clayton Homes was also acquired by Berkshire Hathaway that same year.
Berkshire Hathaway did not respond to requests for comment.
Watch the full WTSP News 10 report here:
Calling all HuffPost superfans!
Sign up for membership to become a founding member and help shape HuffPost's next chapter