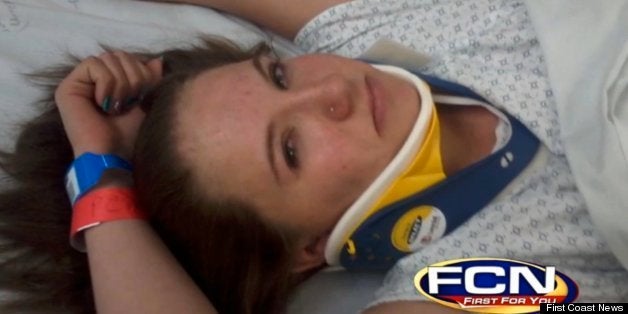 CBS reports that Jewett's attacker lured her off campus and slammed her head against a stone wall, fracturing her skull, before pinning her to the ground and landing repeated blows. Jewett estimates 30 others watched the assault, and some shot video on their cell phones.
[Warning: The CBS video shows graphic footage from the fight.]
The beating was so severe, it prompted Davis to write in the injunction, "This child is a threat to all of the children at any school."
Jewett's family attorney, John Phillips, told First Coast News that expelling Jewett's alleged attacker was necessary to ensure her safety. But Davis' move to remove the accused from the district entirely surprised even him. John Phillips told the Florida Times-Union he is honored that Davis issued the injunction, but he said he thought it was "a little much" when he first heard it.
The student was charged with aggravated assault, but school officials say that the accused student -- who according to Jewett has attacked up to five students in taped fights -- still has the right to a public education under Title IX of the state's constitution.
CBS News reports an appeals court suspended Davis' injunction, but it's unclear to which school the student will return. A statement issued to CBS by the student's lawyer said his goal is to simply return her to any public school, so her school year can continue.

Popular in the Community